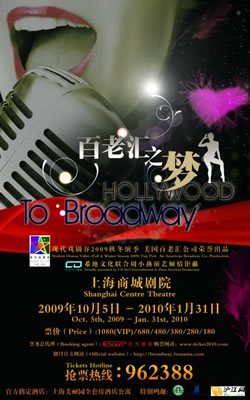 Come with us as we take you on a journey somewhere not-so-far over the rainbow and experience a land where music and bright lights wild and beguile you. Join the journey where great Hollywood films are remade into the smashing musicals, great bandstand music and number one hits you know today. Witness the film stars of yesterday such as Judy Garland, Elvis Presley, and Barbara Streisand pave the way for great movie-musical experiences like Cabaret, Dreamgirls and All That Jazz. So sit back, relax and as we take the leap from Hollywood to Broadway.
跟随我们的步伐,加入我们的旅行,我们将带你去往彩虹的那一端。在那里,美妙的音乐和炫目的灯光下忘却自我吧。我们用经典的好莱坞影片,配上排行榜上傲视群雄的流行音乐,烹制出了诱人的音乐剧大餐。那就请您坐好,伴着朱迪•加兰,猫王和芭芭拉•史翠珊悠扬的歌声重温那些经典的影片吧。
For our first stop, we will show you those great movie-musicals that have kept a special place in our hearts since the late 1920's. And who could with good conscience forget numbers such as "Hooray for Hollywood" (Hollywood Hotel) and "New York, New York" (On the Town). These classics broke box office records and allowed the trend of large, show-stopping numbers to become everyone's favorite musical past time.
我们的第一站将带你回顾上世纪20年代那些在我们心中占据重要位置的音乐剧以及人们渐渐淡忘的"为好莱坞喝彩"(《好莱坞酒店》),和"纽约纽约"(《都市掠影》)。这些经典作品曾一度打破票房纪录并成为所有人心目中最爱的曲目。
Next we take a ride on the "boogey train" and join men like Kevin Bacon and John Travolta as they dance the night way in films such as Footloose and Saturday Night Fever. These films were dominant in proving that grown men could still be masculine, while at the same time being sexy, stylish and groovy. Travolta would go on to dance in the 1978 movie Grease and the 2007 movie-musical production of Hairspray. Bacon still remains one of the top movie stars in Hollywood.
第二站,我们将登上"Boogey舞"的列车与《浑身是劲》中的凯文•贝肯和《周末夜疯狂》中的约翰•特拉沃尔塔一起忘情的舞动。原来,中年成熟的男人也可以那么的健硕,同时又不乏性感,有型和迷人。特拉沃尔塔仍舞蹈在1978年电影《油脂》和2007年音乐剧《发胶》的片场。而贝肯仍旧是好莱坞数一数二的电影明星。
Who can forget the screaming crowds, the die-hard fans and the great concerts of the 1960's? If you were there, you were probably dancing to classics like "Penny Lane" and "Ticket to Ride" which were performed by none other than The Beatles. The Beatles became a nation-wide craze and would go down as being one of the most influential bands in Rock n' Roll history selling millions of albums over a span of 10 years.
谁能忘得了60年代那些在披头士演唱会上疯狂的粉丝?只要"潘尼小路","车票之旅"这些经典之作一响起,你应该就会照着节拍起舞。这一点是披头士以外的人士都很难做到的。在短短10年内,披头士售出百万张专辑,成为摇滚史上最具影响力的乐队,让全世界都为之疯狂。
Musical Theatre is often illustrated as a world of great beauty and fantastic special effects. Andrew Lloyd Weber's Phantom of the Opera and Claude-Michel Schönberg and Alain Boublil's Miss Saigon are shining examples of European elegance and influence being brought to life. These musicals may have different stories, but they send the same message. The message is that love can be found anywhere. Love can be found in a haunted opera house in the 1850's or war-torn Vietnam in the 1970's.
音乐剧时常被形容为美与梦幻特效的结合。安德鲁•劳埃德•韦伯的《剧院魅影》,克劳德•米歇尔•勋伯格和阿兰•鲍伯利编曲的《西贡小姐》都是其中将欧式优美和影响力展现在舞台上的完美代表。这些音乐剧在剧情上或许都不尽相同,但所传达的信息却都异曲同工,那便是——爱,无处不在,无论是19世纪50年代闹鬼的歌剧院,还是20世纪70年代深处战乱的越南。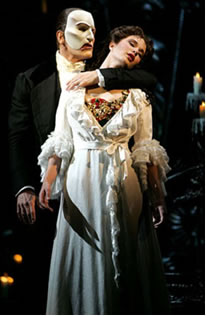 Our next stop shows us that traditional musical theatre had been bringing smiles to the faces of the public for over 50 years. The costumes, the lights and the music all come together to create a masterpiece. Shows like Cabaret and My Fair Lady helped launch the careers of two female actresses that would be remembered through the ages. They were Liza Minnelli and Audrey Hepburn.
我们在接下来的一站旅途中将学到:传统的音乐剧在过去的50多年中给公众带去了欢笑。服装,灯光和音乐的完美结合打造出一部部的杰作。在几代人心目中永驻的明星丽莎•明尼里和奥黛丽•赫本的成名作正是《歌厅》和《窈窕淑女》。
Every musical age has an affect on the next musical age. Contemporary music would not be what it is if not for the influences of the past. Artists like Billy Joel and groups like Abba were popular on the pop music charts, but their music also managed to make it to Broadway with shows like Movin' Out and Mama Mia! Both shows were successful and proved that modern music has a place on Broadway.
每一个年代的音乐剧都会影响到下一代的音乐剧。如果不是过去音乐的影响,就不会有我们现在流行的当代音乐。像歌星比利•乔和ABBA乐队的作品,他们的歌曲既登上流行音乐榜,也打入百老汇音乐剧《破浪而出》和《妈妈咪呀》两部剧作都大获成功,告诉了世人原来现代音乐在百老汇也有一席之地。
You can not mention stars of the past without mentioning the great Judy Garland. Her face has stuck with us over the years in favorites such as The Wizard of Oz and A Star Is Born. Judy Garland has a voice that was unmatchable in her time and still is unmatchable today. She would go on to win numerous awards for vocal performance and was clearly an American treasure. She left us not only with her reputation, but with her daughter as well--the irreplaceable Liza Minnelli.
说到过去的明星,我们不得不提朱迪•加兰。她在《绿野仙踪》中的扮相永远刻在了我们的记忆之中。朱迪•加兰的嗓音在她那个年代,甚至如今,都是无可比拟的。她的歌声是美国的财富,并将继续赢取无数奖项。除了她带给我们的记忆,她还留给了我们另一份宝贵的财产——她的女儿,同样不可取代的丽莎•明尼里。
Western swing is a style of popular music that evolved in the 1920s in the American Southwest among the region's popular Western string bands. Fundamentally an outgrowth of jazz, much Western Swing is dance music with an up-tempo beat consisting of an eclectic combination of rural, cowboy, polka, and folk music, New Orleans jazz, or Dixieland, and blues blended with a jazzy "swing". Later incarnations have also included overtones of bebop.
摇摆舞曲是流行乐的一种,最早出现在上世纪二十世纪早期的美国西南西部弦乐乐队。本质上而言,它是爵士乐的产物,大部分的摇摆舞曲是乡村、牛仔、波尔卡舞曲和民乐快节奏的电子合成。
In the movies, it is very common for the man to be the hero. He fights the bad guys and wins the girl. But musicals gave women the chance to be the strong ones. Musicals like "Dreamgirls" and "Annie" are two different heartbreaking stories of what young women do to get through the hard times and survive. In the end, it turns out that women can have everything that they want, as well. Musicals made women equal to men in many ways.
通常来说,电影里的英雄都是男人。他们击败坏人,赢得美女。但音乐剧却给女人创造了做英雄的机会。音乐剧《寻梦女郎》和《安妮》就是两部这样的片子。片中的两位女主角经历种种磨难最终成功的故事告诉世人,女人也能做英雄,女人也能得到她们所想要的,女人和男人应该平等。
Broadway has had many giants walk its streets. The most famous of these giants can easily be identified as Andrew Llyod Weber. Andrew Llyod Webber's influence on Broadway can be seen in his most successful shows such as Phantom of the Opera, CATS. These shows are the corner stone of Broadway history and still amaze people through reputation even though CATS have since closed.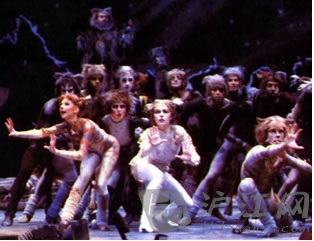 只要你知道百老汇,你一定会知道安德鲁•劳埃德•韦伯。他对百老汇的影响可以在他最经典的剧目《剧院魅影》,《猫》中得以体现。这些可以被算为百老汇基石的音乐剧已经被永远的载入了百老汇的史册。
"The King of Rock n' Roll" is the title given only to Elvis Presley. His music changed the face of music over the span of the late 1950's to the late 1960's. His death was so shocking that rumors circulated for years that he was actually still alive. His music has passed on from generation to generation and is loved by many today and in the year 2004, his music was made into a musical named after one of his hottest selling hits, "All Shook Up". All Shook Up made it to Broadway and lasted almost a year before closing.
说起艾维斯•普雷斯利人们可能不是很熟悉,但是说到猫王,你不可能不知道他是谁。猫王,"摇滚之王",让上世纪50年代末至60年代末的音乐改头换面。他的死震惊了世界,也给人们留下了种种的猜疑。猫王的音乐经历了时间的考验。就在2004年,他的作品"All Shook Up"被改编成了同名的百老汇音乐剧,并持续演了近一年。
Our next visit lets us take a break from the serious side of things and lets us laugh a little. Movies and musicals can give us many things. One of those great things is laughter. The classic movie-musical Singing in the Rain is the perfect film to put a smile on your face. Newer musicals like The Unsinkable Molly Brown gives us the ability to identify with a loud-mouthed southern woman who always tells us like it is.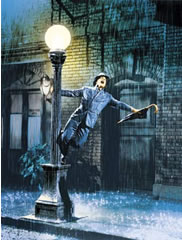 接下来的一站,让我们远离严肃的话题,开心地笑一笑吧。音乐剧《雨中曲》就是这样一部给我们带来了无尽的欢笑的制作。
Broadway babies are shows that have always had a special place in the heart of the wide world of performing. Shows like Into the Woods and Fame are shows that seem to continuously come back into style with the passing years. College and community theatres favor these shows because they ensure a large and talented ensemble of performers instead of a single, shining star. Both shows have had large successes in their Broadway runs as well as tours and local performances.
百老汇宝贝音乐剧在世界表演艺术中占有特殊的一席。音乐剧《拜访森林》和《名扬四海》在近年逐渐复苏,特别受到大学和社区剧院的欢迎,因为这类给了更多有天分的人表演的机会,而不是独自在台上表演的明星。这两出剧不管是在百老汇还是在巡演或是在当地演出都取得了骄人的成果。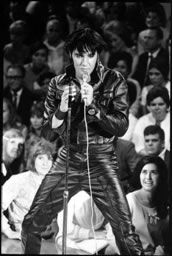 Our final stop brings us to the numbers in musicals referred to as "show stoppers." They are called "shop stoppers" because they do just that. When these songs are started, everyone who is watching them is focused entirely on what is going on. The song "One" from A Chorus Line uses mirrors, great costumes, and sharp dance moves to bring this famous show to its close. Other numbers that do the same thing are "Mame" from Mame, "Don't Rain on My Parade" from Funny Girl, and "Anything Goes" from Cole Porter's Anything Goes. These movies, shows and music classics have brought joy and happiness into the lives of so many. Allow yourself to join the ranks of those who have come to call theatre and music, "America's favorite past time."
我们的最后一站来到了被人们称为"被长时间掌声打断的剧目"。人们之所以这样来称呼这些剧目是因为被打断的事情实实在在的发生了。当这些歌的音乐响起时,每位观众都全神贯注。《玛姆》中的"玛姆",《万事成空》中的"万事成空"都是这样的作品。
相关阅读
(来源:沪江英语 编辑:张若琼)