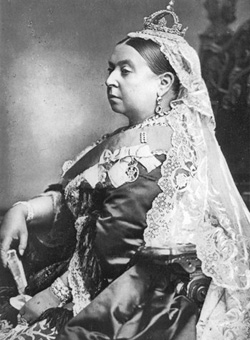 Queen Victoria remains a remarkable figure in history - not only for having been the longest reigning British monarch, but also as the figurehead of a vast empire, and as the inspiration for a highly complex culture.

She was born on 24 May 1819, the only child of Edward, Duke of Kent, and Victoria Maria Louisa of Saxe-Coburg. She succeeded her uncle, William IV, in 1837, at the age of 18, and her reign dominated the rest of the century.

In 1840 Victoria married her first cousin, Albert of Saxe-Coburg Gotha. For the next 20 years they lived in close harmony and had a family of nine children, many of whom eventually married into the European monarchy.

On her accession, the morale of the population was low and the monarchy was unpopular, but Victoria won the nation's hearts with her modesty and practicality. She made it clear that she wished to be politically informed, and so she was fostered by the Whig Prime Minister Lord Melbourne.

Aged 58, and a widower who had lost his only daughter, Melbourne viewed Victoria as his own, and encouraged in her a conservative approach to her task of ruling Britain. He was also concerned for her personal well-being, so much so that he advised against reading Charles Dickens because, he alleged, that author's books were full of 'unpleasant subjects'.

In 1840, Melbourne's influence was replaced by that of Prince Albert. The German Prince never really won the favour of the British public, and only after 17 years was he given official recognition, with the title of Prince Consort. Despite his reputation, Victoria did everything in collaboration with her husband, and it was during his lifetime that she was most active as a ruler.

Albert's interests in the arts and sciences inspired the celebratory Great Exhibition, hosted at Crystal Palace, in 1851. And the proceeds from this led to the foundation of some of Britain's greatest public museums, including the V&A - institutions that fuelled a national pride, which in turn reflected the Queen's personal ethics and vision.
Victoria never fully recovered from Albert's loss - he died of typhoid in 1861 - and she remained in mourning for the rest of her life.

Among the great achievements of her reign was the raising of institutional reform - such as the move (in the 1840s and 1850s) to a more constitutional monarchy - above party faction. The most notable achievement was probably the expansion of the British Empire, which doubled in size, taking in India, Australia, Canada and parts of Africa and the South Pacific , during Victoria's long years on the throne.

Conflict was not a feature of Victorian overseas policy, although in her time the Queen and her parliament faced an Irish uprising, the Boer Wars and an Indian rebellion.
 Continental war was limited to the Crimean, which began in 1853. Danger, however, was never far away, and seven attempts were made on Victoria's life between 1840 and 1882. Her stoic attitude towards these attacks greatly strengthened her popularity.

Although she retired to the Isle of Wight after the death of her beloved husband, and tended to remain hidden from the public eye, she emerged from this seclusion to celebrate her Golden and Diamond jubilees, and even made a royal visit to France - the first by a ruling British monarch since 1431.

Having witnessed a revolution in British government, and the growth of the world's largest empire, Victoria died on 22 January 1901. Her influence remains unforgettable, long after this date.