"卫生间性丑闻"让美国联邦参议员拉里·克雷格名誉扫地,却让事发卫生间一举成名,引得明尼苏达州明尼阿波利斯—圣保罗国际机场的过往旅客争相一睹为快。克

雷格今年

6

月在该机场的卫生间涉嫌做出"

猥亵行为"

,当场遭便衣警察逮捕。克雷格随后向法庭承认犯有妨害治安罪。此后,他一直面临辞职压力

。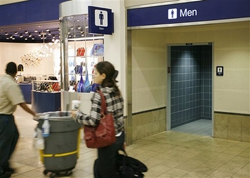 The bathroom at the Minneapolis St. Paul International Airport in Minneapolis where US Sen. Larry Craig, R-Idaho, was arrested in a sex sting.[AP]
When tourists ask for the bathroom in the
Minneapolis
airport lately, it is usually not because they have to go.
It is because they want to see the stall made famous by US Senator Larry Craig's arrest in a sex sting.
"It's become a tourist attraction," said Karen Evans, information specialist at the Minneapolis-St Paul International Airport. "People are taking pictures."
Craig was arrested on June 11 by a Minneapolis airport police officer. The Idaho Republican pleaded guilty to misdemeanour disorderly conduct.
Craig has since said his guilty plea was a mistake. His request to withdraw the guilty plea will be heard on September 26, just four days before he has said he will step down from his Senate seat.
Just 15 minutes into her shift on last Friday, Evans said she had been asked directions to the new tourist attraction four times. Other airport workers field the same question.
"It's by the Lottery shop, right next to the shoeshine shop," said newsstand worker Abdalla Said, adding he gets the question daily.
The Royal Zino Shoeshine shop owner's grandson, Royal Zino, said it has been hectic.
"People have been going inside, taking pictures of the stall, taking pictures outside the bathroom door - man, it's been crazy," he said.
On their way to Guatemala, Jon and Sally Westby of Minneapolis made a visit.
"We had to just stop and check out the bathroom," Sally said. "In fact, it's Jon's second time - he was here last week already."  
(Agencies)
Vocabulary:
misdemeanour disorderly conduct:不检点行为
guilty plea:认罪
step down: 辞职

hectic:兴奋的,狂热的
(英语点津 Celene 编辑)