位于上海世博会非洲联合馆内的肯尼亚馆7日迎来了两位特别"嘉宾"——来自非洲大草原的"狮子王"和"犀牛宝宝"。这是肯尼亚政府给上海世博会送来的两份礼物:来自肯尼亚野生动物保护中心的成年雄狮标本和来自肯尼亚国家博物馆的幼体犀牛标本。强壮、威武的狮子和只有小狗大小的犀牛宝宝并排"站"在肯尼亚馆的金银合欢树下,制造出一种温馨的戏剧效果。
此外,上海动物园里的10只活泼可爱,憨态可掬的"世博熊猫宝宝"以及塞舌尔向上海世博会捐赠的两只亚达伯拉象龟也深受游客的喜爱。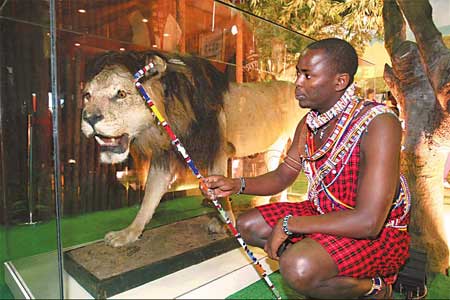 A lion cub from Kenya are on display in the Joint Africa Pavilion on Monday. [China Daily]
Click for rhinoceros calf from Kenya
A lion cub and rhinoceros calf from Kenya will be on display in the Joint Africa Pavilion at the Expo Garden.
The two animals, both stuffed and about a month old, are making their first appearance at a World Expo. Before arriving in Shanghai, the lion cub was displayed at the National Museum of Kenya and the rhino at the Kenya Wildlife Service.
"The lion is a symbol of Kenya and the rhino is an endangered species that we need to pay more attention to," said Maurice O. Otieno, director of the Kenya Pavilion. "We brought animals to encourage all visitors to the Kenya Pavilion to think about the importance of wildlife protection in Africa."
There are 59 national wildlife parks and reservations in Kenya, which occupy about 11 percent of the country's land area.
"We encourage people who have never been to Kenya and experienced life in Africa to come to our pavilion," said Julius Sunkuli, Kenya's ambassador to China.
Meanwhile, outside the Expo Garden, 10 panda cubs that have been at the Shanghai Zoo since early January continue to thrive.
The cubs are from the Bifeng Gorge Base of Sichuan's Wolong Panda Protection Research Center in Ya'an city.
"The pandas are in good health, both mentally and physically," said Yang Jie, one of the four handlers of the cubs. The panda cubs will celebrate their second birthdays in July, August and September.
The panda cubs have attracted 450,000 visitors since February, according to Pan Xiuyun, director of the Shanghai Zoo.
In addition to the pandas, two Aldabra giant tortoises, presented to China by the Seychelles for the Expo 2010 Shanghai, are also proving popular among visitors.
The tortoises are among the largest in the world with a life expectancy of 250 years. The pair, in their early 30s, arrived in Shanghai in September 2009.
"I think learning about the animals of a country is a good start for learning about the culture of the country," said Yang Shihuai, a 17-year-old high school student from Changsha, Hunan province.
(China Daily)
相关阅读
(中国日报网英语点津  Julie)