This is the VOA Special English Economics Report.
The World Economic Forum is an independent organization. Its aim is to help businesses, governments and civil society find ways to work together to improve the world.
This year, the 21st World Economic Forum on East Asia is taking place in Thailand. Organizers hope to bring attention to development in Southeast Asia.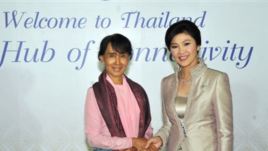 But the presence of Burmese opposition leader and parliament member Aung San Suu Kyi has made the event special. The Nobel Prize winner made her first foreign trip in over 20 years to the Thai capital, Bangkok. Burmese President Thein Sein cancelled his appearance at the meeting shortly after her travel plans were announced. Earlier, she also recorded a message for the forum.
AUNG SAN SUU KYI: "I have the honor and privilege of addressing this gathering of thinkers and doers, movers and shakers, in positions to influence the direction that our world will take in the foreseeable future."
Klaus Schwab started what came to be called the World Economic Forum and is its executive chairman. In opening comments, he praised the growing influence of Southeast Asian nations in the world economy and political issues.
KLAUS SCHWAB: "When you look at the ASEAN region, you feel that here you have a region which is full of dynamism, which has economic growth of over five percent and which becomes more and more a crucial factor in the world economic and world political context."
Several government leaders were in Bangkok for the meeting. They include Indonesian President Susilo Bambang Yudhoyono, Vietnam's Prime Minister Nguyen Tan Dung and Thai Prime Minister Yingluck Shinawatra.
The forum is meant to discuss issues affecting the ten members of ASEAN, the Association of Southeast Asian Nations. In a speech, the Thai prime minister noted threats like the debt crisis in Europe and climate change. But she also pointed to technological progress, democratic reforms and new centers of economic growth as signs of hope.
ASEAN nations are becoming increasingly important in the world economy. As a group, their economic activity is nearing two trillion dollars. Southeast Asian economies are expected to grow more than five percent this year. That rate is higher than Europe or North America.
World Trade Organization Director-General Pascal Lamy is also attending the meetings. He said Southeast Asia is doing better than other areas now. But he warned a slowing world economy could create problems.
PASCAL LAMY: "I would expect, given what's happening in other parts of the world economy, (for) this region to be more affected in two, three years to come than it has been so far."
And that's the VOA Special English Economics Report. I'm Mario Ritter.
US suspends all economic sanctions on Burma
Smartphone App to bridge ASEAN language barriers
ASEAN, China to discuss strengthened defense ties
Experts urge Europe to look toward Asia-Pacific
(来源:VOA 编辑:旭燕)