影片简介: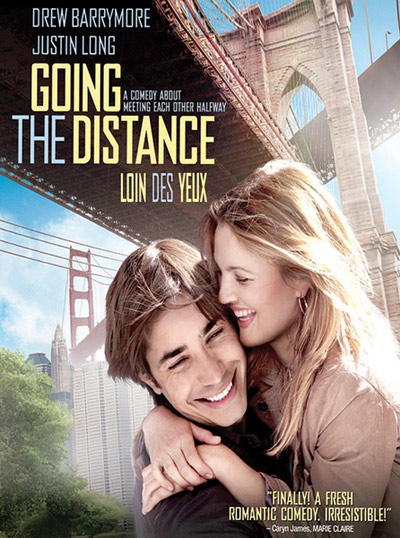 Erin和Garrett在灯红酒绿酒吧邂逅,两个青年对彼此人敞开了心胸,喝酒谈心度过了无比浪漫的美好一夜。第二天两人甚至还一块吃了早餐,火花就这样在两人中间闪现了。经过一段短暂而又甜蜜的时光,他们不得不面对一个严重的现实问题——Erin的家在旧金山,而Garrett的事业在纽约,但是他们两个都谁不愿意放弃现有的一切,更加舍不得让这段关系结束。于是,他们凭借着手机和各式通信工具开始了一场"远距离的恋爱"。
而最后他们的工作和感情能不能兼顾?是否又会为了对方放下一切来成全这一段感情?
精彩词句学起来:
1. For us to push back from the gate, make sure seatbelts are fastened, tray tables in their locked position, and your luggage is completely stowed.
在飞机起飞以前,确保系紧安全带,餐桌在固定的位置,行李都完全放好。
2. I am going to get wasted.
我要去大醉一场。
3. You might as well remove that quarter. I have no intention of getting off this game.
你把硬币拿走吧。我玩完还早着呢。
4. I was just about to beat the high score.
我正要冲击最高分呢。
5. I screwed up Erin's Centipede game so I owe her a beer.
我破坏了艾琳的"蜈蚣游戏",因此要请她喝一杯。
6. Just don't drag me down. You don't seem very smart.
不过别拖我后腿。看你样子不太机灵。
7. What album holds the record for most weeks on the Bilbord 200?
哪张唱片占据公告牌排行榜第一的时间最长?
8. And although I'd be psyched to hang out again...um, please know I'm not looking to start up.
尽管我很愿意再和你出来坐坐,但我不希望有别的发展。
9. I think the lady and I will partake of the Sunshine Harbor per your glowing recommendation.
由于你的美言推荐,我和这位淑女就尝一尝你们的"阳光港口"。
精彩对白欣赏:
1.-I just...I freaked out, okay? I've had such a good time with you and a part of me doesn't want that to end, but I have been down this road before with a guy. I dropped out of collage and I followed him across the country and I dropped everything for him. And that's why my timeline is all off, you know? And now I finally got everything back on track, you know, with my life and school, and then you had come along and fuck that all up.
-Oh, I am sorry. I am not asking you to drop out of school or even move here. I am just asking to see you because I don't wanna lose you. Fuck the miles. Fuck them. I'll be here and you'll be there and we'll just be long-distance because quite frankly, I'm crazy about you.
-I'm crazy about you too.
2.-Hugh, wait. Look, I would really love to turn this internship into a job. And it's fine that my last piece didn't get picked and the ones that do usually get bumped for space. But it is my dream to work here and I would like to make a good impression.
-Good. Then do that.
-Okay. Um, well, is there a piece you could assign me, or...?
-A piece?
-Uh, the only thing I have is a human interest story on Grant-A-Dream. It's a charitable organization.
-Yes, Grant-A-Dream. It grants wishes to terminally ill children. I love terminally ill children.
-Don't get too excited. Four other people passed on this.
-I'm on it.
-Okay, good.
3. -Can I please get the garbage omelet, double meat, home fries...and how about everything bagel with butter, cream cheese, jelly, all that shit. And then, you know what? I'll take a chocolate shake.
- And I will make it very easy for you. You know, I'll have that same exact thing.
-Okay.
-I'll just have the turkey burger.
-Okay.
-Is there a way to just wrap it in lettuce, like use lettuce for the bun?
-Can do no bun. Does that work?
-Yeah, no bun.
-Fries or salad?
-Uh, I'll get the salad with dressing on the side.
-Yep. Coming up.
-Thank you.
读对白秀口语:
总是发愁口语学不好?不练又怎么会提高?在这里我们节选了电影的精彩片段,供大家欣赏,同时欢迎大家模仿片中对话,并把模仿音频上传到我们的鬼马英语论坛。我们会不定期选出模仿达人,并有精美礼品送出哦!
精彩片段对白:
Ron:Mm. Corinne, these mashed potatoes are amazing.
Corinne: Thank you. I spent all day cleaning the table.
Ron: Sorry?
Corinne: Making them. I spent... It's an old recipe for the family.
Garrett: Well, very good.
Karen: Um, Garrett.
Garrett: Yes, Karen.
Karen: Now, are you a singer or a musician?
Garret: No, neither one. Excuse me. Yeah, I am just behind-the-scenes guy.
Erin: He actually goes out and scouts band, and then he signs them to his label, and he takes us to, like, these amazing places. These seedy hole-in-the-walls that you'd never know existed.
Karen:That sounds cool.
Garrett: It's nothing cool. She's building it up.
Karen:It is cool.
Garrett: She's being sweet.
Karen: Believe me, it's a lot more interesting than what Ron does.
Garrett: Oh.
Karen: He makes boxes for a living.
Ron: Cardboard containers, Karen. Please. They're cardboard. I'm a supervisor.
Karen: Pretty much boxes. Pretty much boxes.
Ron: They're cardboard containers.
Garrett: Oh. I often use boxes. The thing about my job is that it's in a state of flux. In fact, both our fields are kind of a little.
Erin: We are in very similar positions.
Garrett: Yeah. But we do it because we love it.
Erin: We do it because we love it.
Karen: So, Erin, did you know he was coming in?
Erin: No. He completely surprised me.
Phil: Surprised me too.
Corinne: No one knew.
Erin: And it was quite a surprise. But he surprised me at work with flowers.
Karen: Oh.
Ron: Jesus Christ.
Garrett: It wasn't a big deal. I didn't like, rappel in from some helicopter. I just showed up.
Karen: How come you never do that? Ha, Ha.
Ron: Because we live together, Karen.
Karen: I know, but it's nice to show a gesture of appreciation.
Garrett: How long have you guys been together?
Karen: It's been a long time. Yeah.
Ron: Long time.
Karen: It's kind of like when you get really drunk and you just black out. You don't know how much time's gone by. Sort of a similar feeling.
Garrett: Oh.
Corinne: Erin, Karen, would you come to help me in the kitchen?
Erin: Absolutely. Corinne's gotta go assassinate your character. I gotta play defense.
Garrett: Oh. Hurry. Hurry up.
Erin: Yeah.
Garrett: Um... So, Ron, do you make all different size of boxes, or do you specialize in a certain...
Ron: Do you have any idea of the trouble that you're causing us there, chief?
Garrett: Ron, Please, tell me what's bothering you.
Ron: I'll tell you what's bothering me there, bucko. You just caused a prime-time problem between me and my wife. Now I gotta go home and listen to her complain that I don't do enough for her. Ha, ha. You think some effing sappy shit makes you a real boyfriend?
Garrett: I'm sorry. I stopped listening after "bucko".
Ron: Listen up. We're the effing trenches there, where the real hell happens. All right? And we're here every day. It's not just about flowers and presents and showing up for the weekend.
Phil: Do you think you can just come in here with your fake tan and your girl shirt?
Garrett: What?
Phil: You think that's what it's like when you're married? When you're in a serious, long-term relationship? You think you're gonna be able to work out and keep that nice ass of yours? No, you're not gonna be able to keep it.
Harper: Hey.
Erin: Hey. How are you? Hey, do you remember my friend Harper from work?
Garrett: Yeah, we've met. How are you? It's good to see you again.
Harper: Hey.
Garrett: Hey.
Erin: I love them.
Garrett: Yeah. They're so good. They spent three years and all their money getting this produced.
Erin: Really?
Garrett: These are the band that should get noticed. I hate that. I hate that a band like this would get passed over because of money. It just takes a chance on someone because they deserve it, because they're genuinely talented. Sorry, I'm sorry. It's just frustrating because I know that my label, they'd never go for something like this. You know. It would be like a waste of time to bring it up.
Erin: Well, if you act all melodramatic like that, yeah, it would be. But if you show your balls and you went in there and got in their face and said "listen to this", the worst they could do is say no, or get mad at you because you showed you balls.
Damon: There you are.
Erin: Damon.
(中国日报网英语点津 实习生 李艳荍 张紫燕 编辑 陈丹妮)