Amid thawing tensions between Iran and the West, the Iranian president is in China for further discussions on ending a decade long nuclear standoff and fostering a better relationship with Beijing.
China on Thursday called on world powers to reach agreements on the long-lingering Iran nuclear issue as soon as possible, while pledging to strengthen economic and security cooperation with that country.
President Xi Jinping made the remarks in talks with his Iranian counterpart, Hassan Rouhani, who was on his first state visit to China since taking office last year.
The meeting in Shanghai came just one day after the UN nuclear watchdog said Teheran agreed to implement "practical measures" in its nuclear program, a move cautiously viewed by observers as an important step toward a broader deal to resolve the nuclear issue.
Li Shaoxian, a researcher of Middle Eastern studies at the China Institute of Contemporary Relations, said the good relationship between China and Iran has been hampered by the chilly ties between Iran and the West, especially the sanctions imposed on Iran.
Western nations have heavily criticized and sanctioned Iran because of its nuclear program, which Iran insists is peaceful. After Rouhani took office in August, Iran launched a charm offensive in the world diplomatic arena, engaging in more talks with global powers.
"When Teheran's growing flexibility in resolving the nuclear issue has led to improving ties with Washington, it also aims to grab the easing situation as an opportunity to boost its relations with China," Li said.
But the sanctions remain, Li added.
"So Teheran may also want to talk with Beijing about how to drive the friendlier atmosphere to a final settlement."
Sadeq Zibakalam, a professor of politics at Tehran University, said Teheran's concessions were not reciprocated with the ease of sanctions in a timely manner.
"Iran wants sanctions to end as soon as possible to revive its economy, but the West wants to wait and see the effect of measures on Iran's nuclear program taking root," Zibakalam told Xinhua News Agency.
At Thursday's meeting, preceded by a warm welcoming ceremony with Xi, Rouhani said an early comprehensive agreement through negotiations over the nation's nuclear program should lead to a "win-win" outcome for every party involved.
Teheran hopes Beijing can continue its positive role during the process, he added.
Xi said China respects Iran's right of peaceful use of nuclear energy and believes that negotiations are the only correct and effective way to resolve the situation.
China will beef up communication with Iran to help Beijing play a constructive role in the negotiation process, Xi said.
The two presidents also promised to enhance joint work in trade, energy and transport infrastructure. Rouhani said Iran welcomes Chinese investment.
Xi said China welcomes Iran's participation in the construction of the Silk Road Economic Belt and the 21st Century Maritime Silk Road, with cooperation in infrastructure construction and the launch of high-speed railway projects and economic parks.
Hua Liming, China's former ambassador to Iran, said progress over the nuclear talks is likely to gradually lift some limits on Sino-Iranian economic cooperation, bringing new opportunities for both countries.
Iran used to be an important stop along the ancient Silk Road, a trans-Eurasian project spanning from the Pacific Ocean to the Baltic Sea. The modern version of the Silk Road proposed by Beijing could help Iran's energy reach a bigger market, and better connect the two countries with Europe, Hua said.
Questions:
1. Li Shaoxian is a researcher with which institution?
2. Who is the president of Iran?
3. Who is China's former ambassador to Iran?
Answers:
1. China Institute of Contemporary Relations
2. Hassan Rouhani
3. Hua Liming
(中国日报网英语点津 Julie 编辑)

About the broadcaster: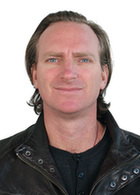 Lance Crayon is a videographer and editor with China Daily. Since living in Beijing he has worked for China Radio International (CRI) and Global Times. Before moving to China he worked in the film industry in Los Angeles as a talent agent and producer. He has a B.A. in English from the University of Texas at Arlington.