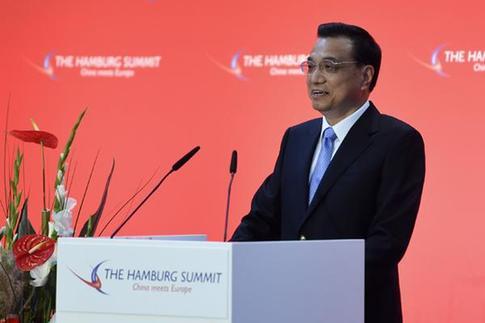 国务院总理李克强11日在汉堡出席中欧论坛汉堡峰会第六届会议并发表题为《树立互利共赢的新标杆》的主旨演讲。演讲全文如下:
树立互利共赢的新标杆
——在中欧论坛汉堡峰会第六届会议上的主旨演讲
中华人民共和国国务院总理 李克强
(2014年10月11日,德国汉堡)
Set a New Example of Mutual Benefit and Win-Win Cooperation
Remarks by H.E. Li Keqiang
Premier of the State Council of the People's Republic of China
At the Sixth "Hamburg Summit: China Meets Europe"
Hamburg, 11 October 2014
尊敬的施泰因迈尔外长,
尊敬的贝特尔首相,
尊敬的舒尔茨议长,
女士们,先生们:
Your Excellency Foreign Minister Frank-Walter Steinmeier,
Your Excellency Prime Minister Xavier Bettel,
Your Excellency President Martin Schulz,
Ladies and Gentlemen,
很高兴出席中欧论坛汉堡峰会。汉堡素有"世界桥城"的美誉,2000多座桥构成这座城市独特的风景线。在我看来,汉堡还有更多无形的桥通向世界。汉堡自古就有自由贸易传统,13世纪就建立了汉萨同盟。现在,汉堡以欧洲最快转运港闻名于世,汉堡港装卸的集装箱每三个就有一个往来于中欧之间。从这里,我们看到的是中欧交流的悠久历史和繁华现实。
It is my great pleasure to attend the "Hamburg Summit: China meets Europe". Known as the "City of Bridges", Hamburg boasts a unique view with over 2,000 bridges. As I see it, Hamburg has even more intangible bridges that extend to the rest of the world. Hamburg has a time-honored tradition of free trade and had established the Hanseatic League back in the 13th century. Today, Hamburg is known to be the fastest transshipment port in Europe. In fact, one out of every three containers handled in the Port of Hamburg travels between China and Europe. This illustrates the long history and current dynamism of China-Europe exchanges.
本届中欧论坛汉堡峰会议题丰富,包括中欧相互认知、贸易和投资体制、中国的城镇化、绿色增长等等,从中能感受大家对中欧合作充满期待。合作需要加深了解,借此机会,我介绍一下中国经济当前形势和发展前景。
The "Hamburg Summit: China meets Europe" 2014 has a rich program, including topics such as how China and Europe perceive each other, trade and investment order, urbanization in China, green growth, etc. I can see from the program that there is a great deal of anticipation for China-Europe cooperation. Cooperation requires more understanding of each other, so I wish to take this opportunity to brief you on the current state and future prospects of the Chinese economy.
今年以来,面对错综复杂的国际国内环境,中国经济面临下行压力,但运行总体平稳。上半年GDP增长7.4%,第三季度基本延续这种态势。这一增速相对于中国过去10%左右的高速度,虽有所下降,但还属于中高水平。从世界范围看,我们的增长速度是高的。中国的经济总量已经相当大,现在7%的增量相当于、甚至高于过去10%的增量,也相当于一个中等经济体的规模。
Since the start of this year, in the face of a complex environment at home and abroad, the Chinese economy, under heavy downward pressure, has managed to maintain a stable performance on the whole. Its GDP grew by 7.4% in the first half of this year, a momentum that has basically continued into the third quarter. Although this figure is somewhat lower than China's high-speed growth of about 10% in the past, it remains a medium-to-high growth rate. Worldwide, our growth rate is still high. Given China's large economic size, the 7% increase in its economy today equals, if not exceeds, a 10% increase in its economy in the past. The increase is also equivalent to the size of a medium-sized economy.
今年年初和近几个月,中国经济一些指标出现小幅波动,但经济运行仍处于合理区间。有波动是难免的,类似波动在去年也发生过,其他国家的增长也不是一条直线。我们提出中国经济运行要保持在合理区间,今年增长的预期目标是7.5%左右。请朋友们注意,这里有个"左右"。也就是说,只要就业比较充分、物价比较稳定、居民收入同步增长、生态环保取得积极成果,经济增速比7.5%高一点、低一点,都是可以接受的。对于中国政府来说,最关注的还是就业。今年以来,虽然经济增速有所放缓,但就业不降反增。1-9月,城镇新增就业超过1000万人、与去年同期相比多增了十几万人,31个大城市调查失业率保持在5%左右。
In the beginning of this year and in recent months, there have been some small fluctuations in some of China's economic indicators, yet the economy is still running within a reasonable range. It is inevitable to have some fluctuations, which also occurred last year. And the growth of other countries is not a perfect straight line either. We maintain that the Chinese economy needs to perform within a reasonable range. The growth target for this year is set at around 7.5%. I would like to draw your attention to the word "around". This means that with adequate employment and relatively stable price levels, and as long as we could ensure parallel growth of household income and positive progress in protecting the environment, a growth rate slightly higher or lower than 7.5% would be considered acceptable. For the Chinese government, its focus is still on employment. Since the start of this year, although economic growth has somewhat slowed, employment has increased. From January to September, more than 10 million urban jobs were created, over 100,000 more than that of the same period of last year. Surveyed unemployment rate has stayed at around 5% in 31 big cities.
经济发展不是短跑,而是没有终点的长跑,要有一定的速度,但更重要的是看耐力和后劲。中国经济增长的质量效益在提升,这是我们希望看到的。服务业比重继续上升,电子商务、物流快递等新兴业态快速发展,高技术产业和装备制造业增长快于整个工业,产业结构调整优化"跨了栏"。节能减排也交出一份好的成绩单,上半年单位GDP能耗同比下降4.2%、碳排放强度下降5%左右,是多年来最大的降幅。我们的居民收入持续增加,消费需求平稳增长,特别是大众消费快速上升,人民群众得到了实实在在的好处。
Economic growth is not a sprint but rather long-distance running that will never end. It demands certain speed. More importantly, it demands perseverance and staying power. The quality and efficiency of China's economic growth is improving, something that we hope to see. With the continued rise of the proportion of the service industry, the rapid development of emerging industries such as e-commerce, logistics and express delivery, and the growth of high-tech industries and equipment manufacturing faster than the entire secondary industry, the adjustment and improvement of industrial structure has progressed by leaps and bounds. We have also seen encouraging results in energy conservation and emissions reduction. Energy consumption per unit of GDP was down by 4.2%, and carbon intensity down by about 5% in the first half of this year, the biggest cuts in years. With growing household income, consumer demand is also rising steadily. In particular, consumption by the general public is increasing rapidly. People have enjoyed tangible benefits in the course of economic development.
中国经济能有这样的表现,主要靠的是改革创新。面对经济下行压力,我们没有实行"大水漫灌"式的强刺激,没有放松银根和扩大赤字,而是强力推改革,在加快行政、财税、金融、投资等重点领域改革的同时,改革和创新宏观调控方式,实施结构性调控,也就是在区间调控的基础上进行定向调控。改革对经济也是一种刺激,能够再造微观基础,优化宏观环境,激发巨大市场活力和社会创造力。我们推出一系列激活力、补短板、强实体的改革措施,就是要释放改革这一发展的巨大红利。
The Chinese economy has made these achievements thanks mainly to reform and innovation. Despite downward pressure on the economy, we have not adopted indiscriminate strong economic stimulus; nor have we ever eased monetary policy or expanded deficit. Instead, we have vigorously promoted reform in administrative, fiscal, financial, investment and other key areas and, at the same time, reformed and innovated the approaches of macro-control by promoting structural adjustment, namely targeted macro-control on the basis of range-based macro-control. Reform is also a stimulus on the economy, as it helps to improve both the micro-foundations and the macro-environment for economic growth, and could generate huge market vitality and social creativity. We have put in place a number of reform measures to incentivize market entities, strengthen weak links and boost the real economy, with an aim to release the massive dividend of reform for development.
今年以来,中国政府继续带头自我革命,大幅度简政放权,推进市场化改革,让更多的人、更多的企业展现创造创新的活力。今年3月,全面推行了工商登记制度改革,半年多来新设立的市场主体"井喷式"增长,同比增幅超过60%。这些新设立的企业大多属于小微企业和服务业,带动了上千万人就业,而且成长性强,是中国经济增长新的支撑力量。我们不仅降低市场准入门槛,采取"雪中送炭"的政策支持这些新设企业,还加强事中事后监管、创造公平竞争的市场环境,织密社会保障安全网、让创业创新者无后顾之忧,培植企业健康成长的沃土。
Since the beginning of this year, the Chinese government has continued to spearhead a "self-targeted revolution" by substantially streamlining administration and delegating powers and promoting market-based reforms so as to boost the vigor of creation and innovation for more individuals and businesses. Since the adoption of reform on the business registration system last March, we have seen an over 60% year- on-year growth, a massive upsurge, in other words, on the number of newly registered market entities over the past six months and more. These new businesses, mostly small and micro-enterprises or players in the service sector, have generated more than 10 million jobs, and have become a new pillar of China's economic growth thanks to their strong growth prospect. We have not only lowered the threshold of market access by offering much-needed policy support to these newly-established businesses, but also enhanced on-going and ex-post oversight, created a market environment featuring fair competition, and improved the social security network, so that those involved in entrepreneurship and innovation will have no additional worries and will grow healthily on the land we have fostered for them.
谈到这个话题,我想起歌德曾经说过,"你若喜爱你自己的价值,你就得给世界创造价值"。创新创造是人类共同的理念和追求。我们采取这些改革创新举措,就是要让市场新生力量站稳脚跟、发展起来,也让更多的人看到希望、敢于跟进,在中国大地形成大众创业、万众创新的热潮。掀起这股热潮,让每个人都有机会实现成就事业、精彩人生的梦想,这可以把我们的"人口红利"转为"人才红利",也可以完善收入分配、促进社会公平,更好实现经济可持续增长、人的全面发展。
Speaking as I am, I think of a line from Goethe, which reads "If you want to love your own value, you must create value for the world." Innovation and creation is the common ideal and pursuit of mankind. We have adopted these measures of reform and innovation so that the newly-born market forces will grow steadily, and that more people will see the hope and follow suit. In this way, we will see a massive wave of entrepreneurship and innovation by the people on the Chinese land. This wave will help everyone to grasp the opportunity of realizing the dream of greater accomplishments and a colorful life. It will enable us to turn our "demographic dividend" into "talent dividend" and improve income distribution and promote social equity, so that we could achieve sustained economic growth and all-round development of the people.
为促进经济平稳运行,我们将在保持政策总体稳定的基础上,更加积极地作为。下一步,我们还会加大改革创新力度,不仅对体制性障碍"拆藩篱",还对结构性矛盾"动手术",弥补发展中的"短板",做强实体经济的"筋骨"。比如,在财政资金、金融信贷上,盘活存量、用好增量,支持"三农"、小微企业、新兴业态等实体经济发展,继续推进中西部铁路、城镇棚户区改造、水利、污染防治等重大民生和发展工程,增加公共产品供给。有改革创新形成的强劲动能,我们对实现今年经济社会发展主要预期目标充满信心。
To ensure stable economic performance, we will be more proactive on the basis of maintaining overall policy stability. As a next step, we will further enhance reform and innovation. In addition to removing systemic obstacles, we will also address structural problems by strengthening weak links in development and in the real economy. For example, on finance and credit, we will make good use of both existing and additional resources to support the development of agriculture, rural areas, farmers, small and micro-enterprises, emerging industries and other forms of the real economy. We will continue to advance major livelihood and development projects such as railways in Central and Western China, renovation of urban run-down areas, water conservancy and pollution prevention and treatment, and make efforts to increase the supply of public goods. With the strong driving force of reform and innovation, we have every confidence that we could achieve the main targets for this year's economic and social development.
中国经济已经持续快速发展了30多年,未来发展依然有充沛的动力源,前景是光明的,因为我们的经济有巨大的增长韧性、市场空间和回旋余地。在座的不少是中国工商界的老朋友,如大家所感受到的,中国的人力资源素质在提高,基础设施完备,产业配套性好,资金与技术有一定积累,经济抗风险能力强,这些都是我们的综合优势。认识中国,需要立体地透视。中国是一个13亿多人口的大国,城乡之间、区域之间发展不平衡,工业化、城镇化还有很长的路要走。广阔的农村和内陆腹地,可以使经济梯度发展、渐次开花,蕴藏着巨大的发展潜能。改革创新是潜能最好的"挖掘机"。中国人民吃苦耐劳,正在用自己的智慧创新体制、创新科技,推动中国经济保持中高速增长、迈向中高端水平。
The Chinese economy has been growing in a sustained and rapid manner for over 30 years, and it still has ample source of energy for future development. It has a bright prospect, thanks to its strong resilience of growth, as well as the huge market space and ample room for leverage. Many of you are old friends of the Chinese business community. As you may have noticed, China does have a number of advantages such as improved human resources, well-developed infrastructure, industries, capitals and technologies, and strong risk-resistance capability. Yet to know a country like China well, one also needs to see more than that, as China is a big country with over 1.3 billion people and there is uneven development between the urban and rural areas and among different regions. Much remains to be done before we could realize industrialization and urbanization. The broad space in China's rural areas and inland provinces allows the economy to grow in an incremental and gradual manner, and these are where we find still a huge potential for development. As I see it, reform and innovation is the best "excavator" to bring out the potential. The diligent and hardworking Chinese people are making innovations on the system and science and technology development through their own wisdom, thus ensuring that the Chinese economy will maintain medium to high growth rate and move to the medium-and-higher end of growth.
中国的发展是开放的发展。中国经济发展离不开世界,世界经济的繁荣也需要中国。中国经济不会出现有人担心的"硬着陆",而是会给国际经济带来正面影响,是世界经济复苏的重要推动力量。这有利于中欧经贸合作和互利共赢。
China's development is open development. The Chinese economy cannot develop without the world, and prosperity of the global economy also needs China. The Chinese economy will not head for a "hard-landing" as some have worried about. On the contrary, it will bear positively on the global economy, and serve as a significant force propelling world economic recovery. That, I believe, is conducive to China-Europe business cooperation and ensures mutual benefit and win-win outcomes in our cooperation.
中国的发展需要和平的国际环境和稳定的周边环境。在世界政治经济形势错综复杂的情况下,中国是维护世界和平的重要力量,也致力于维护地区稳定与安全。希望各国携手共进,相互尊重,和平相处,共同发展。
China's development requires a peaceful international environment and a stable neighboring environment. As the global political and economic environment remains complex, China makes a major force for upholding world peace, and China is committed to upholding stability and security at the regional level. China hopes that countries may join hands, respect and live in peace with each other and seek to achieve common development.