Dumpster fire? 垃圾箱着火
中国日报网 2020-06-16 14:49
分享到微信 Reader question:
Please explain this headline: Trump's "Dumpster Fire" of an Energy Policy a Roadmap to Climate Calamity

My comments:
By likening Donald Trump's energy policy to a dumpster fire, they mean to say it's not a well thought out plan, but instead one of chaos and, yes, mess.
Mess, as in messy, as a dumpster is messy.
A dumpster is of course a garbage can which is uniformly made and can be loaded mechanically on to a garbage truck.
A dumpster fire is literally a fire in a dumpster.
A fire in a dumpster?
Well, say, someone throws a cigarette butt in a dumpster in a moment of carelessness, igniting a fire. What do you do? Call the fire department? Perhaps it's not worth it. Try to bring a basin of water and dumps it on top of the dumpster? That may make it look worse, i.e. more messy than it is.
Look on while letting the fire burn itself out? Sounds equally messy.
What do you do?
Well, anyways, a dumpster fire is an American idiom that stands for situation that's gone out of hand and become messy and chaotic, disorganized and out of control.
In our example, Donald Trump, the American President, doesn't even believe that climate change is happening, that global warming is real, that the arctic is melting, so on and so forth. Trump doesn't even seem to know the difference between weather and climate, seeing any icy cold winter day as evidence against global warming.
Needless to say, under such leadership, the US energy policy can only be one of disaster, or "a roadmap to climate calamity".
All right?
All right, here are media examples of "dumpster fire" in the media:

1. At its annual meeting, held this year in Austin, the American Dialect Society selected a two-word lexical item as its word of the year for 2016: dumpster fire. And it set a precedent by including an emoji representation of the term in its announcement of the vote.
Dumpster fire won in a runoff vote with woke, a slang term meaning "socially aware or enlightened." Also-rans included normalize, post-truth, and #NoDAPL, the hashtag protesting the construction of the North Dakota Pipeline.
Why dumpster fire? "As 2016 unfolded, many people latched on to dumpster fire as a colorful, evocative expression to verbalize their feelings that the year was shaping up to be a catastrophic one," Ben Zimmer, chairman of the society's new words committee (and former Visual Thesaurus executive producer), said in the press release. "In pessimistic times, dumpster fire served as a darkly humorous summation of how many viewed the year's events."
Fire was a popular theme in this year's vote. The word was nominated in the Slang Word of the Year category – it's an adjective meaning cool, fun, stylish, and is also used as a general superlative – and the "fire" emoji by itself won in the Emoji of the Year category.
- A "Dumpster Fire" of a Year, Vocabulary.com, January 11, 2017.

2. It is the Iran conference where uttering the word Iran is almost taboo. It is the Middle East peace gathering with utterly no chance of forging peace in the Middle East.
And it is a meeting intended to end a sense of U.S. isolation from discussions about the region that so far have only cast a bright light on President Donald Trump's pariah status among longtime allies.
Officials from dozens of nations are convening in Warsaw at Washington's behest on Wednesday for an event billed as the "Ministerial to Promote a Future of Peace and Security in the Middle East."
Some, including diplomats representing America's closest historical allies, said they are attending grudgingly, out of a sense of obligation and mainly in hopes of containing any damage.
A number of key players are not planning to attend at all — notably Russia, which is now viewed by many as the dominant power in the Middle East after successfully protecting President Bashar al-Assad of Syria.
Neither Iran nor Iranian opposition groups were invited, and on Monday Lebanon became the latest country to announce it would skip the event — a move viewed as showing solidarity with Tehran. Lebanon's Foreign Minister Gebran Bassil announced the decision in Beirut at a news conference with his Iranian counterpart, Mohammad Javad Zarif. Others not attending include Qatar, Turkey and the Palestinian Authority.
Just about the only nation expressing enthusiasm is Poland, the host, which has made a show of cozying up to the U.S. president, and even asked him to establish a military base on its soil to be called Fort Trump.
...
Critics of the Trump administration declared the event a debacle long before it started.
"Everything that I've heard," said Andrew Miller, the deputy policy director of the Project on Middle East Democracy, a Washington think tank, "is that this is a dumpster fire. That it's ill-conceived, ill-executed and that it's unlikely to produce anything of value."
Miller, who served on the National Security Council during the Obama administration and worked before that at the State Department, said the reluctance of close allies to participate is a stinging rebuke.
"In any other administration at any other time whether our European partners would show up at one of our events was never in question," he said.
- Donald Trump's diplomatic 'dumpster fire' on Iran, Politico.eu, April 19, 2019.

3. The Cleveland Browns are starting a new era under Kevin Stefanski, who was officially hired on Monday. But not everyone is excited about the potential of the new skipper in Cleveland.
Former NFL quarterback turned NBCSports analyst Chris Simms was not a fan of the hire and doesn't see things going well for the former Minnesota Vikings offensive coordinator in Cleveland.
"I don't know what to say. Cleveland is a dumpster fire. That's all I can really say. It's a dumpster fire," Simms said on PFTLive. "What in the world. … We're talking football here. It's nothing personal. Kevin Stefanski — I've never really met him in my life. I don't know him. I'm sure he's a really fine guy. I know some of the human beings in Cleveland, they're good human beings. Kevin Stefanski, good human being. I'm talking strictly football here. I don't know what the hell you would hire Kevin Stefanski for. I don't know."
Stefanski, 37, spent 14 seasons under three different head coaches in Minnesota. He was promoted to the full-time offensive coordinator this season with the Vikings, helping quarterback Kirk Cousins and running back Dalvin Cook have career years. However, Simms wasn't too impressed and doesn't think the Browns' analytics heavy approach will help.
It's been reported by multiple sources that Stefanski agreed to cede power to part-time chief strategy officer Paul DePodesta when it came to the game plan.
"We have watched the offense, there are issues in Minnesota. If they can't run the ball, it's the most basic, bull crap offense we have seen," Simms said. "The analytics department making in game decisions about what to do in certain situations? Get the hell out of here Cleveland. That's unbelievable and so dysfunctional."
- Analyst Calls Browns Coaching Situation a 'Dumpster Fire', Heavy.com, January 14, 2020.
本文仅代表作者本人观点,与本网立场无关。欢迎大家讨论学术问题,尊重他人,禁止人身攻击和发布一切违反国家现行法律法规的内容。
About the author: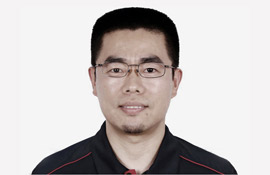 Zhang Xin is Trainer at chinadaily.com.cn. He has been with China Daily since 1988, when he graduated from Beijing Foreign Studies University. Write him at: zhangxin@chinadaily.com.cn, or raise a question for potential use in a future column.
(作者:张欣 编辑:丹妮)
中国日报网英语点津版权说明:凡注明来源为"中国日报网英语点津:XXX(署名)"的原创作品,除与中国日报网签署英语点津内容授权协议的网站外,其他任何网站或单位未经允许不得非法盗链、转载和使用,违者必究。如需使用,请与010-84883561联系;凡本网注明"来源:XXX(非英语点津)"的作品,均转载自其它媒体,目的在于传播更多信息,其他媒体如需转载,请与稿件来源方联系,如产生任何问题与本网无关;本网所发布的歌曲、电影片段,版权归原作者所有,仅供学习与研究,如果侵权,请提供版权证明,以便尽快删除。