Beat the rap? 逃脱惩罚
中国日报网 2020-06-19 14:32
分享到微信 Reader question:
Please explain "beat the rap" in this sentence: Here's how Trump can beat the rap on the pandemic.

My comments:
In other words, here are reasons or excuses why Donald Trump can escape punishment or rather media criticism for mishandling the coronavirus pandemic.
Trump's incompetence vis-a-vis the coronavirus is well documented. So we'll stick with the American expression "beat the rap". It is, after all, a phrase that needs perhaps more than a little explanation.
First of all, to beat the rap is to escape from punishment, for some wrongdoing one's done.
To beat is to go away or get away. Just beat it, as Michael Jackson used to sing.
They're out to get you, better leave while you can
Don't wanna be a boy, you wanna be a man
You wanna stay alive, better do what you can
…
So beat it, beat it, just beat it.
A rap on the other hand, is a sharp slap on the wrist or knuckles. It's a sharp blow in comparison to slap or a tap on the hand. A boy, for example, reaches for food on the dinner table before everyone gets seated and his mom gently taps him on the wrist to remind him of table manners. A minute later, the boy does it again and the mother this time gives him a slap on the wrist. A third time the boy does this, the mother, now angry, gives him a rap on the knuckles.
Hence, figuratively, when people say someone takes a rap on the knuckles, they mean to point out that this is a rather severe punishment in comparison to a slap on the wrist or an even gentler tap or touch.
So, in short, to beat the rap is to escape some kind of severe punishment for some wrongdoing. "Escape", of course, implies the wrongdoer deserves the punishment, either in the form of a fine, public criticism or a prison sentence, whatever.
No more ado, here are media examples culled from over the years to help us bring the point home:

1. As far as corrupt Teamster bosses from Cleveland go, Don Hahs isn't remotely in the same league as the union's general president during the mid to late 80s, the late Jackie Presser, a kept man of the Mob. But the discovery that Hahs likely embezzled funds has raised concerns of a federally-appointed oversight body. In a September 13 letter to International Brotherhood of Teamsters General President James P. Hoffa, the Independent Review Board (IRB) recommended that Hoffa bring embezzlement charges against Hahs, who heads the Brotherhood of Locomotive Engineers and Trainmen (BLET). Hahs, the three-member board charged, diverted more than $58,000 in BLET funds to cover personal expenses. It's an internal matter – at least for now. But the IRB has a track record of limited patience.

The 55,000-member Locomotive Engineers' union, headquartered in Cleveland, has been affiliated with the Teamsters since 2004. Don Hahs became president in 2001 and was re-elected four years later. During 2004-06, the Independent Review Board noted, he used more than $58,000 in BLET money to enjoy the good life, especially basketball-related. Tickets for Cleveland Cavaliers NBA games accounted for nearly $48,000 of that sum; travel expenses for his wife took up another $8,000. It will be hard for him to beat the rap, since the IRB report refers extensively to sworn member statements as well as itemized checks.
IRB Administrator John Cronin said Teamsters leadership would decide upon appropriate sanctions. Once Hoffa receives all relevant materials, he would have seven days to respond to the board and 90 days to take action. A union spokeswoman said that Hoffa "has not determined yet whether the Teamsters will hear the case or refer it back to the IRB." If the union does bring charges, Hoffa would name a panel to hear the case and make recommendations. The Independent Review Board was created in the wake of a 1989 civil RICO consent agreement between the Teamsters and the Justice Department. Its current members are former Attorney General Benjamin Civiletti, former FBI and CIA Director William Webster, and former U.S. Attorney Joseph diGenova.
- Panel Seeks Theft Charges against Cleveland Locomotive Boss, NLPC.org, October 8, 2007.

2. Gone are those days when the local policeman would gently give you a warning and send you home if you were stopped for drunk driving. The maximum punishment in those good old days would be a ticket or a fine. However, with alarming rate of drunk driving accidents, law enforcement are taking a very strict view on drunk driving. The penalties too have become serious and will continue to be so.
If you have been drinking and driving and you get stopped by a police, there is no question that you would be taken to jail at least for a night to sober up. If this is your first offence, you will be warned, a proper report will be created and you are let off. However, the penalties for subsequent arrests for drunk driving would be far more serious. Depending on the level of alcohol in your blood, you will be punished. Many states across the US require you to submit the blood alcohol tests. If you refuse, then you are faced with a higher penalty.
It is without a doubt that if you are arrested for drunk driving, you would be spending money for a court case and you might even end up losing your driving license. At times, you might be forced to have an ignition interlock device installed in your car so that you would be stopped from driving if you have been drinking.
If you are a habitual drinker and keep getting arrested, your vehicle may be impounded. You have been drinking and have a child under the age of 16 with you while driving, then you would have to face a child endangerment charges.
Under the circumstances that you lose your driving license, you will have to undergo an alcohol assessment interview. The counselor who assesses you will recommend the treatment. If you do not follow the treatment, you might never get your license back.
With laws getting extremely strict with regard to drunk driving, there is no way you will be able to beat the rap. If you do not want to be convicted to drunk driving then you should completely avoid driving after drinking.
- Penalties For Drunk Driving, MaricoCountyCourt.net, February 20, 2010.

3. The Times-Picayune is marking the tricentennial of New Orleans with its ongoing 300 for 300 project, running through 2018 and highlighting the moments and people that connect and inspire us. Today, the series continues with the end of the colorful political career of Edwin Edwards.
THEN: Former Gov. Edwin Edwards, the most influential Louisiana politician of the second half of the 20th century -- and one of the most colorful -- was found guilty on May 9, 2000, of extorting nearly $3 million from companies that applied for casino licenses during his last term in office. He was convicted on 17 counts of racketeering, mail and wire fraud, conspiracy and money-laundering. Edwards was sentenced to 10 years in prison and served eight, followed by six months in home detention and three years of probation.
NOW: Edwards lives in Gonzales with his third wife, the former Trina Grimes Scott, and their son, Eli Wallace Edwards. The couple starred in a short-lived unscripted A&E show, "The Governor's Wife," and he made an unsuccessful run for Congress in 2014. He will turn 90 on Aug. 7.
Throughout his long political career, Edwards had always cultivated the image of a suave rogue with a quick wit, abundant charm and an uncanny knowledge of the way politics is played. There were always rumors of corruption, but Edwards devotees, of whom there were many, shrugged them off as just part of the package that was Edwin Edwards. After all, they said, he beat the rap in 1986. In the 1991 gubernatorial runoff against Duke, the former Klansman, that history was acknowledged with a wink, with bumper stickers that said: "Vote for the crook – it's important!" The successful prosecution of Edwards in 2000, however, sent a clear signal that the time for that attitude had passed.
- The rise and fall of Gov. Edwin Edwards, NOLA.com, May 28, 2017.
本文仅代表作者本人观点,与本网立场无关。欢迎大家讨论学术问题,尊重他人,禁止人身攻击和发布一切违反国家现行法律法规的内容。
About the author: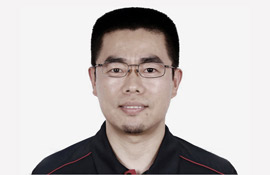 Zhang Xin is Trainer at chinadaily.com.cn. He has been with China Daily since 1988, when he graduated from Beijing Foreign Studies University. Write him at: zhangxin@chinadaily.com.cn, or raise a question for potential use in a future column.
(作者:张欣 编辑:丹妮)
中国日报网英语点津版权说明:凡注明来源为"中国日报网英语点津:XXX(署名)"的原创作品,除与中国日报网签署英语点津内容授权协议的网站外,其他任何网站或单位未经允许不得非法盗链、转载和使用,违者必究。如需使用,请与010-84883561联系;凡本网注明"来源:XXX(非英语点津)"的作品,均转载自其它媒体,目的在于传播更多信息,其他媒体如需转载,请与稿件来源方联系,如产生任何问题与本网无关;本网所发布的歌曲、电影片段,版权归原作者所有,仅供学习与研究,如果侵权,请提供版权证明,以便尽快删除。