Cutting off his nose to spite his face? 跟自己过不去
中国日报网 2022-02-22 10:53
分享到微信 Reader question:
Please explain this sentence: What Trump is doing then is cutting off his nose despite the Republican Party's face. He'd rather lose a seat with a weaker candidate than see someone who defied him on the big lie be the Republican nominee.

My comments:
Donald Trump, that is, former President of the United States, who is a member of the Republican Party, one of two major parties in America (the other being the Democratic Party).
As a Republican, Trump is expected to toe the Party line and support the Party's nomination. Yet, in this case, even though that unnamed nominee is a popular one having a greater chance of winning, Trump has not given his support to this person.
Instead, Trump has thrown his weight behind someone else, someone who is a weaker choice.
Why does Trump do this?
He does this out of spite, as a form of revenge, revenge against the Party nominee who has defied him on the big lie – that he had the election stolen from him by current American President Joe Biden.
That's why he's described as cutting off his nose to spite the Republican Party's face, running the risk of hurting himself in the process.
Note that the proper expression is "cut off one's nose to spite (not "despite") one's face". Literally, that means one cuts off one's nose so that one's face will look ugly as a result.
Why would anyone do a thing like that? Well, according to legend, nuns in monasteries in medieval Europe would actually do that – in order to help preserve their chastity.
Their rationale is, or was, that if they looked less attractive, they would be able to avoid the attention of males more easily.
It's kind of like some pretty woman today refusing to wear makeup or to dress up sharp in order to avoid sexual harassment in the work place.
Yes, but, at what price?
Exactly. Cutting off one's nose to spite one's face eventually hurts one's own self, and perhaps to a greater irredeemable degree.
In our example, Trump not helping the Republican Party's nominee may end up costing a Republican seat in Congress, which, in turn, hurts Trump if he wants to run again for President.
But, then again, Trump is exactly that kind of person, who would do things out of spite, that is, out of anger and resentment, jealousy or bad blood in general.
In other words, he'd do anything to hurt an opponent – even if doing so may hurt himself somewhere further down the line.
All right?
All right, here are media examples of cutting off one's nose to spite one's face (or, variously, bite off one's nose to spite their face):

1. Republican presidential candidate Donald Trump declared the "shackles" are off on Tuesday and immediately lit into House Speaker Paul Ryan and other GOP lawmakers that have rebuked him in recent days over vulgar comments he made a decade ago.
With just four weeks to go before Election Day and his campaign reeling, Trump returned to the combative form he displayed on the campaign trail during the Republican primaries, blasting critics in his own party.
Trump is particularly angry with House Speaker Paul Ryan, who during a conference call with House GOP lawmakers on Monday said he will, "no longer defend Donald Trump" and will instead devote his energies over the next four weeks to "making sure that Hillary Clinton does not get a blank check" with a Democratic Congress if she's elected president.
"Disloyal R's are far more difficult than Crooked Hillary," Trump said in one of a string of Tweets he posted Tuesday. "They come at you from all sides. They don't know how to win - I will teach them!"
Minutes later, he was firing again, saying, "With the exception of cheating Bernie out of the nom the Dems have always proven to be far more loyal to each other than the Republicans!"
He went on to dismiss Paul Ryan as a "weak and ineffective leader" and slammed "the very foul mouthed Sen. John McCain" who Trump says "begged for my support during his primary (I gave, he won), then dropped me over locker room remarks!"
He summed up his feelings this way: "It is so nice that the shackles have been taken off me and I can now fight for America the way I want to."
The unrestrained series of Tweets sent off shock waves in GOP circles, where many fear an all-out civil war has broken out precious few days before the Nov. 8 election, and worse, that Hillary Clinton's jump to a double-digit lead in the latest polls may signal the end of Republican control of the Senate and heavier than expected losses in House races across the country.
…
In red states like South Carolina, where Trump is almost guaranteed to win next month, tepid support remains.
Most political observers say it's a practical matter.
While it's safe to condemn Trump's remarks in the Palmetto State, no elected official wants to cut off his nose to spite his face and inspire the ire of South Carolina's Republican voters.
U.S. Sen. Tim Scott has said he will continue to back Trump for president because "he's the lesser of two evils."
- 'Unshackled' Trump Attacks Own Party After Defections, CourthourseNews.com, October 12, 2016.

2. Do you ever get that sickening, uncomfortable and all too-familiar feeling of déjà vu? Life is ticking along, business as usual, and all of a sudden you begin reliving an experience you'd rather leave in your past.
Unfortunately, it's the norm as an England supporter. Everything is coming up Milhouse, until it's not.
It's hard to believe that Gareth Southgate has been the England coach for four years now, following the great debacle which surrounded the sacking of the shamed Sam Allardyce. And it has to be said, for a man who initially didn't even want the job, he's done pretty well and undoubtedly earned his fifth term at the helm.
Given a free pass from the off, the underwhelming appointment got his feet under the table and set out his stall – he was placing his faith in the next generation, the one he had helped nurture during his time as Under-21's coach.
Perhaps it was the understated, low-key appointment of a far from high-profile boss, or the generally bleak state of the international picture only a few years ago, but there were little to no expectations held among the viewing public.
Entering the 2018 World Cup, England were the underdogs - and that suited Southgate down to the ground. A man who had built his career on good old fashioned hard work, nailing the basics and being an ever-reliable presence, was now tasked with leading an unfancied, inexperienced group of players into battle.
...
The man who seemed infallible and unflappable when facing the media's firing line, is now beginning to show his claws. Southgate is no pushover, and while painted as Mr Nice Guy, he reeks of a man willing to cut off his nose to spite his face.
So, three years on from the best summer in England's recent history, and we seem to have gone full circle. The Three Lions are approaching a major tournament unsure of their best system, the best personnel to suit that system, and with the moans and groans growing louder over a lack of game time for certain individuals.
All this, while the demands for another semi-final showing (at least) are through the roof.
- Gareth Southgate Is Losing the Good Will Earned in 2018 & Must Restore Faith in His Judgement, 90min.com, November 15, 2020.

3. On Sunday, NATO Secretary-General Jens Stoltenberg said the military alliance is "concerned" with the European Union's reliance on Russia for natural gas imports amid Western claims that Russia is preparing to invade Ukraine.
"We are concerned about the energy situation in Europe because it demonstrates the vulnerability of being too dependent on one supplier of natural gas and that's the reason why NATO allies agree that we need to work and focus on diversification of supplies," Stoltenberg said.
The EU relies on Russia for about a third of its natural gas supply. This fact complicates Washington's plans to potentially impose crippling sanctions on Russia that would aim to isolate the country from the global financial system. The US is in talks with Gulf countries to divert gas to Europe in the event of sanctions or a Russian invasion of Ukraine.
Over the past few months, there have been rumors that Russian President Vladimir Putin might cut Europe's gas supplies off. But that would be detrimental to Russia's economy, which relies on energy exports. Even President Biden recognized this in comments during a recent press conference.
"Everybody talks about how Russia has control over the energy supply that Europe absorbs … I don't see that as a one-way street. They go ahead and cut it off – it's like my mother used to say: 'You bite your nose off to spite your face,'" he said. "It's not like they have all these wonderful choices out there."
The fact that Russia and the EU rely on trading with each other so much makes war in Eastern Europe less likely. Germany and Russia are looking to boost their trade relationship through the Nord Stream 2 pipeline.
- NATO 'Concerned' About Europe's Reliance on Russian Gas, AntiWar.com, January 31, 2022.
本文仅代表作者本人观点,与本网立场无关。欢迎大家讨论学术问题,尊重他人,禁止人身攻击和发布一切违反国家现行法律法规的内容。
About the author: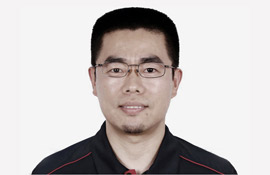 Zhang Xin is Trainer at chinadaily.com.cn. He has been with China Daily since 1988, when he graduated from Beijing Foreign Studies University. Write him at: zhangxin@chinadaily.com.cn, or raise a question for potential use in a future column.
(作者:张欣 编辑:丹妮)
中国日报网英语点津版权说明:凡注明来源为"中国日报网英语点津:XXX(署名)"的原创作品,除与中国日报网签署英语点津内容授权协议的网站外,其他任何网站或单位未经允许不得非法盗链、转载和使用,违者必究。如需使用,请与010-84883561联系;凡本网注明"来源:XXX(非英语点津)"的作品,均转载自其它媒体,目的在于传播更多信息,其他媒体如需转载,请与稿件来源方联系,如产生任何问题与本网无关;本网所发布的歌曲、电影片段,版权归原作者所有,仅供学习与研究,如果侵权,请提供版权证明,以便尽快删除。