Very stop-start? 走走停停
中国日报网 2022-03-04 13:58
分享到微信 Reader question:
Please explain this sentence: It's been very stop-start for him here so far.

My comments:
Life for him here has, so far, not been smooth and easy.
On the contrary, it's been bumpy and inconsistent.
That's what it's been very stop-start means.
Stop-start?
That's an analogy to the old motor engine not working properly. In old Charlie Chaplin movies, for example, we see this happen quite a lot, to the point of hilarity. You know, a poor chap played by Chaplin corrals his family into the car and ignites the vehicle by rolling a hand bar at the front of the car. The car starts, shaking violently, and he climbs into the driver's seat, ready and raring to go.
The moment he puts on his gloves, however, the engine stops.
So he climbs down from the driver's seat and walks to the front of the car and ignites it again. Instant ignition this time, excellent. He climbs back into the seat, waves to his wife and children and….
The engine stops. It's dead, again.
So he climbs down from the driver's seat and the cycle repeats itself all over again.
And again and again. And repetition makes the whole scene very funny.
Anyways, this gives us an idea of how it feels to be stop-start.
In colloquialism, if people say it's been stop-start, the feeling is similar. In the same way a stop-start vehicle can't travel far and fast, if your journey or career is stop-start, then it's not smooth and easy.
Instead, it's bumpy and unsteady, with a lot of interruptions. You do well for a day or two, run into difficulties and have to start all over again.
In other words, to use a navel phrase, no smooth sailing at all.
Still in other words, this time using an airplane analogy, you never feel like you've really taken off.
All right, no more ado. Let's read a few media examples of situations where things are very stop-start:

1. Philippe Coutinho is set to agree a move to a Premier League club by this weekend, with Aston Villa one of six English clubs in a race to sign the Barcelona midfielder.
The former Liverpool player wants to return to England and sign for an ambitious club where he can play regularly.
It is understood that neither Liverpool or Tottenham are among the clubs chasing his signature.
The 29-year-old, who is also attracting interest from teams abroad, will decide his next club before this weekend.
...
Sky Sports News' Kaveh Solhekol on The Transfer Show:
"There are lots of clubs interested in signing Coutinho, including six Premier League clubs, as well as clubs abroad.
"But he wants to come back to England and to return to the Premier League.
"I'm told no club is in pole position at the moment to sign him.
"I don't think he knows where he's going, but he's got lots of options and his representatives are speaking to different clubs.
"We've seen his move to Barcelona hasn't worked out, it's been very stop-start. He wants to go somewhere where he can settle and play regularly."
- Philippe Coutinho: Aston Villa among six Premier League clubs in race to sign Barcelona midfielder in transfer window, SkySports.com, January 7, 2022.

2. Between Omicron, ongoing travel restrictions, and inflation around the world, employers have had to reconsider their talent mobility strategies. Here's what they can expect in 2022.
In 2021, many of us began the year with the hope that the COVID-19 vaccines would bring us back to a certain level of normalcy. While the vaccine rollout did allow greater mobility than at the peak of the pandemic, travel restrictions remained erratic and unpredictable as countries fought to mitigate the spread of new variants. Coupled with rising inflation, and the added challenges in navigating the world of remote working, organisations have had to rethink their mobility strategies and policies for hiring and retaining talent.
Moving into the new year, here are the top three predictions around employee mobility that we expect to encounter, and what employers should anticipate as the pandemic continues to unfold.
The conversation is also moving well beyond the merits of home vs. host-based salary approaches, into the tailoring of packages around the individual, making the whole experience more personal and thus enhancing engagement levels.
...
Business travel will continue to be very stop-start. While countries are starting to open up, COVID-19 is by no means beaten. Recent responses to the Omicron variant show that countries will reimpose travel restrictions when spikes occur, as seen from the temporary suspension of Singapore's Vaccinated Travel Lanes back in December.
- Global mobility patterns in 2022: What employers must look out for, PeopleMattersGlobal.com, January 22, 2022.

3. Cristiano Ronaldo's presence is making it "really difficult" for Edinson Cavani to build his baseline fitness and avoid injuries at Man United.
That is the view of injury expert Ben Dinnery, who runs the Premier Injuries site and has a background in medicine and data analysis.
Cavani has picked up a groin strain and was not available for United's clash against Southampton last Saturday (12 February).
Ralf Rangnick told United club media yesterday (14 February) that "I think he is old enough to know if his body is ready in order to play or not."
The Uruguayan turned 35 yesterday and his latest setback is his fifth spell on the sidelines this season.
Ronaldo, 37, re-signed from Juventus in the summer.
And Dinnery claimed that the legendary Portuguese striker's arrival has made it difficult for Cavani to play himself into fitness.
"We know Cavani is in tip-top physical condition," he told Football Insider's Adam Williams,
"He takes his fitness really seriously. You have to look after yourself when you're in those twilight years of your career.
"There are other factors that come into play. It's been a very stop-start season for Cavani.
"Pre-seasons is a cornerstone. It forms the building blocks for players to go through a campaign and protect themselves.
"Cavani didn't quite get those minutes under his belt hat he wanted. That has impacted his return.
"He had a tendon problem which limited his opportunities at the start, and then he's been off on international duty.
"It seems like he's always playing catch-up. Because he's not a guaranteed starter, it's difficult to get up to match speed.
"Maybe you need a four or five-game period where you can adjust and play yourself in.
"But it is going to be really difficult to get that with the likes of Cristiano Ronaldo breathing down your neck."
- Man United news: Cristiano Ronaldo is making things 'really difficult' for Edinson Cavani - expert, FootballInsider247.com, February 15, 2022.
本文仅代表作者本人观点,与本网立场无关。欢迎大家讨论学术问题,尊重他人,禁止人身攻击和发布一切违反国家现行法律法规的内容。
About the author: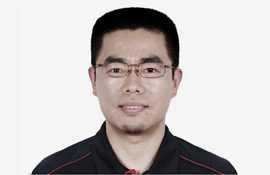 Zhang Xin is Trainer at chinadaily.com.cn. He has been with China Daily since 1988, when he graduated from Beijing Foreign Studies University. Write him at: zhangxin@chinadaily.com.cn, or raise a question for potential use in a future column.
(作者:张欣 编辑:丹妮)
中国日报网英语点津版权说明:凡注明来源为"中国日报网英语点津:XXX(署名)"的原创作品,除与中国日报网签署英语点津内容授权协议的网站外,其他任何网站或单位未经允许不得非法盗链、转载和使用,违者必究。如需使用,请与010-84883561联系;凡本网注明"来源:XXX(非英语点津)"的作品,均转载自其它媒体,目的在于传播更多信息,其他媒体如需转载,请与稿件来源方联系,如产生任何问题与本网无关;本网所发布的歌曲、电影片段,版权归原作者所有,仅供学习与研究,如果侵权,请提供版权证明,以便尽快删除。