Gone viral? 疯狂传播
中国日报网 2022-03-08 11:02
分享到微信 Reader question:
Please explain "gone viral", as in, "Video of the fatal crash has since gone viral."

My comments:
Gone viral on social media, that is, having been viewed and shared many times over WeChat, for example.
A plane or car crash, killing one or more people was recorded be some, say, passerby who later put the video on WeChat or TikTok and such like. Within days, that video had been viewed by, say, millions of people.
That could be the situation we're dealing with here, with the video having gone viral.
Gone viral?
Literally, that means that it has spread quickly and wildly, like an infectious disease containing a harmful virus.
The common flu, for example, is caused by such a virus. The coronavirus, on the other hand, is an extreme example of this, a deadly virus that spread through the air and therefore is very hard to contain.
Metaphorically, whenever something, be it a video like the one in our example or a picture, or any sensational story, spreads rapidly on social media, we say it's gone viral.
Like, out of control.
In the old days, people might have said, it has spread like wild fire.
That's the idea.
All right, let's read a few media examples of various things going viral:

1. A flag wasn't thrown on the field, but that didn't mean the NFL missed Aaron Donald choking another player last weekend.
Donald was caught in literal 4K by FOX's cameras choking Packers lineman Lucas Patrick during last week's Rams-Packers game at Lambeau. It wasn't something that the broadcast circled back to later in the game after the choke had gone viral on Twitter, rather it was pretty immediately clear that Donald had choked another player during a play.
Both Joe Buck and Troy Aikman commented on the choke as soon as it happened with FOX showing multiple replays right away. Despite the obviousness of the choke for at-home viewers, officials on the field missed the call and there were no flags thrown.
That doesn't mean Donald got away with it, however.
NFL Network's Tom Pelissero revealed on Sunday that the league has fined Donald $100,000 for the choke.
There will not be any further punishment in the form of missed games for Donald. The missed call is another blight on a terrible season of officiating for the NFL, but it didn't end up meaning much as far as the outcome of the game was concerned. Green Bay comfortably beat Los Angeles, and now the Packers are close to regaining control of the NFC playoff picture down the stretch of the season.
- NFL reveals punishment for Aaron Donald for choking Packers player in Week 12, Fansided.com, December 5, 2021.

2. Dua Lipa is not afraid to show off her movies as the singer recreated her iconic meme dance during her Future Nostalgia Tour.
In the past, Dua has been made fun of for her dance moves. However, the singer decided to turn things around in 2022 as she took matters into her own hand.
The singer decided to let her dancing skills take the center stage as she kicked off her tour.
In 2018, Dua had been performing her hit song 'One Kiss' and there was a dance step that caught everyone's attention. While some thought there was nothing wrong with it, there were others on the internet who decided to make that into a meme.
Within minutes, her video had gone viral on social media with people turning the content into gifs and memes. To date, people have been sharing the same.
However, the singer decided to recreate the iconic step in 2022 and managed to win over the audience.
Dua proved to everyone that she is a fierce woman who should not be messed with. At the moment, the singer has been enjoying her Future Nostalgia Tour.
Amid this, she decided to refresh the memories of the fan as she recreated her iconic meme dance while kickstarting her tour. Dressed in black and slice attire, looking at the video, we can assure you Dua managed to slay that performance.
- Dus Lipa Recreates Her Iconic Dance Meme During Future Nostalgia Tour, Hitc.com, February 18, 2022.

3. If you've ever questioned the power of social media, meet Zach Montana. Montana, the son of drummer William "Curly" Smith, used the platform to help his father's unreleased song from the '70s go viral earlier this year.
Montana, a 19-year-old musician, unearthed the disco-inspired tune titled "Surrender to Me," when he was driving Smith's truck in January and it was in the CD player.
"I'm listening and I'm thinking, 'Whoa, this is really good,'" Montana told TODAY Parents. "Then the vocals come on and I hear a very familiar voice — and I'm like, 'Oh my God, that's my dad."
The Arizona State University sophomore was so impressed that he decided to play the track for his TikTok followers.
"There's a horn section!" Montana exclaims. "Just wait… It's so good."
Two months later, Smith's infectious song "Surrender to Me," has more than one million streams on Spotify. Last month, Montana, an aspiring musician, and Smith, 70, performed together on "Jimmy Kimmel Live."
Smith is best known as Boston's drummer – he toured and recorded with the rock band from 1994 to 2001 — but the singer and guitarist has also done session work for artists such as Rick Springfield, Bette Midler and Bonnie Raitt.
Montana noted that Smith has "been out of the game for a little while," but is now experiencing a career resurgence thanks to TikTok.
Montana explained that "Surrender to Me," which was recorded roughly 43 year ago, was never released because Smith didn't have a record deal. Smith co-produced the single with singer-songwriter Mark Olson, who has since passed away.
"At the time, the market was flooded with this kind of music," Montana said. "I believe they pitched it to Motown Records and a few other subsidiaries, but nothing happened. And back then, they had no way of distributing it without a label. Obviously, there were no streaming platforms."
- A teen found his dad's unreleased song from the '70s and it's going viral, Today.com, March 7, 2022.
本文仅代表作者本人观点,与本网立场无关。欢迎大家讨论学术问题,尊重他人,禁止人身攻击和发布一切违反国家现行法律法规的内容。
About the author: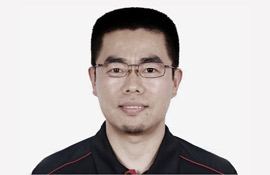 Zhang Xin is Trainer at chinadaily.com.cn. He has been with China Daily since 1988, when he graduated from Beijing Foreign Studies University. Write him at: zhangxin@chinadaily.com.cn, or raise a question for potential use in a future column.
(作者:张欣 编辑:丹妮)
中国日报网英语点津版权说明:凡注明来源为"中国日报网英语点津:XXX(署名)"的原创作品,除与中国日报网签署英语点津内容授权协议的网站外,其他任何网站或单位未经允许不得非法盗链、转载和使用,违者必究。如需使用,请与010-84883561联系;凡本网注明"来源:XXX(非英语点津)"的作品,均转载自其它媒体,目的在于传播更多信息,其他媒体如需转载,请与稿件来源方联系,如产生任何问题与本网无关;本网所发布的歌曲、电影片段,版权归原作者所有,仅供学习与研究,如果侵权,请提供版权证明,以便尽快删除。