Going ballistic 勃然大怒
中国日报网 2023-09-19 17:11
分享到微信 Reader question:
Please explain this sentence: "When she saw the video, she went ballistic."
My comments:
She didn't like what she saw.
That's for sure.
She went ballistic. Literally, she took off like a ballistic missile.
A ballistic missile, of course, is a weapon that is sent through the air and that explodes when it hits its target. And when it does, it explodes, possibly killing many people and generally wreaking havoc.
Ballistic missiles are among the most devastating military weapons in use today.
In other words, they're extremely dangerous.
Hence and therefore, metaphorically speaking, if someone goes ballistic over something, they become extremely angry, excited, mad, wild and out of control.
Move out of their way because, like a real ballistic missile, they are dangerous – they may knock a coffee mug off the table or throw a chair or something like that.
Well, you get the picture.
And here are media examples of people who go ballistic in one way or another:
1. President Donald Trump has many prized possessions. But few seemed to inspire as much personal joy as his Twitter feed. Trump routinely boasted of the social media bullhorn he possessed. He credited it with launching his political trajectory. And he used it as a tool to lacerate his foes.
On Friday night, he lost it. And, then, he lost his mind.
The president is "ballistic," a senior administration official said after Twitter permanently took down his account, citing the possibility that it would be used in the final 12 days of Trump's presidency to incite violence. The official said Trump was "scrambling to figure out what his options are."
So too was much of the political universe, which has become bleary-eyed obsessive about Twitter these past four years as Trump used the medium to fire advisers, sink legislative initiatives, encourage social duress and, lastly, praise the scores of MAGA faithful, just days after hundreds of them violently ransacked the Capitol.
In a statement issued by the White House, Trump said he'd been "negotiating with various other sites" while "we also look at the possibilities of building out our own platform in the near future." But aides did not reveal what plans were in the works.
- Trump went 'ballistic' after being tossed off Twitter, Politico.com, August 1, 2021.
2. A 10-year-old hockey player went ballistic and attacked two officials in the middle of a youth match in Russia.
Artemi Akshumov, a goaltender for the Ekaterinburg Youth Sports School team, punched one official and hit another with his stick during the shocking scenes that unfolded at a children's tournament in Kurganovo, near Ekaterinburg.
A commentator can be heard laughing in the highlight clip below, and those laughs only become more pronounced as the youngster's violence gets replayed again and again.
According to Russia Today, it happened as Akshumov reacted negatively to being penalized.
One official slapped Akshumov with a penalty for tripping, and the player protested by whacking the frame of the goal with his stick.
His frustrations only escalated from there as he appeared to attack an opponent, punched one official, and then hit another over the head with his stick. Akshumov's team was trailing heavily by a 10-1 score at the time.
The incident may have gone unnoticed but the former KHL player Nikita Shchitov, 38, amplified it by posting a video on his Telegram channel.
- A 10-year-old hockey player went ballistic and attacked 2 officials in the middle of a match in Russia, Insider.com, May 27, 2022.
3. John Lennon thought Paul McCartney was being too much of a perfectionist on a song. Here's how he reacted to his bandmate.
The mood in the studio sessions for The Beatles' White Album was grim, with John Lennon and Paul McCartney constantly at each other's throats. The two had once been close collaborators. Suddenly, they could hardly agree on anything. Lennon openly derided one of McCartney's songs. After spending too much time on it, he left the studio in a rage.
One of Lennon's least favorite songs on the White Album was "Ob-La-Di, Ob-La-Da," McCartney's bouncing, reggae-inspired tune. He rolled his eyes every time the band worked on it, which was often. McCartney worked endlessly to perfect it, much to the irritation of everyone else in the studio.
"The previous week's work was a typical study in frustration," audio engineer Geoff Emerick wrote in his book Here, There and Everywhere: My Life Recording the Music of the Beatles. "We'd worked endlessly on just two songs: Lennon's 'Revolution' and McCartney's 'Ob-La-Di, Ob-La-Da,' done over and over again until we were all sick to death of them. Nonetheless, here we were again, breathing in the same stale studio air, working on those same two tracks."
No one was more frustrated than Lennon, who called the song "granny music." He reached a point where he didn't think he could possibly hear it again.
"So when Paul announced several nights later that he wanted to scrap everything that had been done so far and start the song from scratch, John went ballistic," Emerick wrote. "Ranting and raving, he headed out the door, with Yoko [Ono] trailing closely behind, and we thought we'd seen the last of him that evening."
- John Lennon 'Went Ballistic' After Hours of Working With Perfectionist Paul McCartney on a Hated Beatles Song, RockSocietyNP.com, August 16, 2023.
本文仅代表作者本人观点,与本网立场无关。欢迎大家讨论学术问题,尊重他人,禁止人身攻击和发布一切违反国家现行法律法规的内容。
About the author: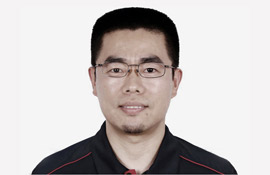 Zhang Xin is Trainer at chinadaily.com.cn. He has been with China Daily since 1988, when he graduated from Beijing Foreign Studies University. Write him at: zhangxin@chinadaily.com.cn, or raise a question for potential use in a future column.
(作者:张欣)
中国日报网英语点津版权说明:凡注明来源为"中国日报网英语点津:XXX(署名)"的原创作品,除与中国日报网签署英语点津内容授权协议的网站外,其他任何网站或单位未经允许不得非法盗链、转载和使用,违者必究。如需使用,请与010-84883561联系;凡本网注明"来源:XXX(非英语点津)"的作品,均转载自其它媒体,目的在于传播更多信息,其他媒体如需转载,请与稿件来源方联系,如产生任何问题与本网无关;本网所发布的歌曲、电影片段,版权归原作者所有,仅供学习与研究,如果侵权,请提供版权证明,以便尽快删除。