主持人:梁焕臻



北京新东方学校听力口语部单项项目负责人。主管电影听说、美国口语、听力理解、求职面试、集训营等多个项目。有多年的英语听说教学经验。留学完成了神经语言学的学习,获神经语言学执行师资格。很好地结合了大脑科学及其英语学习,实际帮助了众多同学真正做到了自信开口,自主听说,深受学员欢迎。个人论坛地址:http://bbs.xdf.cn酷学电影专区。
影片对白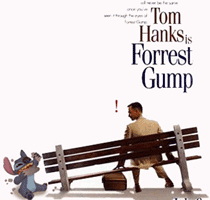 Forrest: Hello. My name's Forrest. Forrest Gump. Youwannachocolate. I could eat abouta million and a halfof these. My mama always said "Life was like a box of chocolates. You never know what you're going to get." Those must be comfortable shoes. I bet you could walk all day in shoes like that and not feel a thing. I wish I had shoes like that.

Woman: My feet hurt.

Forrest: Mama always said "There's anawfullot you can tell about a person by their shoes." Where they're going. Where they've been. I've worn lots of shoes. I bet if I think about it real hard I could remember my first pair of shoes. Mama said they would take me anywhere. She said they were my magic shoes.

Doctor: Alright, Forrest. Open your eyes now. Let's take a little walk around. How do they feel? His legs are strong, Mrs. Gump. As strong as I've ever seen. But his back isas crooked as a politician. But we're going to straighten him right up now, aren't we, Forrest?

Mrs.Gump: Forrest!

Forrest: Now when I was a baby, Mama named me after the great Civil War hero, General Nathan Bedford Forrest. She said we was related to him in some way and what he did was, he started up this club called the Ku Klux Klan. They'd all dress up in their robes and their bed sheets and act like a bunch of ghosts or spooks or something. They'd even put bed sheets on their horses and ride around. Anyway, that's how I got my name, Forrest Gump. Mama said the Forrest part was to remind me that sometimes we all do things that, well, justdon't make no sense.

妙词佳句,活学活用

1. Wanna = want to, want a, do you want to

这里是美语缩读之一,美国人在日常生活中频繁的使用缩读,这也造成很多学习者的困惑。比如你想知道你的朋友是否愿意跳舞,就可以说:Wanna dance?
2. a million and a half:

这里是指很多,这是美国人夸张的一种表达方式,使用相当广泛。中文中我们也会夸张,但用的数字通常会小些。比如我们说:"都告诉你几百遍了你还记不住。翻成英文就是"I have told you a million times"也就是说我们通常使用的'百'在美国人嘴里就变成了million。所以百里挑一就变成了one in a million。
3. "Life was like a box of chocolates. You never know what you're going to get":

这句话的难点在于对chocolates的理解,阿甘那个时代的巧克力很多都是一盒中口味众多,可上面又没有标记是什么口味,除非亲自品尝。所以,阿甘母亲的意思其实是在表达,生活就像不知道下一块会吃到什么味的巧克力一样,只能顺其自然。当然你也可以将life换成其他词来活用。