文化面面观  Prisoners' Rights in the U. S. 美国监狱中犯人的权利
影片对白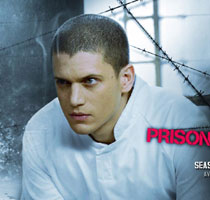 T-bag: That baby boy all growed up yet? Oh, he's gonnaraise hellthe next few years. Take after his mama. Yeah, you know, it's the same old same up here. But, uh... things are getting pretty tense, like they're fixin' to, uh, collide. You know what I mean, Jimmy? There's a potential, uh, situation.
Michael: I found our access to the infirmary building, but I'm gonna need some time to make it work.
Lincoln: How much time?
Michael: Enough for me to find my way up a 20-foot vertical drain pipe without using a ladder. I'll probably need toskipPI tomorrow if I want to get this thing done.
Lincoln: You can't just skip it. It ain't class. What if one of the bulls decides to drop in?
Michael: Well, I don't have a choice, do I? Once we get through the pipe below the guards' room, it will be a whole lot easier. I can come and go without using the door, and with Westmoreland as a lookout, we'll have one more man available for digging.
Lincoln: Westmoreland's gonna be a problem. All seven of us can't break over that wall in 18 minutes. You said it yourself: it's impossible. Listen, man, I'm telling you, one of us has got totake a hike.
Michael: I know.
C-note: Mind if I share that with the rest of the class? Apparently, College Boy here did the math. Figured out that we got too many clowns in the car. So, one of us is in here digging, but his seat ain't guaranteed.
Lincoln: How is this your problem, man?
Michael: He doesn't know what he's talking about.
Sucre: I'm not gonna dig if I'm not gonna go.
Lincoln: We need to make a decision on who gets cut.
Abruzzi: Well, I think we can all agree who that should be. Right?
T-bag: Oh, pardon me for interrupting. But, uh... what's that smell? It smells a little like... conspiracy.
Michael: We need to get back to work.
T-bag: Yeah, before you do, I have an announcement to make. I've been growing leery of the way y'all talk, like I'm a lesser man. So, I bought an insurance policy. I called up my guy on the outside, and I told him about our plan. And I told him, in all likelihood, I'll be seeing him next week, but... if he don't hear from me five minutes before the escape, and 20 minutes after, I told him to call up the warden, blow the whistle on the whole thing. So if you all got ideas about getting rid of me... I suggest you make other plans.
妙语佳句,活学活用
1. Raise hell
Raise hell是个俚语,它有几种意思:
1) to create an uproar大发雷霆,发火;例如:She'll raise hell when she sees what your rabbit has done to her garden.
2) Behave in a rowdy or disruptive way 捣乱,搞破坏:例如:The wind raised the devil with our picnic.
Raise hell 这个片语也写作raise Cain / raise the devil,Raise Cain来自于亚当和夏娃的儿子亚伯,他杀死了他的兄弟Cain(该隐)。据跟St. Louis Daily Pennant (May 2, 1840): "Why have we every reason to believe that Adam and Eve were both rowdies? Because ... they both raised Cain.". This statement makes a pun on raise, meaning "bring up" or "nurturing." 之后渐渐演变出 raise hell 和raise the devil这个两个变体。
2. Skip
相信大家做学生的时候一定都翘过课,那么这个"翘课"怎么说呢?就是skip a class,例如: Michael skipped a class last week.
3. Take a hike
Take a hike 除了表示"远足",在俚语中还表示"To leave because one's presence is unwanted(让某人)离开",通常用于祈使句,例如:I've had enough of you--take a hike!
这个片语还写作take a walk,例如:I don't need your advice, so take a walk. 此外take a walk 还表示"突然地离开并且没有回来的可能",例如:If he doesn't get his way, he takes a walk.