Is pregnancy getting safer? The answer is "yes" and "no," depending on where you live. In Latin America, the Caribbean, North Africa, and Oceania, that specific region, maternal deaths are falling. But in sub-Saharan Africa, the numbers are going up at the moment.
The journal Reproductive Health Matters has devoted its November issue to maternal mortality and the progress made since the World Health Organization launched its "Safe Mother's Initiative" in 1987.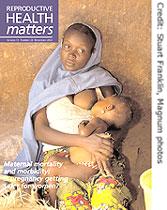 According to WHO estimates, 536,000 women died from pregnancy complications in 2005, the last year for which numbers were calculated.
Journal editor Marge Berer says the difference between rich and poor countries is staggering. "In Scandinavia the number is two, maybe three, sometimes one per 100,000 live births, whereas in sub-Saharan Africa it is 900 per 100,000 live births. And all the other regions fall somewhere in the middle."
Fifteen percent of women worldwide suffer complications with pregnancy that requires emergency care. But woefully inadequate healthcare systems in Sub Saharan African countries are further compromised by war and other social and economic circumstances. And, Berer adds that donor funding has been falling for maternal health. "Maternal services have been the most grossly underfunded global priority ever identified. And there is not much sign that this is going to change in a major way right now."
Overall, the most important thing needed is improvement of health systems"across the board."
Where health services are more available and economic development has been promoted, women are faring better, Berer says. But the editor of Reproductive Health Matters says women must fight for access to health care and better facilities and organize to demand changes in laws that can protect them.
Unsafe abortions, for example, account for 13 percent of maternal deaths globally. Making them safe, legal and accessible could resolve death from abortion almost immediately. Berer says this kind of change requires leadership that values women. And, she adds, women's lives depend on it.
complications: 并发症
(Source: VOA 英语点津姗姗编辑)