President Vladimir Putin has accused the United States of manipulating the Organization for Security and Cooperation in Europe to discredit upcoming Russian Parliamentary elections. VOA Correspondent Peter Fedynsky has details from Moscow.
Responding to a question from a youth leadership group in Saint Petersburg, President Putin accused the United States of influencing the Organization on Security and Cooperation in Europe not to send observers to monitor Russia's parliamentary election on Sunday.
The Kremlin leader says information available to Russian authorities indicates the U.S. State Department recommended to the OSCE not to monitor Sunday's vote. Mr. Putin says this represents an attempt to discredit the election. He adds that Russia will factor the alleged move into its relations with the United States.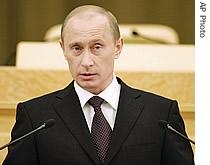 The OSCE's Office for Democratic Institutions and Human Rights in Warsaw is responsible for monitoring elections of the organization's 56-member nations.
An statement issued by the group in Warsaw on November 16 said attempts to obtain Russian entry visas for election monitors were repeatedly denied. In remarks to the VOA, the group's spokeswoman, Urdur Gunnarsdottir, expressed regret over the situation.
"We do not not take our orders from the State Department. We have the same connection with foreign ministries of all 56 states. We communicate with them; they are our main interlocutors in every country. We take our orders from all 56, not from one state," said Gunnarsdottir.
Gunnarsdottir said earlier that monitoring involves pre-election observations of campaigns and media access, and that time had run out to do this in a meaningful way.
Andrei Kortunov of Moscow's New Eurasia Foundation research group told VOA that Russia has turned criticism of the United States into a tradition.
Kortunov says President Putin's reaction to the OSCE decision indicates his concern that Russian elections be seen as legitimate.
The political analyst notes that U.S.-Russian relations are already so frosty that Mr. Putin's charge is not likely to further damage them. Kortunov adds that Russia is counting on improved ties with Washington following the U.S. presidential election next year.
Russia invited 70 OSCE monitors to observe its December 2nd balloting, compared to 400 in the previous vote in 2003. All OSCE member states, including Russia, are party to a 1990 agreement to invite international election monitors.
Other foreign experts are scheduled to observe Sunday's Russian election, but without the OSCE there will be fewer overall.
interlocutor:对话者
(Source: VOA 英语点津姗姗编辑)