Four political parties have gained representation in the Russian parliament, with President Vladimir Putin's ruling United Russia Party taking about 315 of 450 seats in national legislature. At least two Russian opposition parties say they plan to challenge what they considered a biased poll. Observers from the Organization for Security and Cooperation in Europe also criticized the polling. VOA Correspondent Peter Fedynsky reports from Moscow some analysts see other troubling aspects of election.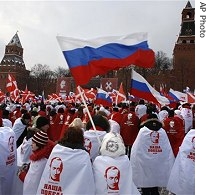 With about 98 percent of the votes counted, the United Russia party has more than 64 percent of the ballots cast. Two pro-Kremlin parties, the Liberal Democratic party and Fair Russia, also won enough votes to qualify for seats in Russia's lower house of parliament, the Duma.
The head of Russia's Central Election Commission, Vladimir Churov, says it will be several days before a final, official count is announced. But he said the preliminary results are not likely to change.
Leaders of the Communists, which won seats with more than 11 percent of the vote, and the Union of Right Forces party both plan to challenge the results.
Opposition members have complained for several weeks that the Kremlin was rigging the election in favor of the pro-Putin party. They contend that opposition voices were denied access to Russian media, and that riot police broke up rallies and arrested their leaders.
The opposition charges are supported by an observer mission from the Parliamentary Assembly of the Organization for Security and Cooperation in Europe. Its central conclusion announced at a Moscow news conference is that Sunday's vote ''failed to meet many OSCE commitments and standards."
United Russia's identity and political platform are closely associated with President Putin and the so-called Putin Plan, which the party campaigned on. However, public opinion polls indicate voters do not know what the plan is and the party has not explained it. In addition, Russia votes again in three months for Mr. Putin's successor.
Political analyst Viktor Kremenyuk of Moscow's USA-Canada Institute think tank, told the VOA that an uncertain political program raises a troubling a leadership issue.
Kremenyuk says the new president could be friendly toward United Russia, but not necessarily. He says the new leader may be offended if the party remains loyal to Mr. Putin, which could lead to an adversarial relationship between his successor and parliament.
Former world chess champion Garry Kasparov, a leader of a political coalition that was prohibited from fielding candidates, also voices concern about United Russia's program.
"I don't know whether they have a plan how to use this referendum, I doubt whether they have one yet. The fact is that they are not just rigging the vote, they are raping the democratic system," he said.
The Russian constitution prohibits President Putin from running for a third consecutive term. Political analysts say he may try to circumvent the ban by advancing a weak successor who would resign, allowing Mr. Putin to return to office for a non-consecutive term. The Kremlin leader has also hinted he may be interested in becoming prime minister.
(Source: VOA 英语点津姗姗编辑)