Havoc and panic stemming from fraud charges against U.S. billionaire Allen Stanford have spread to Latin America, prompting several governments to swing into action.
Latin America is bearing much of the brunt of fallout from alleged fraud schemes perpetrated by banks and other financial firms owned by Allen Stanford. At least 5 nations have launched investigations, suspended bank operations, or, in the case of Venezuela, seized control of local Stanford banking affiliates.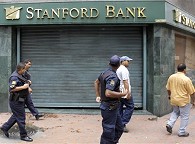 Venezuelan Finance Minister Ali Rodriguez says the government was forced to act after panicked depositors withdrew tens of millions of dollars from more than a dozen bank branches in the country.
Rodriguez says massive withdrawals have brought about a highly precarious situation, which made it necessary for authorities to intervene and put the bank up for sale.
The finance minister said that, in the interim, the government would back remaining deposits.
Other nations to take action include Mexico, Panama, Colombia, Ecuador, and Peru. British and European investigators are also reported to be probing Stanford's dealings.
The panic ensued after U.S. officials filed fraud charges and froze the assets of 3 companies controlled by Stanford, aflamboyant Texas billionaire who has donated vast sums to U.S. politicians and sponsored sporting events from the Caribbean to Britain. The banker had been knighted in Antigua, where Stanford International Bank is headquartered.
Tuesday, the U.S. Securities and Exchange Commission accused Stanford and several associates of orchestrating what officials termed a multi-billion dollar fraudulent investment scheme of "shocking magnitude" based on "false promises and fabricated historical return data."
The SEC posted an automated call-in message for Stanford investors detailing the assets seized and what will become of them, as mandated by a federal court.
"The receiver will take control of and operate the assets, and take steps to preserve the value of assets in order to prevent loss. The court further issued a temporary restraining order freezing all assets of the defendants and requiring preservation of documents. The SEC's investigation of this matter is ongoing," he said.
FBI officials contacted by VOA would not comment on a report by ABC News that, in addition to fraud charges, Stanford is under investigation for money laundering on behalf of a Mexican drug cartel.
Since the SEC's announcement, several high-raking former employees and business associates have come forward to state that they were aware of fraudulent or improper business dealings by Stanford.
Former Stanford investment broker Mark Tidwell spoke on ABC:"The published returns that many (Stanford) advisors used to present to clients and prospects, that, we knew that information was incorrect," said
The Stanford case is the second major alleged fraud scheme to be uncovered by U.S. authorities in recent months. Late last year, FBI agents arrested Wall Street businessman Bernie Madoff, who stands accused of swindling investors out of approximately $50 billion through what is known as a Ponzi scheme.
fallout: an unexpected or incidental effect, outcome, or product(附带结果)
in the interim:在过渡期间
flamboyant:strikingly bold or brilliant; showy(派头十足的,声名显赫的)
money laundering:洗钱
(Source: VOA 英语点津编辑)