本片段剧情:哈利·波特与金妮、赫敏和罗恩重逢了,但大家对重返魔法学校一事深感忧虑,邓不利多的年龄问题也引发了大家的担忧。纳西莎和贝拉去见了斯内普,还逼他立下了一个不可破的誓言……
精彩对白:
Ginny : Hedwig. Mum?
Mother: Ginny, what is it?
Ginny: I was only wondering when Harry got here.
Mother: What? Harry? Harry who?
Ginny: Harry Potter, of course.
Mother: I think I'd know if Harry Potter was in my house, wouldn't I?
Ginny: His trunk's in the kitchen, and his owl.
Mother: No, dear, I seriously doubt that.
Ron: Harry? Did someone say "Harry"?
Ginny: Me, nosy. Is he up there with you?
Ron: Of course not. I'd know if my best friend was in my room, wouldn't I?
Ginny: Is that an owl?
Mother: You haven't seen him, have you?
Ginny: He's wandering about the house.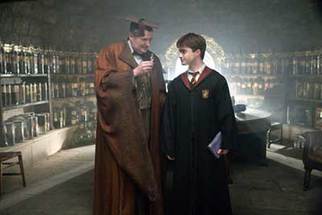 Mother: Really?
Ron: Really.
Ginny: Harry!
Hermione: Harry!
Mother: What a lovely surprise. Why didn't you let us know you were coming?
Harry: I didn't know. Dumbledore.
Mother: Oh, that man. But then, what would we do without him?
Ron: Got a bit of toothpaste.
Harry: So when did you get here?
Hermione: A few days ago. Though for a while, I wasn't sure I was coming.
Ron: Mum sort of lost it last week. Said Ginny and I had no business going back to Hogwarts. That it's too dangerous.
Harry: Oh, come on.
Hermione: She's not alone. Even my parents, and they're Muggles, know something bad's happening.
Ron: Anyway, Dad stepped in, told her she was being barmy, and it took a few days, but she came around. Harry: But this is Hogwarts we're talking about. It's Dumbledore. What could be safer?
Hermione: There's been a lot of talk recently that Dumbledore's got a bit old.
Harry: Rubbish! Well, he's only. What is he?
Ron: Hundred and fifty? Give or take a few years.
Bella: Cissy! You can't do this! He can't be trusted!
Narcissa: The Dark Lord trusts him.
Bella: The Dark Lord's mistaken.
Narcissa: Pfft.
Severus: Run along, Wormtail.
Narcissa: I know I ought not to be here. The Dark Lord himself forbade me to speak of this.
Severus: If the Dark Lord has forbidden it, you ought not to speak. Put it down, Bella. We mustn't touch what isn't ours. As it so happens, I'm aware of your situation, Narcissa.
Narcissa: You?
Bella: The Dark Lord told you?
Severus: Your sister doubts me. Understandable. Over the years I've played my part well. So well, I've deceived one of the greatest wizards of all time. Dumbledore is a great wizard. Only a fool would question it.
Narcissa: I don't doubt you, Severus.
Bella: You should be honored, Cissy. As should Draco.
Narcissa: He's just a boy.
Severus: I can't change the Dark Lord's mind. But it might be possible for me to help Draco.
Narcissa: Severus. Swear to it.
Bella: Make the Unbreakable Vow. It's just empty words. He'll give it his best effort. But when it matters most...he'll just slither back into his hole. Coward.
Severus: Take out your wand.
妙语佳句 活学活用
1. nosy: 爱管闲事的人,包打听。也称为nosy parker。
例如:Do not get nosy, or you'll get into trouble!(别好管闲事,不然你会惹麻烦的!)
2. wander about: 徘徊,闲逛。
例如:Don't wander about the room like that. Get something to do.(不要那样在房间里乱走,找点事情做。)
3.for a while: 一时,暂时。
例如:Could you please keep silent for a while?(你能不能清静一会儿?)
4. have no business doing: 无权做某事,或表示某人水平很差,不适合干某件事或者某一行。
例如:I have no business teaching Chinese because I don't speak it very well.(我的中文太差,所以不能教中文。)
5. step in: 插手帮助,介入。
例如:I asked him why he didn't step in and help stop the argument.(我问他, 为什么他不进行干预, 制止这场争论。)
6. barmy: 傻乎乎的,疯疯癫癫的。
例如:The kid must be barmy on the crumpet; he's brought us soy sauce for wine.(这孩子脑子一定不正常,他把酱油当成酒拿给了我们。)
7. talk: 谣言,流言蜚语。
例如:He was too certain of her love to be deceived by such talk.(他确信她的爱, 因而不会被这种谣言所欺骗。)
8. give or take: 相差不到,出入至多。罗恩在这里的意思是说,邓不利多"差不多"有150岁了。
而give and take则表示"妥协让步,平等交换"。例如双方negotiate with much give and take.(就平等交换进行谈判。)
9. Cissy:这里是对Narcissa的爱称。
此外,cissy还可以表示"有娘娘腔的,柔弱胆小的",在美国俚语中它可以直接作名词,用来表示"脂粉气的男子"。
10.pfft: 相当于"啐",表示突然终止或终于失败。
11.run along: 走开。
例如:Run along now; I'm busy.(现在请你走开,我很忙。)
12.as it happens: 恰好出现,碰巧来到。
例如:As it happens, I have left the book at home.(我碰巧把书忘在家里了。)
13.play my part: 尽自己职责,尽自己本分。
14.empty words: 空谈。
类似的说法还有empty talk,例如:He is a practical man and doesn't like empty talk (他是一个注重实干的人,不喜欢空谈。)
15.coward: 懦夫。
例如:Coward as he is (=though he is a coward), he can't bear such an insult.(虽然他是懦夫, 却无法忍受这样的侮辱。)