2010年南非世界杯欧洲区预选赛附加赛第二回合打响。在争夺最后一张世界杯决赛圈入场券的赛场上,"高卢雄鸡"法国队亨利的手球打碎了爱尔兰人的梦,爱尔兰蒙冤败北。在申请重赛遭拒后,爱尔兰向国际足联提出申请,希望能持"外卡"特权,以第33支球队的身份晋级南非世界杯决赛圈。
World Cup 2010: Republic of Ireland ask Fifa to include them as extra team in South Africa
Fifa will on Tuesday consider a formal request from the Republic of Ireland to be included in the World Cup finals as a 33rd team, although Sepp Blatter has already strongly hinted that the idea will be rejected.
Speaking for the first time about Ireland's controversial play-off defeat, Blatter was blunt in his condemnation of Thierry Henry for the blatant handball in the build-up to France's decisive goal and admitted that extra officials could be used in next year's World Cup. The Fifa president also revealed that Henry's family in England have been receiving threats as a result of the incident.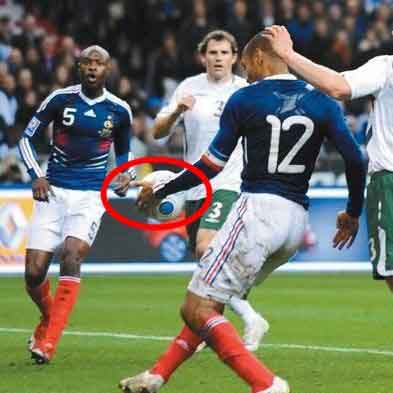 Henry has admitted that the fairest solution would be to replay the match, but that scenario has been ruled out by Blatter, who also remains opposed to allowing referees the use of video technology.
"They [the Football Association of Ireland] came to Fifa, naturally they were unhappy with what has happened," said Blatter. "They agree the match cannot be replayed. They have not asked to give any sanctions to a player or referee, but they have asked very humbly, 'can't we be team number 33 in the World Cup?'"
The suggestion was met with laughter from Blatter's audience at the Soccerex Conference in Johannesburg, but it will be discussed at Tuesday's extraordinary meeting of Fifa's executive committee ahead of the World Cup draw in Cape Town on Friday.
However, Blatter said that allowing the Republic of Ireland into the World Cup would also oblige Fifa to consider Costa Rica who believe one of the goals that contributed to their elimination was offside.
Of his conversation with Henry, Blatter added: "It was really man to man. He said his family living in London, they have received threats from fans because of his behaviour. This was the matter he wanted to tell me about but I cannot change a result because I was not on the field of play."
Blatter, though, is clearly unhappy with Henry's behaviour. "It's possible we will make additional officials for the World Cup but we have to see if it is feasible," he said. "How can it happen that all over the world, through TV cameras, we have seen through a cheating handball that a pass was given for a goal? The highest crime in football is touching the ball with the hands. There is a lack of discipline and respect in the game by the players because they are cheating."
相关阅读:
(来源:telegraph.co.uk 编辑:Julie)