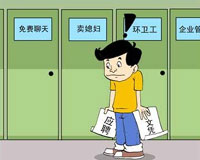 Faced with a tough job market, fresh graduates are dreaming of running their own businesses instead.
Faced with a tough job market, fresh graduates are dreaming of running their own businesses instead.
But a recent survey has showed that such ambitions lack the required support and remain just that - dreams.
The Shanghai Municipal Employment Promotion Center poll of 1,276 graduates in several universities and colleges in the city, released last Friday, showed 59.78 percent of respondents considered the possibility of setting up a company or at least a small store.
"But they just stop at the 'thinking' stage," it stated.
Respondents put the top reasons for not going it alone down to a shortage of investment and a lack of business opportunity.
They also listed lack of business experience and social networks, the need for advanced study and objections from family members as factors that stood in their way.
More than 90 percent of the interviewees said they would rather take up a job after graduating and then consider starting their own business two or three years down the road.
Guo Bing, a senior student in Shanghai International Studies University majoring in English, decided he wanted to be his own boss last year.
But he is looking for a job first. "If I fail to find a satisfying job, I would like to establish a company in exhibition services," Guo said.
The Shanghai native has some relatives working in a local printing plant.
With their help, Guo hopes to produce exhibition brochures at a relatively low price. He is also confident that his English language skills can help him do well in the industry.
"Social networking is an important factor leading to business success," Guo said.
Guo said that the shortage of graduate jobs is the main reason driving more university students to set up a business right after their graduation.
The parents of university graduates are more willing to help their children start up alone, the survey showed.
"Once you win the support of your family, you have won half the battle," Guo added.
点击查看更多双语新闻

(China Daily)
面对目前严峻的就业形势,应届大学毕业生们纷纷做起了"创业梦"。
但近日的一项调查表明,大学生们的"创业梦"因得不到应有的支持,还仅仅是个"梦"而已。
上海市就业促进中心对上海几所大专及本科院校的共1276名毕业生进行了调查。上周五公布的调查结果显示,59.78%的受访大学生表示可能会考虑开一家公司或至少开个小店。
"但目前他们还只停留在'想'的阶段。"
受访大学生认为,阻碍大学生创业的最主要原因是资金不足和没有好的创业方向。
此外,经验不足、缺乏社会关系、需要继续深造以及家人反对也是阻碍创业的主要因素。
超过90%的受访者称,他们打算毕业后先找份工作,干个两三年后再自己创业。
上海外国语大学英语专业四年级学生郭兵去年有了"自己当老板"的想法。
但他现在正在找工作。他说:"如果找不到满意的工作,我打算开一家提供展会服务的公司。"
郭兵是上海本地人,他的一些亲戚在当地的一家印刷厂工作。
郭兵希望通过亲戚的帮助,能以较低的成本印刷展商手册。此外,小郭认为自己精通英语也是做好这一行的有利条件。
他说:"社会关系是创业成功的一个重要因素。"
小郭说,严峻的就业形势是越来越多的大学生一毕业就走上创业之路的主要原因。
调查表明,大多数家长愿为子女创业提供帮助。
小郭说:"赢得了家人的支持,就成功了一半。"