西昌卫星发射中心10月1日宣布,"嫦娥二号"卫星准确入轨,发射圆满成功。
"嫦娥二号"卫星是中国自主研制的第2颗月球探测卫星,继2007年"嫦娥一号"一举实现中华民族千年奔月梦想之后,"嫦娥二号"的成功发射,标志着中国探月工程又向前迈出重要一步。
本次发射是"长征三号丙"运载火箭首次担负月球探测卫星发射任务,也是中国"长征"系列运载火箭第131次航天飞行。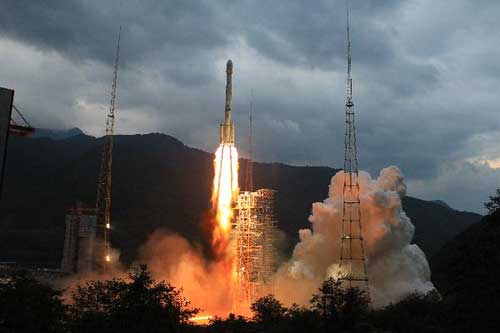 Long March 3C rocket carrying China's second unmanned lunar probe, Chang'e-2, lifts off from the launch pad at the Xichang Satellite Launch Center in southwest China's Sichuan Province, at 18:59:57 (Beijing time)on Oct. 1, 2010. [Photo/Xinhua]
China launched its second unmanned lunar probe, Chang'e-2 on Friday, inaugurating the second phase of a three-step moon mission, which will culminate in a soft-landing on the moon.
At 6:59:57 pm, the satellite blasted off on a Long March 3C carrier rocket from No 2 launch tower at the Xichang Satellite Launch Center in southwest China's Sichuan Province.
"Chang'e-2 lays foundation for the soft-landing on the moon and further exploration of outer space," said Wu Weiren, chief designer of China's lunar orbiter project.
Chang'e-2 entered the orbit with a perigee of 200 kilometers and apogee of 380,000 kilometers as scheduled. There it separated from the carrier rocket.
It was the first time that a Chinese lunar probe directly entered the earth-moon transfer orbit without orbiting the earth first.
"It is a major breakthrough of the rocket design, as it saves energy used by the satellite and speeds up the journey to the lunar orbit," said Pang Zhihao, a researcher with the China Academy of Space Technology.
The lunar satellite is expected to take about 112 hours, or almost five days, to arrive at its lunar orbit, faster than the 12 days taken by the Chang'e-1 three years ago.
"It travels faster and closer to the moon, and it will capture clear pictures," Wu said.
Chang'e-2, named after a legendary Chinese goddess of moon, will orbit 100 kilometers above the moon, compared with 200 kilometers for Chang'e-1.
Total expenditure for the Chang'e-2 mission is about 900 million yuan ($134.33 million).
China launched its first lunar probe, Chang'e-1, in October 2007, marking a milestone in the country's space exploration.
After orbiting for 494 days and intentionally crashing onto the lunar surface, Chang'e-1 sent back 1.37 terabytes of data, producing China's first complete moon picture. The data has been shared with other countries for free.
China became the third country after Russia and the United States to send a person into space in 2003.
Two more manned space missions followed with the most recent in 2008 involving China's first human space walk.
相关阅读
(Xinhua)
Vocabulary:
carrier rocket: 运载火箭
(中国日报网英语点津 Julie 编辑)