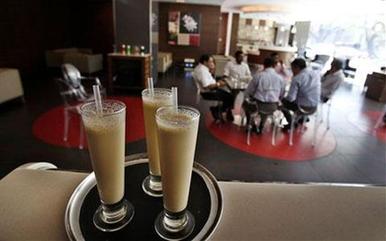 This is the VOA Special English Economics Report.
India is traditionally a tea-drinking country. But, it is now gaining a new taste for coffee. This has led international coffee companies to consider opening businesses in the huge market. Local business people are also hoping to profit from the country's tea-drinking habits. They want to open new stores that offer tea.
It is 10:30 in the morning in India. Two cafes are within meters of each other, near a college in New Delhi. And they are selling a lot of tea. Their main customers are undergraduate students.
STUDENT: "We have a lot of break between classes, so whenever we get time, we just go and we enjoy ourselves. It's a lot of fun, especially when you are with people you enjoy spending time with."
In the past 10 years, cafes have become increasingly popular in India. The country's huge young population has quickly taken to the coffee culture.
Coffee stores have spread from major cities like New Delhi and Mumbai to smaller towns. Coffee use has doubled in the last 10 years. It is the success of this market that has gained the attention of companies like the American-based coffee chain Starbucks. The company will open its first store in India later this year. Other companies like Lavazza and Costa Coffee are already there.
The head of India Coffee Trust, Anil Kumar Bhandari, praises Starbucks's decision. He said cafes in India have become central to the lifestyle of the young, middle-class as incomes grow and global trends gain popularity.
ANIL KUMAR BHANDARI: "They should have been here before... Almost any café chain which has a reasonable quality with its service, ambiance and food, and coffee first, will succeed in this country."
Yet, the growth of coffee will not to reduce the popularity of tea. Indians drink eight times more tea than coffee. They have been drinking tea for more than 150 years. India is one of the world's biggest producers of tea, which is known locally as "chai." Outside homes and offices, it is mostly sold by small businesses on the street.
That is what businessmen like Amuleek Singh Bijral hope to change. The 36-year-old graduated from Harvard University in Cambridge, Massachusetts.
He has opened a tea store called Chai Point in India's information technology section in Bangalore. In less than a year, fourteen Chai Points have opened in the city.
Business experts note that half of India's population of over one billion is under the age of 25. They say both cafés and tea places will find room to grow.
And that's the VOA Special English Economics Report. Visit us at voaspecialenglish.com. And find teaching and learning activities in The Classroom at VOA Learning English. I'm Jim Tedder.
ambiance: 气氛;周围环境
Drinking coffee may protect against some cancers
Beijing cafes booming not because of coffee, but space
Coffee has 'little impact' on heart conditions
(来源:VOA 编辑:Rosy)