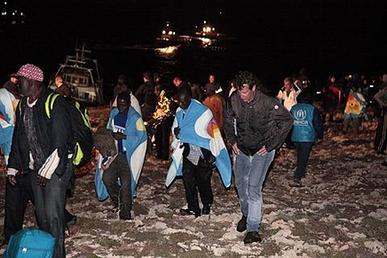 The European Court of Human Rights has ruled in favor of Sub-Saharan African migrants who had sought asylum in Italy in 2009. Italy had intercepted the migrants' boats at sea and returned them to Libya. The decision could have broad implications for European immigration policies.
The case was brought by 11 Somali and 13 Eritrean nationals. They were among about 200 people who left Libya on three boats bound for Italy. However, about 56 kilometers south of Lampedusa, the boats were intercepted by Italian Customs and Coast Guard vessels. All the passengers were then placed aboard Italian naval vessels and taken to Tripoli.
At the time, Italy's interior minister said the action was part of a bilateral agreement his country had with Libya. That agreement was suspended early last year during the uprising against then Libyan leader Moammar Gadhafi.
Human Rights Watch (HRW) had intervened in the case in 2010.
Judith Sunderland is a senior researcher on Western Europe, praised the court's decision. "The Grand Chamber, which is the highest jurisdiction at the European Court of Human Rights, found that Italy had violated its obligations under international law when it summarily returned to Libya a group of sub-Saharan Africans in 2009."
Sunderland said Italy's responsibility in the case went beyond its shores.
"What the court said was that Italy's obligations extended to the sea and that it had placed those individuals at risk of inhuman and degrading treatment, even torture, in Libya," she said.
She added the court's judgment has implications for all of Europe.
"Italy and all other states that are parties to the European Convention on Human rights have to ensure that they never summarily return boats of migrants and asylum seekers back to the countries where they originated - that the countries have to take full responsibility for allowing people to apply for asylum even if they have not landed on European soil," said Sunderland.
It's unclear what happened to all of the 24 sub-Saharans who brought the case. Sunderland says the whereabouts of some are unknown, some are applying for asylum in other countries and at least two have since died.
Nevertheless, Sunderland described it as an important victory for those involved in the case and for future asylum seekers.
The European Court of Human Rights is based in Strasbourg, France. Its jurisdiction covers 47 member states of the Council of Europe.
asylum: 庇护;收容所,救济院
South Africa delays deportation of Zimbabwean migrants
AU's slow recognition of NTC prompts calls for reform
Italy to step up fight against illegal immigration
(来源:VOA 编辑:Rosy)