Humanitarian groups are calling on G20 leaders to take decisive action on economic growth, climate change and hunger when they meet in Los Cabos, Mexico next week.
Europe's economic crisis is expected to top the G20 agenda. A recession in Europe could have wide-ranging consequences for both rich and poor nations alike.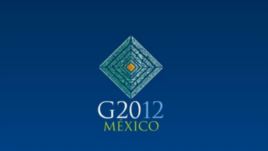 Steve Price-Thomas of Oxfam said it's crucial for G20 leaders to commit to economic growth for both developed and developing countries, adding "Since 2009 they've repeatedly promised to deliver strong, sustainable and balanced growth. And they have equally repeatedly failed to live up to that commitment."
He said for developing countries that means obstacles to sustainable economic growth.
"Poor countries have reached the limits of their financial ability to defend themselves against the global crisis which was caused by the rich world," he said.
The Oxfam strategy manager said the effects of the economic crisis are clear. He says capital flows to developing countries dropped nearly $140 billion last year, while aid from major donors dropped for the first time in 14 years, down over three billion dollars.
Feeding the hungry
Neil Watkins of ActionAid USA said G20 leaders should address food security and volatile commodity prices.
"The past year has been marked by a historic drought and hunger crisis in east Africa, and this year high food prices have put 13 million people at risk of hunger in the Sahel," he said.
Adam Taylor of Advocacy World Vision said too many people are still going hungry, with tragic results.
"So far the G20 has lacked a sense of urgency and focus that is commensurate with the scale and severity of the nutrition crisis facing communities and children," he said. "Inadequate nutrition is the underlying cause of over 2.5 million child deaths annually and limits the growth and potential of more than 170 million children worldwide. The G20 is rightly concerned about increasing economic stability and growth, but economies cannot effectively grow if their children can't grow because they're stunted and they are suffering of malnutrition."
The NGOs said a G20-commissioned report recommended eliminating biofuel incentives in order to reduce food price volatility. The groups say the push for alternative fuels has taken resources away food crops. However, the NGOs said G20 leaders have ignored their own study.
Joseph Powell of ONE said for developing countries to achieve sustainable growth, there must also be greater transparency in extraction industries, such as oil, gas and minerals.
"In the past the G20 has made important commitments on transparency and accountability particularly in the extractive industry sector. And we believed leaders will be missing a trick if they fail to realize the importance of transparent natural resource management and open government in building a stable economic future in Los Cabos," he said.
The G20 summit will be held June 18 and 19.
G20 to focus on global growth and eurozone crisis