Europe's financial crisis took center stage on Monday as the Group of 20 economic summit began in Mexico. President Barack Obama and other G20 leaders continued to urge European nations to move forward with a growth plan.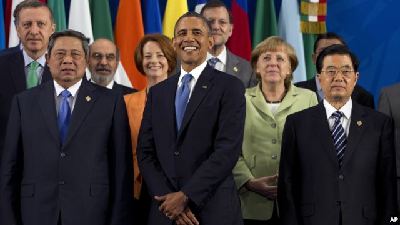 Amid the splendor of the resort area of Los Cabos, the leaders of the world's most influential economies expressed their concern about the direction of Europe's economy.
After meeting with Mexican President Felipe Calderon, President Obama joined those putting pressure on Europe to advance a plan to address its banking and debt crisis. "A lot of attention has been centered on Europe. Now is the time, as we have discussed, to make sure that all of us join to do what is necessary to stabilize the world financial system," he said.
One of the president's top economic advisers, Undersecretary of the Treasury Lael Brainard, told reporters that the United States is seeking an answer from Europe soon. "We do not expect decisions until all euro area leaders have their summit at the end of June, but we do expect to see a clear direction of travel coming out of Los Cabos," he said.
Brainard said the United States hopes that direction will be toward more projects that will stimulate European economic growth.
President Obama discussed the situation with German Chancellor Angela Merkel, and aides say he was encouraged by what he heard about efforts to address the crisis.
The president's highest-profile meeting of the day was with Russian President Vladimir Putin, their first since Putin recently returned to office.
The meeting was dominated by the bloodshed in Syria, whose government Russia supports and, some reports say, has armed.
After they met for two hours, it was unclear whether Obama was able to convince his Russian counterpart to persuade Syrian President Bashar al-Assad to step down. "We agree that we need to see a cessation of the violence, that a political process has to be created to prevent civil war and the kind of horrific deaths that we have seen over the last several weeks," he said.
President Putin spoke very little about Syria, saying only that he and Mr. Obama had found "commonalities" on that and other issues.
Mr. Putin spoke very little at the press conference, and seldom made eye contact with Mr. Obama.
The US ambassador to Russia, Michael McFaul, called the chemistry between the two leaders "businesslike and cordial." He dismissed speculation that Mr. Putin's expressionless demeanor meant trouble in US-Russia relations. "I have been in a lot of meetings with Putin. I have watched a lot of video of him. There was nothing extraordinary. That is the way he looks. That is the way he acts. I would not read anything into that at all," he said.
Mr. Obama thanked Mr. Putin for hosting the current Moscow negotiations on Iran's nuclear program.
He also expressed gratitude for Russia's work on the Northern Distribution Network, which supplies US troops in Afghanistan.
President Obama again called for the US Congress to repeal the 1974 law that denies Russia top US trading status. He said the move would stimulate US-Russia trade.
bloodshed: 流血;杀戮
Hu urges G20 to safeguard fragile recovery
China 'plays constructive role' in G20
Leaders say violence in Syria must end
G20 called on to tackle critical issues
(来源:VOA 编辑:旭燕)