Eleven women and children were among 17 Palestinians killed in Israeli strikes on Gaza on Wednesday, hiking the overall death toll to 38 in two days, rescue personnel said.
More than 300 people have been wounded.
Among the dead were at least one militant, six children and five women, emergency services spokesman Ashraf al-Qudra said. It was not immediately clear whether the other five fatalities were civilians or militants.
The deadliest single strike took place shortly after midnight when a missile slammed into a house in the northern town of Beit Hanun, killing Hafez Hammad, a senior Islamic Jihad commander, and five of his family members, including two women and two children.
In another series of raids north and east of Gaza, Israeli warplanes were responsible for the deaths of two more women and four children, Qudra said.
Two brothers, Mohammed Aarif, 13, and Amir, 12, were killed in an airstrike on Shejaiya, east of Gaza, while another strike in the nearby Zeitun district killed Amina Malaka, 27, and her 18-month-old son Mohammed, he said.
Further north, another missile hit Beit Hanun, killing 40-year-old Sahar al Masri and her 14-year-old son Ibrahim, he said.
Elsewhere in Gaza, a 30-year-old man was killed in a pre-dawn strike on the southern city of Rafah. His identity was not immediately clear. Several hours later, a drone fired a missile at a motorcycle in the northern town of Beit Lahiya, leaving 30-year-old Rafiq al-Kafarne clinically dead and another person severely wounded.
In Mughraqa, in central Gaza, medics retrieved the body of 80-year-old Naifeh Farajallah from the rubble of her house, which was damaged in an earlier airstrike.
In the same area, an Israeli missile killed two men in a field near the Nusseirat refugee camp. Medics named them as Abdel Nasser Abu Kweik, 60, and his son Khaled, 31.
Overnight, Israeli warplanes struck 160 targets, raising the overall number of strikes to 430 since the launch of Operation Protective Edge in the early hours of Tuesday.
Since midnight, at least 10 rockets struck Israel, and another 16 were shot down in the airby the Iron Dome anti-missile system, two of them over the Tel Aviv area, an army spokeswoman said.
Israeli media reported that two rockets crashed into the sea on Wednesday off the northern port city of Haifa, some 165kilometers north of Gaza.
If confirmed, it would be the farthest a rocket fired from Gaza has ever traveled.
Throughout Tuesday, 117 rockets struck Israel, with 45 of them targeting major cities in the center, among them Jerusalem, Tel Aviv and Hadera, 116 km to the north.
"China is deeply concerned about the escalating tensions between Palestine and Israel and believes that military force cannot resolve the issues but only create more feud," Chinese Foreign Ministry spokesman Hong Lei said at a daily news briefing on Wednesday.
(中国日报网英语点津 Julie 编辑)
About the broadcaster: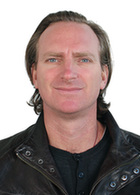 Lance Crayon is a videographer and editor with China Daily. Since living in Beijing he has worked for China Radio International (CRI) and Global Times. Before moving to China he worked in the film industry in Los Angeles as a talent agent and producer. He has a B.A. in English from the University of Texas at Arlington.