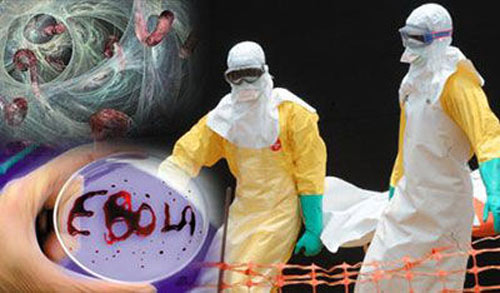 International health officials say the number of new Ebola cases in West Africa is falling. But the experts warn this news must not slow the fight against Ebola. The United Nations is still calling for more international help to fight the deadly virus.
In late October, officials in West Africa began reporting some good news in the battle against Ebola. The number of new cases is dropping.
In Liberia's capital, Anthony Banbury is the UN official responsible for emergency Ebola response efforts. He confirmed there have been improvements in the fight against the deadly disease. Fewer people are getting infected and fewer are dying from it.
But he warns, the fight against Ebola is far from over.
"We need NGOs and others to come in and run these facilities. We are putting in place the logistics capabilities. We are building the care centers. We are getting the equipment, everything we need to go in them. The patients are there in far too great numbers. What we don't have are the partners to run the facilities and we need them now."
In the United States, health officials have expressed hope that a new vaccine may protect against Ebola. The disease has already killed about 5,000 people and infected close to 14,000 others.
Lausanne's University Hospital in Switzerland began testing the vaccine on Tuesday in healthy volunteers. A doctor who only gave her name as "Tina" agreed to take part in the study. She says a safe vaccine that works is needed to prevent the spread of Ebola.
"I think the sooner we have a vaccine that works, that is safe, then the sooner we can use that vaccine to vaccinate the people in West Africa and wherever else the Ebola could spread."
Experts say there is no danger of getting Ebola from the vaccine. Vincent Mooser is with Lausanne's University Hospital.
"What we measure is anti-bodies to the protein which is produced by the vaccine, and we also do some specific and detailed analysis on the white blood cells in the blood to ask the question whether the cells exposed to vaccine have a different biology than those who have not been exposed to the vaccine."
If the vaccine proves effective, researchers will organize tests with larger groups.
French researchers are developing an Ebola test that would give results in 15 minutes. The current test used to test for Ebola takes 24 hours. Faster tests also are being developed in Japan and the United States.
On Wednesday, President Barack Obama also asked the U.S. Congress to provide $4.5 billion for an immediate response to the deadly disease. He also asked for $1.5 billion in emergency back-up money.
Words in this Story
health - n. the general condition of the body or mind
healthy adj., not sick or injured
cases - n. incidents of disease
fight - n. use of violence or force; attempt to destroy or defeat an enemy
vaccine - n. a substance containing killed or weakened organisms given to a person or animal to produce protection against a disease
(来源:VOA 编辑:恬恬)