Nail biter? 紧张局面
中国日报网 2020-11-06 14:33
分享到微信 Reader question:
When the current American election is described as a nail biter, what does it mean exactly?

My comments:
A nail biter is a contest that is close fought, that has lots of twists and turns, ups and downs. It's full of drama, especially when it's a prolonged battle, with the result not becoming clear until the very end.
In other words, it keeps spectators waiting, eagerly waiting. And while there are eagerly waiting, they bite their fingernails.
Some do, at any rate, literally.
Actually, enough people do this to turn the phrase into an idiom.
Babies chew on their fingers and nails, especially when they're nervous and agitated.
Some adults do this, too, often unconsciously when they're watching a movie or a sports match.
In other words, nail biter contests give us the nail-biting experience, one that makes us bite our nails, makes us nervous and excited at the same time.
Worried, too, when it comes to the current American election, which is into the third day without reaching a conclusion. If you're Republican, you may be chewing on your nails now, wondering how in the world President Donald Trump, who's trailing Democratic candidate Joe Biden, can make a comeback, by hook or crook. And if you're Democrat, you may be chewing on your nails for the same reason, wondering how Biden can prevent Trump from doing so.
Well, chew on and keep watching.
Here and now, let's move on to recent media examples of "nail biting" and "nail biter":

1. Early goals from Ollie Watkins and Emiliano Marcondes settled Brentford nerves and laid the platform for a 3-1 victory over Swansea City on Wednesday in London to seal a place in the English Championship playoff final next week.
Trailing 1-0 from the first leg of the semifinal, Brentford bossed the match from the start in their last ever fixture at Griffin Park, the club's home since 1904, and added a third goal early in the second half through Bryan Mbeumo.
Rhian Brewster pulled one back for Swansea 12 minutes from time to set up a nail-biting finish, but the hosts hung on to win 3-2 on aggregate and edge closer to a top-flight return for the first time in 73 years as they prepare to move to their new Brentford Community Stadium home for the 2020-21 campaign.
Brentford awaits the winner of the other semifinal between Fulham and Cardiff City on Thursday, with the London side leading 2-0 from the first leg.
- Brentford Ends Swansea's Run With Quick Start In Promotion Playoff Second Leg, Reuters.com, July 29, 2020.

2. Whatever people thought they knew about the state of the presidential race a few weeks ago went out the window on Tuesday, turning Election Day into a tense night of counting and indecision and proving once again that there are no easy elections in a divided America.
Instead of President Donald Trump prematurely declaring victory based on incomplete results from Election Day voting, or former vice president Joe Biden blowing out the electoral map on the strength of a massive blue wave of early votes, Election 2020 instead produced a night of nail-biting, stomach-churning results - with the possibility that the outcome would not be known for days.
With so many states undecided, it was not clear whether this election would be a repeat of 2016, a shocker to the world and demoralizing to the Democrats, or something closer to 2018, when the Democrats' seemingly slow start eventually became a wave that flipped the House. Either outcome seemed possible with so many states not called.
As the night went on, the prospect for a close outcome in the electoral college continued to grow.
For much of the night, the map was a sea of indecision, with state after state hanging in the balance as the votes were tallied at what sometimes seemed like an excruciatingly slow pace. For Biden, the good news was that some of those states still not decided were ones crucial to Trump's hopes of winning a second term.
- Nail-biting, stomach-churning election night ends with cliffhanger, The Washington Post, November 3, 2020.

3. What has unfolded as a nail-biter of an election has likely come down to Wisconsin, Michigan and Pennsylvania, but state election officials emphasized that results are being reported accurately and securely.
Though President Donald Trump led most of election night in Wisconsin and Michigan, Democratic nominee Joe Biden overtook him in both states Wednesday as early and mail-in votes were tabulated in urban and suburban areas across both states. In Pennsylvania, which was expected to take the longest to count its votes, Trump still leads, preliminary results from the New York Times show.
With 97% reporting in Wisconsin and 92% reporting in Michigan, Biden leads Trump by approximately 21,000 and 34,000 votes, respectively. In Pennsylvania, Trump leads Biden by just under 500,000 votes with 79% of the vote reporting, according to AP results.
Early Wednesday afternoon, the Trump campaign officially requested a recount in Wisconsin.
Though Trump suggested that the disappearance of his leads in Wisconsin and Michigan were due to "surprise ballot dumps," there have been no recent reports of voter fraud in the states.
Michigan Secretary of State Jocelyn Benson said Wednesday that the state has "many secure protocols in place" across the state and that voters can "trust the results as an accurate reflection of the will of the people," adding that officials will review vote counts before the results are officially certified.
Meagan Wolfe, Wisconsin's chief election official, emphasized Wednesday that the state's reporting has gone according to its laws, and that "municipal and county clerks have worked tirelessly throughout the night to make sure every valid ballot is counted and reported accurately," adding that they will soon begin the process of "triple-checking the results."
"Every step of the election process was publicly observable," Wolfe said.
- OFFICIALS EMPHASIZE SECURE AND ACCURATE RESULTS IN NAIL-BITER ELECTION, LibertarianHub.com, November 4, 2020.
本文仅代表作者本人观点,与本网立场无关。欢迎大家讨论学术问题,尊重他人,禁止人身攻击和发布一切违反国家现行法律法规的内容。
About the author: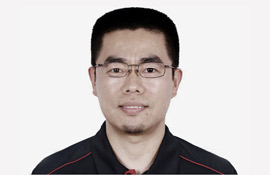 Zhang Xin is Trainer at chinadaily.com.cn. He has been with China Daily since 1988, when he graduated from Beijing Foreign Studies University. Write him at: zhangxin@chinadaily.com.cn, or raise a question for potential use in a future column.
(作者:张欣 编辑:丹妮)
中国日报网英语点津版权说明:凡注明来源为"中国日报网英语点津:XXX(署名)"的原创作品,除与中国日报网签署英语点津内容授权协议的网站外,其他任何网站或单位未经允许不得非法盗链、转载和使用,违者必究。如需使用,请与010-84883561联系;凡本网注明"来源:XXX(非英语点津)"的作品,均转载自其它媒体,目的在于传播更多信息,其他媒体如需转载,请与稿件来源方联系,如产生任何问题与本网无关;本网所发布的歌曲、电影片段,版权归原作者所有,仅供学习与研究,如果侵权,请提供版权证明,以便尽快删除。