10月26日,美国共和党总统候选人唐纳德·特朗普旗下的"特朗普国际酒店"举行开业仪式,特朗普和家人出席活动。这家豪华酒店位于白宫和国会之间的宾夕法尼亚大道上,前身是建于1899年的老邮局大楼,高96米,是华盛顿的地标建筑之一。特朗普的女儿伊万卡在酒店开业仪式上演讲,快来一起看看吧。
Speech by Ivanka Trump at Grand Opening of Trump International Hotel and Tower in Washington D.C
October 26, 2016
Thank you, Eric.
Hello, everyone. It's an honor to stand before you today and officially welcome you to Trump International Hotel and Tower, Washington D.C.
This's been an unforgettable year for my family for many reasons. As Eric said, our business at Trump hotels continues to thrive. In the last 12 months, we've completed the redevelopment of Trump International Doral in Miami, Florida, the iconic Turnberry Resort in Scotland, and the state-led Golf International Golf Links Doonbeg in Ireland. Next month, we'll open a stunning hotel and residential tower in Vancouver, Canada. We've also launched our newest brand, Scion, which will enable us to expand our quickly-going footprint beyond five-star ultra-luxury markets and locations such as this one.
We have celebrated many milestones, but the one that gathers us here today – the grand opening of the redeveloped Old Post Office building – is incredibly special to each member of my family, both personally and professionally.
A renovation is much more complex than a ground-up construction project, and the redevelopment of this building we're standing in has been perhaps the most challenging – and gratifying – of them all.
When this property was originally built in 1899, its grandeur was meant to signal to the rest of the country that Pennsylvania Avenue was America's Main Street. A full city block in the heart of Washington, D.C., you didn't have to be a visionary to see the potential, despite the fact that in recent years, time has taken its toll on this national treasure.
In 2011, the Old Post Office was considered the most sought-after redevelopment opportunity in the country, and my father and I fought hard against the largest hotel companies and developers in the world to win the deal. Over the course of eight months, our team worked nonstop to study the building and strategize the best approach to restore it to its full potential – and then some.
After an exhaustive evaluation process, we were ultimately awarded the deal by the United States government. We were selected by a panel of judges based on criteria that included our vision for the property, the strength and experience of our development team, our company's financial wherewithal, our track record, and our plan to bring vibrancy to Pennsylvania Avenue.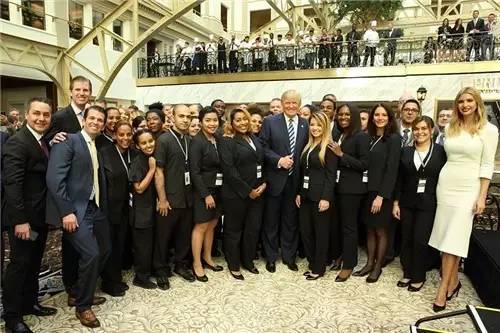 One of the reasons I love real estate – a passion inherited from my father – is because at the end of years' hard work, there exists a tangible validation of your efforts and the efforts of so many people. My father trained my siblings and me to see things not for what they are, but for what they can be. This is a great example of that. It's been a gift he has had his entire life.
Over the last 18 months, my father has been focusing on campaigning for president, but everyone on his team put in the extra effort so as not to let him down. Across the board, hundreds of men and women involved in the design, construction and now the operation of this project made it a point of personal pride to be extra precise in their work to ensure that it was completed to its extremely high standards – my brothers and I included.
A good sign, a sign of a good leader is how hard his or her team works when the boss is not there. My father's team has worked very, very hard on this building, and we're standing here today, it is evidence of that tremendous effort.
Including the historic Clock Tower – which still houses our nation's Bells of Congress, the Old Post Office is the second-tallest building in Washington D.C., after the Monument. Behind a backlit onyx façade is the city's largest luxury ballroom and within the building itself, our guests will discover the most spacious suites in the district, complete with soaring 16 to 24-foot ceilings.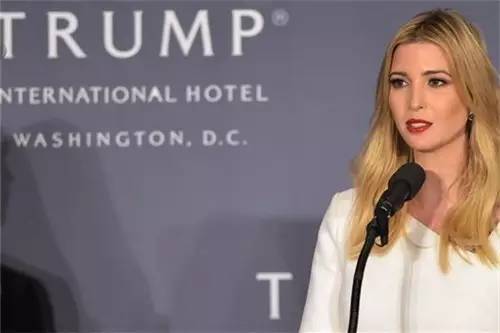 We have painstakingly preserved original architectural elements like the intricate stone carvings and granite facade, extraordinary millwork on the wood doors, mouldings and the marble wainscoting throughout the building. We surveyed each of the almost-1,200 windows and restored them all to mint condition.
A few weeks ago, I met a contractor here on site, who was wearing a Trump shirt. He was very proud to tell me that he had helped my father build Trump World Tower in New York City more than 15 years ago. As a daughter, this political season has been one of the most interesting journeys of my life. But each day, I have heard critics attempt to discredit my father's business, but honestly, I'll tell you one of the most telling signs of his success over decades is that thousands of people who have worked with him, worked for him, fought with him, and who continue to stand by his side in their quest to achieve great things.
When this property was put out to bid, Congressman John Mica, Chairman of the House Oversight Committee, held a press conference in the vacant building; it was without heat, and in the freezing cold, he admonished the crowd about government excess and noted that the Old Post Office was losing the United States Government between $6-8-million a year.
At a committee hearing following our soft opening last month, Congressman Mica said that Trump International Hotel, Washington D.C., is now creating hundreds of jobs and is a stellar example of turning underutilized federal properties around with the help of the private sector.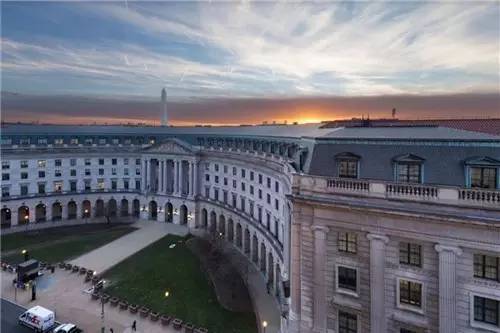 When we commenced construction, and at the ground-breaking ceremony, I pledged my family's commitment to this project and to ensuring its successful execution. I told you that we would not disappoint you and that we would never let you down.
Today is a celebration not just of meeting but exceeding those goals. This achievement wouldn't be possible without our extraordinary team at the Trump organization. Thank you also to the design and preservation architect Hany Hassan of Beyer Blinder Belle and interior designer Betsy Hughes of Hirsch Bedner Associates for their tremendous contribution to the project. I would also like to thank the many elected officials and staff members of the federal and D. C. governments, whom I have had the opportunity to work with so closely, including the General Services Administration, National Park Service, Commission of Fine Arts, National Capital Planning Commission, D.C. Mayor's office, Fire Department, the Police Department and the Historic Preservation Office. Additionally, I would also like to extend a special thank you to Congresswoman Eleanor Holmes Norton. She has been the fiercest and most passionate advocate for this building's redevelopment and a great partner over the last five years. She is someone I have great respect for and I have thoroughly, thoroughly enjoyed getting to know. Finally, thank you to my father, who took a few hours away from his grueling schedule on the campaign trail to be here today. Two years ago, when we promised the City of D.C. that Trump would be coming to Pennsylvania Avenue in 2016, we had no idea what we were foreshadowing. This is an important moment for our family and our company, and it wouldn't be possible without the hard work and support of this visionary man. So, without further ado, let me introduce my father, Donald J. Trump.
Thank you.
(来源:英文巴士网  编辑:Julie)