Fair game? 可被追捕的猎物
中国日报网 2021-02-23 11:11
分享到微信 Reader question:
Please explain "fair game" in this sentence: Now that Trump has left office, any misconduct he engaged in as president is "fair game" for criminal charges.
My comments:
After leaving the White House, former American President Donald Trump is a private citizen. Therefore, anyone can file criminal charges against him, and feel free, and fair, to do so.
Fair game?
"Fair game" means he's a fair, proper and appropriate target. Fair, as in fair play, that is playing according to the rulebook, being sportsmanlike and fair; game, as in big game hunting. Here, game does not refer to a game of sports, such as soccer or basketball. Instead, game here stands for the animals being hunted, "big game" referring to the large ones, large animals such as bears and lions, cheetahs and so forth.
So, fair game? Fair game, therefore, refers to any of those appropriate hunting targets. If you go hunting in the wild for wolves and deer, those are fair game, if, that is, they're not on the wildlife protection list. But if you go into a cow farm and starting hunting down cows and sheep, you're doing something wrong. A farmer's grazing cows are not fair game. To take it literally, those domesticated animals are not "game", and shooting any of them down isn't "fair".
In Trump's example, as President, Trump felt like he should be immune to criminal charges. He famously said, I mean infamously, that he could shoot someone on Fifth Avenue and got away with it, scot-free. If you pressed charges, Trump would be the first one to say: "It's very unfair."
Which he did say, innumerable times, for this and that.
Anyway, now that he's a private citizen again, he'd be considered "fair game", like anyone else. Anyone can take an aim at him and that'll be (considered) ok.
Fair?
Yeah, fair.
Fair and square.
All right, here are media examples of "fair game":

1. Prince Harry and Meghan Markle's hopes of keeping a low profile could be dashed if reports they have left their Canadian bolthole for life in California are true.
That's according to one experienced paparazzi photographer, who has warned the pair that snappers in LA "don't play by the rules".
A British photographer, who spoke to Yahoo UK on condition of anonymity, explained the royal couple will be trading in relative peace in Britain compared to what they might face in the US.
The paparazzo said: "They will get photographed and there will be a different photographer working on him. There are a lot of photographers in LA daily, up to 100.
"In London there is only a handful each day.
"In the UK, we are not allowed to follow them, doorstep them, we work off our leads, our information.
"We work out where they could be based on their engagements."
He added: "LA paparazzi don't play by the rules, they will follow them, they are considered fair game.
"Meghan is an actress, they are in a weird limbo, they have protection and they are trying to make money.
"They are going to get photographed a lot more and there is not much they can do."
- 'LA paparazzi don't play by the rules': Harry and Meghan warned they will be 'fair game' in California, Yahoo.com, March 27, 2020.

2. Last month, 12 National Guard Members were removed from the protection detail for President Biden's inauguration; indications are that the 12 had at least some connection to extremist groups. This came in the wake of revelations that at least 30 sworn police officers from a dozen or more departments participated in the insurrection at the U.S. Capitol building on Jan. 6 and now face federal charges and possible expulsion. One in five of those charged in the riots have some form of military background. We are indeed in a dangerous new era when those entrusted to protect all citizens and whose loyalties must be unquestioned are instead potential security risks. We must address this grave internal danger if our people — and our Constitution — are to remain safe.
Down the road, some lawmakers plan to require the Pentagon to address extremism via the National Defense Reauthorization Act. For its part, the Pentagon inspector general plans to look into whether the agency has adequate procedures to root out extremism in the ranks. However, the 12 removed National Guard Members were identified as extremists through vetting by the FBI, who scoured the social media posts of everyone in the 25,000-strong protective contingent at the Capitol. This painstaking work affords one immediate strategy for military and police recruiters to mitigate potential security risks: All candidates for law enforcement and military service should at least be subjected to scrutiny of their online behavior for racist or extremist sympathies.
This may seem like a slippery slope regarding freedom of speech, but it really isn't. Americans — including members of the military and law enforcement — are rightfully host to a breadth of political opinions and views, mainstream and other. That's democracy. According to the FBI's website, however, the Department of Justice has guidelines for racist and extremist threats that, when individuals or groups have the ability to carry them out, constitute risks in potential violation of federal law. Such views also betray the values of the nation and the oaths recruits are sworn to uphold to serve and protect all of the people. Extremist views — those defined by the FBI as "encouraging, condoning, justifying, or supporting the commission of a violent act to achieve political, ideological, religious, racial, social, or economic goals" — should instantly disqualify them for service.
Vetting of online behavior should not be seen as a deterrent to applicants, who with very rare exception are decent, loyal, service-minded people. College and university admissions officers across America have made it a matter of course to look at applicants' social media for untoward behavior not befitting their institutions. The latest Kaplan survey of college admissions officers found that 70% of admissions officers think that looking at social media is "fair game" in the admissions process. Following the events of Jan. 6, it must be "fair game" for military and law enforcement recruiters to examine the social media behavior of their recruits as well.
Until now, the government's response to known extremist connections in law enforcement has been alarmingly insufficient. The U.S. Department of Justice, for example, has required bias training to root out discriminatory practices in law enforcement agencies. Such training is designed to help law enforcement officers recognize "unconscious" biases in order to reduce their influence on police behavior. But what about overt racism?
- Root out extremists within the military and law enforcement: Look at their social media before giving them power and trust, February 4, 2021.

3. After making it all the way to the Eastern Conference finals in Orlando, the Boston Celtics have struggled so far this season. About a third of the way through the current campaign, the Celtics sit at fifth in the East with a .500 record (13-13). They've lost seven of their last 10 games, and 10 out of their last 15. In other words, they seem to be trending in the wrong direction.
The main issue is that the Celtics are a top heavy team. In Jayson Tatum and Jaylen Brown, they have one of the best -- and most versatile -- perimeter duos in the entire league. However, behind those two young studs, Boston has a lot of questions. Kemba Walker hasn't looked like himself yet this season after missing the first few weeks with a knee injury, and their bench isn't as productive as it has been in the past. The Celtics are ranked No. 24 in the NBA in bench scoring this season. Tatum and Brown are both great, but the Celtics just don't appear to have enough around them as currently constructed.
So where does the blame lie for the team's struggles this season? According to general manager Danny Ainge, it's on him.
"We're not playing with the passion that we need. I think that's on the players. And the players on the team are on me," Ainge said in an interview with the Boston Globe. "There are things I could have done better, but I'm not going to mention names. I'll take this responsibility. This is a team that was put together by me, and we're not playing with enough consistency and urgency, and it's my job to look to see what we can do to improve the team, but that's always much harder than improving from within."
Despite Boston's slow start, Ainge isn't in panic mode, yet.
"It's definitely not a time to panic," Ainge said. "But it's always a time to reflect. My job is to reflect after every game on where we stand and where our team is and how much better they can get. I know our team is better than how they are playing, and I'm confident they will play better... I'm not making judgments on all of my players, but I am seeing that there is a lack of consistent urgency, and some of that is our success. We started out 8-3, and we've got a lot of young guys and we have a lot of guys that have been to the conference final three times. I think sometimes you don't realize how hard winning is every night.
"I don't think it's rock bottom, because we're not healthy, we're not playing well, and we're young," Ainge added. "Rock bottom would be if we expected to win a playoff series and lost to a team we were supposed to beat. That would be rock bottom... I've seen too many bad stretches of regular-season basketball to consider this rock bottom. But having said that, we've been playing very, very poorly and inconsistent and not with enough urgency for the last few weeks."
Though Ainge denied being in panic mode, he did acknowledge that changes might need to be made if the team's struggles continue. And since he made it clear that he doesn't think that coaching is the problem, those changes would be roster-related.
"Just changing faces doesn't always change things," Ainge said. "But it may have to come to that."
The NBA's trade deadline is on March 25, so Ainge has a little over a month to make a move in order to upgrade the roster. What a move would look like for Boston remains to be seen, but it's probably safe to say that Tatum and Brown are both off of the table. The rest of the roster though, including Walker, could be fair game. Given the fact that Ainge clearly isn't satisfied with the way his team is playing, the Celtics will definitely be a team to keep an eye on leading up to the deadline.
- Danny Ainge takes blame for Celtics' struggles, acknowledges that roster changes might need to be made, February 15, 2021.
本文仅代表作者本人观点,与本网立场无关。欢迎大家讨论学术问题,尊重他人,禁止人身攻击和发布一切违反国家现行法律法规的内容。
About the author: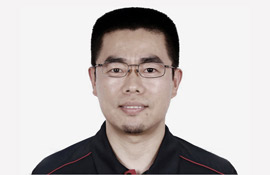 Zhang Xin is Trainer at chinadaily.com.cn. He has been with China Daily since 1988, when he graduated from Beijing Foreign Studies University. Write him at: zhangxin@chinadaily.com.cn, or raise a question for potential use in a future column.
(作者:张欣 编辑:丹妮)
中国日报网英语点津版权说明:凡注明来源为"中国日报网英语点津:XXX(署名)"的原创作品,除与中国日报网签署英语点津内容授权协议的网站外,其他任何网站或单位未经允许不得非法盗链、转载和使用,违者必究。如需使用,请与010-84883561联系;凡本网注明"来源:XXX(非英语点津)"的作品,均转载自其它媒体,目的在于传播更多信息,其他媒体如需转载,请与稿件来源方联系,如产生任何问题与本网无关;本网所发布的歌曲、电影片段,版权归原作者所有,仅供学习与研究,如果侵权,请提供版权证明,以便尽快删除。