Dog tired? 累成狗
中国日报网 2021-02-19 11:19
分享到微信 Reader question:
Please explain this sentence: About 40 of us stay at the hotel because we are dog tired at the end of the day.

My comments:
After a day's work, everyone is exhausted. Some forty of them are too tired to go home, so they stay at the hotel for the night.
That's the idea.
I understand your question. Why dog tired?
Dog-tired as a term is probably the result of observing the expression and behavior of real dogs getting tired. People have been going hunting with their dogs, for example, since time immemorial. After a particularly exerting trip, owners have observed their exhausted dogs panting heavily and perhaps lying down immediately to sleep it off.
Dog owners apparently are equally exhausted. So they say they are dog-tired, as tired out as their beloved dogs are.
Something like that. Here's a better explanation, from TheIdioms.com:
Dog tired is an old English idiom usually hyphenated to dog-tired. An adjectival phrase meaning to be physically exhausted, it derives from an old tale of Alfred the Great who used to send his sons out with his widespread kennels of hunting dogs. Whichever of his sons, be it Athelbrod or Edwin, were able to catch more of the hounds would gain their father's right hand side at the dinner table that evening. These chases would leave them 'dog-tired' yet merry at their victory.
Yeah, dog-tired but happy.
All right?
All right, here are a few media examples of people who are dog-tired, of this and that:

1. The cast and crew of CBS legal drama "All Rise" were just a few days into filming the 21st episode of their freshman season when concerns over the spread of coronavirus shuttered TV and film productions across the industry.
While not in a unique predicament, producers did come up with a unique solution for finishing their season: produce an entire episode virtually.
On Monday evening, the fruit of their labors and innovation -- an episode titled "Dancing at Los Angeles" -- will air on CBS.
In the episode, the audience is given a peek into characters personal lives and individual coping strategies, and will see them professionally adjusting to the strange times they find themselves in. Judge Lola Carmichael (Simone Missick) makes history, for example, by virtually presiding over a bench trial.
With the episode, "All Rise" became the first scripted drama to re-enter production amid social distancing and stay-at-home orders. ("Parks and Recreation" was the first scripted comedy to do so with its reunion special.)
"We adjusted some things. Some of our original impulses had this event not happen may have been a little bit different in terms of how we were going to resolve certain relationship questions," executive producer Greg Spottiswood told CNN. "But the actual reality kind of changed how we felt the characters would start feeling about each other. So it became a storytelling opportunity as well."
The episode was filmed using FaceTime, WebEx, Zoom and other online technology. Visual effects were also applied to the backgrounds of some scenes. The cast, meanwhile, was called upon to film inside their own homes -- a task that took coordination and demanded a lot from the actors themselves as they stepped into multiple new roles.
"You know, we thought, 'Oh, we'll have to do our own hair and makeup and figure that out and hold the phone or the camera, the computer.' But then they started sending over lights and making sure that our Wifi was a strong enough connection. We had so many technical rehearsals in addition to the table read," star Simone Missick told CNN. "It was like, 'Oh, we're doing a location scout in my house today. Great, let me clean up and ignore the fact I haven't done anything for two weeks.'"
In all, the actors were called upon to perform tasks usually handled by 12 different departments, in addition to their work in front of the camera, Missick said.
"It was insane, and in the moment you don't realize how big of a day it is until you sit down exhausted at five o'clock," she said. "You're not even shooting a full day like we normally do. Normally, you come in, it's 5:00 AM, you go through hair and makeup and you shoot until five in the afternoon. These are like six, seven days, seven-hour shoots, and we were dog tired by the end of it. It's because we were doing so many jobs."
Ultimately, though, she said, "it was so fulfilling."
"It's so exciting, and I can't wait for the to see this episode," she said.
- Actors rose to the occasion to make 'All Rise' remotely filmed episode, CNN.com, May 4, 2020.

2. Dr Anthony Fauci has warned Christmas could be more of a challenge than Thanksgiving as COVID-19 cases, deaths and hospitalizations surge across the country.
The United States recorded 175,663 new coronavirus cases and 1,113 deaths yesterday, while the number of people currently hospitalized reached a record 101,487.
The number of new cases has surpassed 200,000 every day in the last week and daily deaths haven't dropped below 2,200. More than 1 million cases have been reported in the first week of December alone.
There is often a lag in weekend reporting, which could account for the current lower daily figures.
Averaged across the last seven days, hospitalizations, cases and deaths are currently at record levels.
In an interview with CNN this morning, Fauci said the numbers being seen now could be just the beginning of what occurred over Thanksgiving due to gatherings and travel.
Fauci warned the Christmas period could be even worse given it goes for a longer period thanks the Thanksgiving weekend.
The United States recorded 175,663 new coronavirus cases yesterday. The number of new cases has surpassed 200,000 every day in the last week
The United States recorded 1,113 deaths yesterday. Daily deaths haven't dropped below 2,200 in the last week. There is often a lag in weekend reporting, which could account for the current lower daily figures
'I think it could be even more of a challenge than what we saw with Thanksgiving,' he said. 'This may be even more compounded because it's a longer holiday.'
…
US Surgeon General Dr Jerome Adams urged Americans to hold on just a 'little bit longer'.
'My colleagues are dog tired and we need you to hang on just a little bit longer because we've got vaccines coming, but we want as many people to be alive to get them as possible,' he told ABC's Good Morning America.
'A lot of that is going to depend on your behavior.'
- FAUCI SAYS CHRISTMAS A BIGGER CHALLENGE THAN THANKSGIVING, DistinctToday.com, December 7, 2020.

3. We have been through an unprecedented and, frankly, horrifying time in our nation's history. We have seen mobs of pro-Trump rioters storm the Capitol (at Trump's instigation), cause the work of the Congress to grind to a halt, bring about injury and death to fellow Americans, the calling up of the National Guard, the second impeachment of the President, and the surrounding of the District of Columbia by a massive law enforcement presence.
It might be said, by some of us, that our nation is surviving only by the grace of God.
Now that Joe Biden and Kamala Harris have stepped into the highest offices in the land – and as Democrats take control of both the Senate and the House – we must take stock of what we have learned over the past four or five years. We must not lose momentum in our quest for healing and progress, even though we are dog-tired of the chaos, lies, hatred, racism, prejudice, and attempts to bully us back to the Dark Ages. We Americans are often adept at forgetting and forgiving, but we must remember what Winston Churchill wrote: "Those that fail to learn from history are doomed to repeat it."
When we inaugurated this website, our first blog post focused on the common good. We have periodically revisited this concept for the past five years. What are some lessons learned from the Trump era if examined through the lens of the common good?
- Lessons Learned by Surviving the Trump Era, WisdomWordsPPF.org, January 22, 2021.
本文仅代表作者本人观点,与本网立场无关。欢迎大家讨论学术问题,尊重他人,禁止人身攻击和发布一切违反国家现行法律法规的内容。
About the author: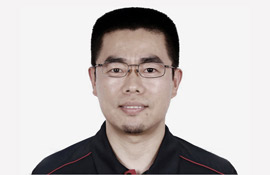 Zhang Xin is Trainer at chinadaily.com.cn. He has been with China Daily since 1988, when he graduated from Beijing Foreign Studies University. Write him at: zhangxin@chinadaily.com.cn, or raise a question for potential use in a future column.
(作者:张欣 编辑:丹妮)
中国日报网英语点津版权说明:凡注明来源为"中国日报网英语点津:XXX(署名)"的原创作品,除与中国日报网签署英语点津内容授权协议的网站外,其他任何网站或单位未经允许不得非法盗链、转载和使用,违者必究。如需使用,请与010-84883561联系;凡本网注明"来源:XXX(非英语点津)"的作品,均转载自其它媒体,目的在于传播更多信息,其他媒体如需转载,请与稿件来源方联系,如产生任何问题与本网无关;本网所发布的歌曲、电影片段,版权归原作者所有,仅供学习与研究,如果侵权,请提供版权证明,以便尽快删除。