Last mile? 最后一英里
中国日报网 2021-03-16 11:04
分享到微信 Reader question:
Please explain this passage, with "last mile" in particular:
The so-called "last mile" is crucial, as the US learned in December and January, when shipments were missed and vaccine sat unused – or ended up in trash bins.

My comments:
This means that the final stage of vaccine delivery is important. It's crucial. If shipments are missed, as they were in December and January, vaccine will sit idle and unused or become unusable. For example, Covid-19 vaccines need to be refrigerated at all times. If refrigeration is not always ensured, they become unusable and will end up in the dust bin.
The "last mile" is a metaphor. In business, it's a term that describes the last and final stage of service delivery. And the last mile is not to be taken literally. In other words, the last mile may be exactly a mile in distance or 20 or 200 miles.
Let me give you an example. If you order a book from Amazon or another online bookstore, a lot of activities happen online. But whatever happens, at the last moment, somebody has to deliver the parcel to your door and that last leg of the process is called the last mile.
The last mile is important because this is when the service meets the customer. This is when the customer gets a personal feel of the service. If the parcel containing the book is neat and well protected, then you the customer will be happy. If the container is dirty and broken, and delivered three weeks late, and with the book damaged in some way, you won't be happy. Assuredly.
In our above example, three or more pharmaceutical companies nowadays are able to deliver coronavirus vaccines in the United States. Yet, without good management over the "last mile", the vaccines may arrive late or not at all. Or they may become unusable and get wasted if, for example, temperature requirements are not met.
We can understand the "last mile" better via more media examples. Here are a few recent ones:

1. E-commerce, already booming and driving freight faster through the supply chain, has gotten an exhausting stress test from the COVID-19 crisis. The illness spread so quickly, causing governments to close businesses and schools, that delivery options and time slots have dried up for many consumers.
Trucking in general has been, and will continue to be, challenged by the coronavirus crisis. With consumers concerned about personal space and contact, many fleets may have to find ways to assure customers that deliveries to their doors – and sometimes even inside their houses, with installations part of the packages – are safe.
Health concerns are piling up. The COVID-19 crisis has forced fleet and warehouse managers to structure workplaces in ways that keeps workers safe from possible coronavirus spread. That means more workplace cleanings, masks and personal protective equipment (PPE), and adjusting break times to keep workers apart, said John Q. Anderson, operating partner of Greenbriar Equity Group. This all has to be done while consumers cause surges in some product demand.
"It's a big shock to the industry," Anderson told Transport Dive. "The economics might get tougher."
Greenbriar Equity has stakes in LaserShip, a non-asset-based parcel delivery company; BDP International, a logistics company managing shipments of chemical, industrial and consumer items; and SEKO Logistics, a global supply chain company. Anderson said his companies use software to manage how workers pick parcels and get them to the next queue, trying to keep the workers at least six feet apart. Break times are also being spaced out to keep workers apart.
But the innovations could be temporary if vaccines or good treatments are found for COVID-19, he said. Anderson said most companies do not make major changes to their picking-and-sorting strategies during the influenza season, and he expects workplaces to adjust back to normal once effective medical treatments are found for COVID-19.
Other fleets believe some changes caused by COVID-19 could be here to stay.
"One of the big long-term effects in last mile could be contact-less delivery becoming the norm, even after COVID-19," said Joseph Checkler, XPO Logistics spokesman, in an email to Transport Dive. "It may take years before consumers are completely comfortable getting up close to a delivery driver to accept a delivery. For this reason, we're exploring options to replace the 'sign-on glass' of the mobile phone of the driver with a system that involves text messages. For example, we send a text and they reply by text whether they accept the delivery."
- Coronavirus pushes fleets to rethink the last mile, TransportDive.com, April 21, 2020.
2. As vaccines start to be administered across the world, the beginning of the end of the pandemic is at last in sight.
But some countries are at risk of missing out. While the African Union has secured 270 million vaccine doses for distribution across the continent, in addition to those promised by the global vaccine program COVAX, this could still fall short of demand for the region.
Even if enough vaccines are secured, there is an enormous logistical challenge: how to transport temperature-sensitive vaccines to places without reliable electricity and refrigeration.
The answer is in developing a "cold chain" -- a network of vehicles, fridges and cold rooms -- that can be used to transport the vaccine seamlessly from the manufacturer to the immunization point.
"We should have been designing the cold chain the day we started designing a vaccine," says Toby Peters, a professor in cold economy at the University of Birmingham, in the UK, who is working with the UN-backed Africa Centre of Excellence for Sustainable Cooling and Cold Chain to improve refrigeration networks in Africa.
"We knew we were going to have to move billions of vaccines around the world, all the way out to rural communities, and that we'd need a temperature-controlled environment," he adds.
The Pfizer-BioNTech vaccine has to be kept at minus 75 degrees Celsius (minus 103 degrees Fahrenheit,) while Moderna's can be kept at minus 20 degrees Celsius (minus 4 degrees Fahrenheit.)
These temperature requirements will be out of reach for most African countries, says Peters, but options like the Oxford/AstraZeneca vaccine, which can be kept at standard refrigerator temperatures of 2 to 8 degrees Celsius (36 to 46 degrees Fahrenheit), will be more feasible.
Even so, existing cold chain networks will not be enough. Without new technology, up to 25% of vaccine supplies could be lost, says Peters.
...
Before a vaccine is administered to someone, it typically has to travel from the manufacturer to an airport, to a national vaccine store, to a provincial vaccine store, to a local health center and, finally, to the end location where it's given to a patient.
"The last mile is the biggest challenge, and it's where there's the biggest gap," says Peters.
Gricd, a small Nigerian startup, is hoping to help fill this gap. It's building solar-powered cold boxes for vaccine transportation that can be kept at minus 20 degrees Celsius (minus 4 degrees Fahrenheit) and can be controlled remotely and monitored in real time.
The company says it has worked with Nigeria's National Centre for Disease Control and the Nigerian Institute of Medical Research during the pandemic, helping to collect and transport Covid-19 test samples from remote areas.
- How solar tech could help distribute Covid-19 vaccines in Africa, CNN.com, January 15, 2021.
3. President Joe Biden's chief of staff Ron Klain criticized the Trump administration's vaccination campaign as "chaotic," adding Biden will work more closely with states to get vaccines into arms.
On Meet the Press, Chuck Todd asked Klain about conflicting comments by Biden officials about whether the new administration had to create a vaccination distribution plan from scratch.
Klain said Biden was building on progress from the initial wave of vaccinations, "no question about it."
"But the process to distribute the vaccine, particularly outside of nursing homes and hospitals out into the community as a whole did not really exist when we came into the White House," Klain said.
Really? We found that's taking things too far.
Many experts said that the Trump administration's plan had some key holes, including a failure to communicate with the states and cities about the rollout and inadequate funding for vaccine distribution. But it did have a plan: rely on the states.
"The federal plan, much like the rest of the federal response to the coronavirus pandemic, was very hands off when it comes to details of implementing public health interventions," said Josh Michaud, associate director of global health policy at the Kaiser Family Foundation. "The last mile of vaccine delivery was not a big part of the federal plan by design."
- Trump vaccine plan left logistics to states, but it did exist, PolitiFact.com, January 24, 2021.
本文仅代表作者本人观点,与本网立场无关。欢迎大家讨论学术问题,尊重他人,禁止人身攻击和发布一切违反国家现行法律法规的内容。
About the author: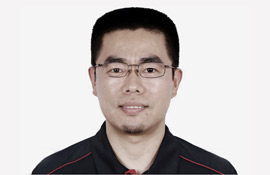 Zhang Xin is Trainer at chinadaily.com.cn. He has been with China Daily since 1988, when he graduated from Beijing Foreign Studies University. Write him at: zhangxin@chinadaily.com.cn, or raise a question for potential use in a future column.
(作者:张欣 编辑:丹妮)
中国日报网英语点津版权说明:凡注明来源为"中国日报网英语点津:XXX(署名)"的原创作品,除与中国日报网签署英语点津内容授权协议的网站外,其他任何网站或单位未经允许不得非法盗链、转载和使用,违者必究。如需使用,请与010-84883561联系;凡本网注明"来源:XXX(非英语点津)"的作品,均转载自其它媒体,目的在于传播更多信息,其他媒体如需转载,请与稿件来源方联系,如产生任何问题与本网无关;本网所发布的歌曲、电影片段,版权归原作者所有,仅供学习与研究,如果侵权,请提供版权证明,以便尽快删除。