Sunday best? 盛装
中国日报网 2021-03-12 17:45
分享到微信 Reader question:
Please explain "Sunday best" in this sentence: He's going to wear his Sunday best – it's his big day. Sunday best?

My comments:
This means "he", whoever that is, is going to have a good time on that occasion, whatever that is.
Sunday best? Yes, it's a phrase. And it needs a little explanation.
He, literally, is going to wear the best clothes he has on that day, his big day.
Perhaps his birthday, perhaps graduation day, perhaps a day when he'll receive a medal or award for something he has achieved.
Every dog has its day and this being his day, he's going to have a good time. He's going to enjoy the occasion.
Again, whatever that occasion is. Here, we're concerned with "his Sunday best", and that is literally the best clothes he has, which he would wear on Sundays, when he goes to church with his family.
"Sunday best" is kind of obsolete but that's what it is about, or rather what it was about, originally. In the past, when people were poor, they reserved wearing their best clothes for when they went to church on Sunday and for other special occasions. After all, as the great American humorist Mark Twain said: "Clothes make the man. Naked people have little or no influence on society."
Kidding aside, that's it. That's about it. If you're non-religious, you're forgiven for having difficulty why religious people wear their Sunday best when they go to church. Just remember, it's the same as people wanting to wear their finest clothes for special occasions, such as birthday parties or other ceremonies.
All right, here are media examples of situations where people wear their Sunday best, both literally and metaphorically speaking:

1. As Mae Hazelton walked along West Main Street in Tavares, Florida, in her Sunday best, painful childhood memories took over her.
Now 65, she remembered seeing crosses burning in the distance and drinking from a water fountain with signs that read "colored" and "white only." As she approached the Old Lake County Courthouse, the fear she felt as a girl walking those same streets rushed through her body.
"I think about the Black men that were beaten there and tortured there," Hazelton said.
But she also remembered her grandmother Nellie Virginia Burkes' wise words, "Fight... for what is right."
Hazelton has been in the fight of her life for the past two years.
It started in June 2018, when she learned that the statue of Confederate General Edmund Kirby Smith was scheduled to move from the US Capitol to the Old Lake County Courthouse.
That's the same courthouse where in 1949 four young African American men, Walter Irvin, Samuel Shepherd, Charles Greenlee and Ernest Thomas -- known as the Groveland Four -- were accused of a crime they didn't commit, tortured and subjected to racially motivated oppression.
A memorial for the Groveland Four was erected outside the Old Lake County Courthouse last year, when the young men were posthumously pardoned.
"The brutality and injustice that these men endured resulted in the wrongful death of Mr. Thomas and Mr. Shepherd, and the unfair incarcerations of Mr. Irvin and Mr. Greenlee," the plaque on the memorial reads.
Standing by the memorial, Hazelton said that moving a Confederate statue into a government-owned building known for its racism and oppression against African Americans was just wrong.
"It's evil and wrong and we shouldn't have it here in our community," Hazelton said.
- 'Fight for what is right': One woman's battle to keep a Confederate statue out of her community, CNN.com, June 21, 2020.
2. Okay, the Walt Disney Company has just started its massive marketing campaign for an anniversary celebration.
On October 1st, 2021, Walt Disney World will commemorate its 50th anniversary with plenty of festivities.
Disney officials have confirmed that a pesky thing like a pandemic won't derail these plans.
On Good Morning America, the company unveiled some of what it has planned for the party of the half-century.
All this promotion has probably given you the feels and forced you to consider some plans for the fall.
Should you visit Walt Disney World for the 50th anniversary? Well...
...
Mickey Mouse and Minnie Mouse will dress in their Sunday best throughout the 18-month party!
- Should You Visit Walt Disney World for the 50th Anniversary Celebration? MickeyBlog.com, February 20, 2021.
3. In 1948, John Peake won a silver medal at the Olympic Games in London. In 2021, also in London, he struck what many would consider gold, receiving his first dose of a coronavirus vaccine.
Amid growing concerns over rising COVID outbreaks at nursing homes in Britain, the 96-year-old was one of the 45 residents at Wimbledon Beaumont Care Community in southwest London to receive the vaccine Wednesday developed by the University of Oxford and British pharmaceutical company AstraZeneca.
"I'm glad to have it and I appreciate the fact that it has come to this place early," he told The Associated Press after receiving his jab.
Peake was the youngest member of the 1948 British field hockey team that lost 4-0 to India in the final at Wembley Stadium in the first Olympics after World War II.
"I think I'm lucky to have lasted as long as I have," he said.
Yet Peake, who is one of the oldest surviving Olympians, was not even the oldest to get the shot at the nursing home. That honor went to 102-year-old Joan Potts, who though in a wheelchair and clearly fragile, still had eyes that expressed wonder in the world.
Britain in many ways is leading the vaccination drive around the world. It was the first country to approve and use the vaccine designed by U.S. pharmaceutical company Pfizer and Germany's BioNTech. It was the first to approve the Oxford-AstraZeneca vaccine. It has also approved a third, by Moderna, but that is not expected to arrive until the spring.
Already, around 2.5 million people in Britain have received their first jabs. To get vaccine shots to as many people as quickly as possible, Britain is taking a different path than other nations. Instead of giving people their second vaccine shot within three or four weeks, they will get it within 12 weeks.
The first groups in line are those 80 and over, health care workers, nursing home residents and their caregivers. The British government had aimed for all nursing home residents to have their first jab by the end of the month but doctors are now being urged to go faster, given a recent rise in new infections in nursing homes.
Dr. Jane Allen, who has looked after Wimbledon residents for around four decades, was on hand to deliver the jabs.
"I'm certainly glad it's arrived at last, because perhaps it gives the residents a bit more freedom, they've had a very difficult year," said Allen, who along with her partners were in a rush to vaccinate the nearly 200 nursing home residents over a single day.
Two paramedics arrived with a shiny red bag containing the treasured vaccine doses. Allen visored up and, assisted by nurse Fernando Castillo, ran through the necessary questions: Are you feeling well? What about any allergies? Do you want to take this vaccine against the coronavirus?
As they waited to get their shots, the residents offered glimpses into their personalities and pasts, displaying empathy, humor and resilience.
For some it was a big relief, including gregarious 86-year-old Gwen Nurse, who has just "felt very lonely" over these long months of the pandemic.
"I'm an old lady and it doesn't matter so much about me, but it does about younger people," she said.
For others, it was a more prosaic affair.
"I've been jabbed many times," said Ian Hurley, 80, a former policeman who helped create the Crimestoppers phone line and never misses a chance to show off his edgy sense of humor.
"Whatever the case is, I might just walk out of here and cross the road and get run over," he said.
Some, like Hurley, just rolled up their sleeve and got on with it. For others, it was a more laborious process, requiring reassurance from the doctor. Retired executive secretary Pamela Rahman, 84, was dressed up in her Sunday best, only to find that she was not wearing the easiest clothing for a vaccine shot.
Getting a vaccine shot doesn't mean that the nursing home residents can go about their lives as they previously did. For starters, it takes around 21 days for a high measure of protection to emerge. But it does help lift the fear that they could contract the virus blamed for the deaths of some 85,000 people in the U.K., the vast majority of them over 65.
- A day to remember: London nursing home greets virus vaccine, News4Jax.com, January 14, 2021.
本文仅代表作者本人观点,与本网立场无关。欢迎大家讨论学术问题,尊重他人,禁止人身攻击和发布一切违反国家现行法律法规的内容。
About the author: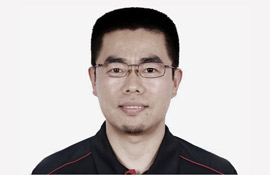 Zhang Xin is Trainer at chinadaily.com.cn. He has been with China Daily since 1988, when he graduated from Beijing Foreign Studies University. Write him at: zhangxin@chinadaily.com.cn, or raise a question for potential use in a future column.
(作者:张欣 编辑:丹妮)
中国日报网英语点津版权说明:凡注明来源为"中国日报网英语点津:XXX(署名)"的原创作品,除与中国日报网签署英语点津内容授权协议的网站外,其他任何网站或单位未经允许不得非法盗链、转载和使用,违者必究。如需使用,请与010-84883561联系;凡本网注明"来源:XXX(非英语点津)"的作品,均转载自其它媒体,目的在于传播更多信息,其他媒体如需转载,请与稿件来源方联系,如产生任何问题与本网无关;本网所发布的歌曲、电影片段,版权归原作者所有,仅供学习与研究,如果侵权,请提供版权证明,以便尽快删除。