Under wraps? 保密
中国日报网 2022-03-11 12:23
分享到微信 Reader question:
Please explain this sentence, especially "under wraps": The report had been kept under wraps until after the election.

My comments:
The report came before the election but was kept in secret.
It was revealed only after the election.
Why?
The report is perhaps inconclusive or too controversial. Releasing it before the election might have affected how people voted. So they kept the report under wraps.
Under wraps?
Wraps refers to wrapping paper, paper used to wrap around a gift box or a similar package.
And if you liken the report to a gift covered up in layers of wrapping paper, you'll have an idea of "under wraps". To see what the gift is, you have to open the wraps first.
Hence, metaphorically, if a piece of report is kept under wraps, it's kept in secret, covered up and kept from view.
Hence and therefore, we have the idiom under wraps.
A lot of things can be and actually are kept under wraps. For example, your birthday plan can be kept under wraps so that everybody will get a pleasant surprise when the time comes.
Or, a country's nuclear program can be kept under wraps, for obvious reasons.
Or the schedule of the visit by a political candidate can be kept secret, again, for obvious reasons.
Or perhaps not so obvious.
Why does a political candidate want to keep his visit schedule secret?
It's baffling, I know.
But politics being politics, we may never know.
Anyways, let's read a few media examples to see who keeps what under wraps:

1. Special counsel Robert Mueller examined whether President Donald Trump lied to him in written answers during the Russia investigation, a possibility House Democrats have said they continue to look into even after Trump's impeachment.
With fresh detail, the special counsel's investigation also documented how several Trump campaign officials heard from the then-candidate about WikiLeaks releases that ultimately helped his campaign, a new version of the Mueller report said on Friday.
The revelations come from sections of Mueller's final investigative report, on Russian interference in the 2016 election, re-released on Friday with fewer redactions. The new disclosures largely relate to the 2016 election efforts of convicted former Trump adviser Roger Stone and his interactions with his long-time friend Trump.
There's no proof that Trump's campaign illegally conspired with suspected Russian hackers who leaked stolen Democratic files to WikiLeaks, and no Americans were charged with such a crime. Yet Mueller documented many instances where Trump campaign officials welcomed the Russians and WikiLeaks' mischief in 2016, including when it related to Stone.
"According to multiple witnesses involved with the Campaign, beginning in June 2016 and continuing through October 2016, Stone spoke about WikiLeaks with senior Campaign officials, including candidate Trump," Mueller wrote.
"The Trump Campaign showed interest in the WikiLeaks releases ... After Stone's prediction of WikiLeaks's first Clinton-related release proved true, the Trump Campaign stayed in contact with Stone about WikiLeaks's activities. The investigation was unable to resolve whether Stone played a role in WikiLeaks's release" of an October surprise to help Trump – the release of the Clinton campaign chairman's stolen emails on the same day a tape from "Access Hollywood" showed Trump using graphic language about women.
"No wonder they kept this hidden," Democratic Rep. Adam Schiff, an architect of the House's impeachment efforts and chair of the House Intelligence Committee, tweeted Friday night. The House has repeatedly said in court, during and after Trump's impeachment proceedings about him soliciting political favors from Ukraine, that it wanted more details from the Mueller investigation about how witnesses described Trump's conversations with Stone. A House attempt to get grand jury detail from the Mueller investigation, which underpinned the Mueller report, is still tied up in appeals.
The political ramifications of the details revealed Friday have been blunted by time. If the details had been released when Mueller finished his investigation, they may have affected the public's perception of the findings. Almost immediately after Mueller ended his work, Trump claimed "total exoneration" and has pushed to undercut Mueller's prosecutions and the foundations of the Russia investigation.
Attorney General William Barr announced after reviewing Mueller's report he "did not find" that any Trump campaign associates coordinated with Russian interference in the election. When Barr released the 448-page report in April 2019, it carried extensive redactions. Many were marked redacted because they could cause harm to an ongoing matter – such as Stone's trial, which was slated for later that year.
...
Many of the details about Stone had been kept under wraps until his trial last year for lying to Congress, witness tampering and obstruction, for which a jury found him guilty on all seven counts. Prosecutors said Stone had lied to the Republican-led House of Representatives in 2017 about a backchannel he attempted to establish with WikiLeaks to protect Trump.
- Mueller raised possibility Trump lied to him, newly unsealed report reveals, CNN.com, June 20, 2020.

2. A FORMER Army press officer revealed he saw the body of a "beat-up alien" the "size of a 10-year-old child" after the Roswell UFO crash in a bombshell video he made before his death.
In the footage, released for the first time, the press officer for Roswell Army Air Field 1st Lt. Walter Haut recalls his encounter with the UFO and an alien body that had been found lifeless at the crash site in Roswell, New Mexico.
Haut drafted the military's original press release on the 1947 UFO crash, which made international news, but the Army Air Force quickly changed their story and said it was just a weather balloon.
In the video, shared with The Sun, Haut says: "To the best of my remembrance there was one body ... it was a relatively small body comparable to maybe a 10 or 11-year-old child. It was pretty well beat up."
He said he could not remember the color as it was so many years ago.
In a signed affidavit Haut made before his 2005 death, also shared with The Sun, he said: "I am convinced that what I personally observed was some type of craft and its crew from outer space."
The video was made in 2000 by Haut's friends Dennis Bathaser and Wendy Connors and has been kept under wraps until now.
- Ex-Army officer ADMITS he saw 'alien the size of a 10-year-old child' after famous Roswell UFO crash in incredible video, The-Sun.com, May 14 2021.

3. Three years after the finale of Fleabag, a new Phoebe Waller-Bridge show is coming to TV.
Deadline reports that Amazon Prime Video has greenlit the Emmy Award winner's follow-up to her hit dark comedy, with plans to begin filming later this year. The upcoming series is the first created under Waller-Bridge's overall deal with the studio, which was signed in September 2019 in the wake of Fleabag's beloved second season.
Details about the untitled series have been kept under wraps so far, but it's highly likely the show will have the some of the frank observations of human relationships that made her past shows Fleabag and Killing Eve must-watches.
Over the past three years, Waller-Bridge has mostly worked behind the scenes in TV and film, including co-writing the screenplay for the latest James Bond film No Time to Die. She also briefly worked on the long-developed Mr. & Mrs. Smith reboot with Donald Glover, which she exited in September 2021, citing creative differences.
She also made on-screen appearances on the HBO thriller Run, which she also executive-produced, and the fantasy series His Dark Materials, which included a sort-of reunion with the Hot Priest himself, Andrew Scott. The Fleabag creator voiced Scott's character's daemon, the animal form of his soul, in season 2.
We'll also see Waller-Bridge in her biggest movie so far next year, as she'll star in the fifth Indiana Jones film alongside Harrison Ford. After some delays due to the pandemic, the highly-anticipated blockbuster is currently scheduled to release in June 2023.
- Phoebe Waller-Bridge Sets Her First Show After Fleabag, HarpersBazaar.com, March 5 2022.
本文仅代表作者本人观点,与本网立场无关。欢迎大家讨论学术问题,尊重他人,禁止人身攻击和发布一切违反国家现行法律法规的内容。
About the author: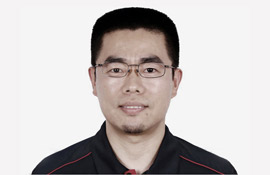 Zhang Xin is Trainer at chinadaily.com.cn. He has been with China Daily since 1988, when he graduated from Beijing Foreign Studies University. Write him at: zhangxin@chinadaily.com.cn, or raise a question for potential use in a future column.
(作者:张欣 编辑:丹妮)
中国日报网英语点津版权说明:凡注明来源为"中国日报网英语点津:XXX(署名)"的原创作品,除与中国日报网签署英语点津内容授权协议的网站外,其他任何网站或单位未经允许不得非法盗链、转载和使用,违者必究。如需使用,请与010-84883561联系;凡本网注明"来源:XXX(非英语点津)"的作品,均转载自其它媒体,目的在于传播更多信息,其他媒体如需转载,请与稿件来源方联系,如产生任何问题与本网无关;本网所发布的歌曲、电影片段,版权归原作者所有,仅供学习与研究,如果侵权,请提供版权证明,以便尽快删除。