Wider society? 全社会
中国日报网 2022-04-01 11:08
分享到微信 Reader question:
Please explain this sentence, particularly "wider society": With the vote won for all women over 21 in 1928, the feminist movement gradually turned its attention to women's inequality in wider society.

My comments:
Women won the right to vote in 1928. After that, the feminist movement turned to seek improvements in all other areas of life, or wider society.
Here, wider society refers to society at large, or all other walks of life involving women. It's called "wider" because other areas of life as a whole is much wider or broader in scope than this one area in question – voting rights for women.
Whenever we are talking about a social issue and then address the wider society, we mean to point to society as a whole, or the wider public in general, concerning all people in all walks of life.
In our example, when the voting rights for women were secured, the feminist movement went on to fight for equality for women in all other areas of society, or society in general.
For example?
For example, equal pay for equal work.
Or equal opportunity to education.
Or equal opportunity to higher public office.
Or, I mean, equal opportunity to everything.
All right?
All right. And here are media examples or "wider society":


1. Inclusion is about how we structure our schools, our classrooms and our lessons so that all our students learn and participate together. An inclusive classroom is one that creates a supportive environment for all learners, including those with learning differences and one that can also challenge and engage gifted and talented learners by building a more responsive learning environment. Inclusivity also means respecting people from all backgrounds and cultures. By teaching our students the importance of this we can create a much more tolerant and understanding environment, not just in the classroom and school but also in wider society.
An inclusive school or classroom can only be successful when all students feel they are truly part of the school community. This can only happen through open, honest discussion about differences and understanding and respecting people from all abilities and backgrounds. An inclusive environment is one where everyone feels valued.
How do you currently promote inclusivity in the classroom?
Here are some questions for reflection:
Think about your own values and approach to disability, gender, race etc. Does how you teach acknowledge the experiences of the students from different backgrounds? Is your approach non-stereotypical? Do you encourage alternative perspectives, debate ideas, create an environment which is open to representation of different viewpoints? Are your students treated as individuals, encouraged to share their own lives and interests? Are your examples non-stereotypical?
In a racially diverse ELT classroom, have you thought about your own conscious or unconscious biases about people from other cultures? Do you have different expectations of students of colour than you do of white students, of male or female students, of students from LGBTQ community?
- How to create an inclusive classroom environment, Cambrige.org, November 2017.

2. Former Wallabies player Israel Folau, who was embroiled in controversy after an anti-gay post on social media, has returned to rugby union after agreeing to sign for NTT Communications Shining Arcs, the Japanese outfit said on Monday.
In 2019, Folau reached a settlement with Rugby Australia after being sacked for an Instagram post in which he said "hell awaits" gay people.
He also suggested that Australia's bushfires and droughts in 2019 were punishments from God for the country's same-sex and abortion laws.
A devout Christian, Folau made 73 appearances for Australia's rugby union side but switched back to rugby league last year, signing for Super League side Catalans Dragons.
The move was strongly condemned from both within the rugby world and in wider society.
The Rugby Football League – the sport's governing body – said allowing the signing had been a "difficult decision" and deplored the player's previous comments.
Folau's new side, NTT Communications Shining Arcs, play in Japan's Top League.
- Israel Folau makes shock rugby union return after signing for Japanese side Shining Arcs, CNN.com, July 5, 2021.

3. Of the 575 chemistry professors in the UK, just one is black.
In the 15 years Robert Mokaya has been a professor at Nottingham university, he has had all his applications for funding for research projects turned down by Britain's main chemistry funding body, now called the UK Research and Innovation agency, reports BBC.
"That is not typical for a professor," he tells me phlegmatically. "I have had research papers published which I would have expected would have enabled me to obtain funding to do follow-up research.
"I wonder if this is typical for someone of my sort of surname.
"It has been very, very difficult," he says.
Funding applications are reviewed and decided by fellow experts in the field whose names are not published, but the name of the applicant is known to the reviewers.
Despite the constant rejections of funding applications, Robert has done extremely well for himself. He is a noted materials chemist, specializing in the study of materials for sustainable energy storage and has had numerous publications in scientific journals.
He was able to do his research because of funding from charities and learned societies, such as the Royal Society, which funds only the researchers it judges to have a track record of excellence in their work.
Robert is currently a pro-vice-chancellor at Nottingham University and a trustee of the Royal Society of Chemistry (RSC).
The RSC has published an investigation which shows that racism is "pervasive" in the field. The report finds that it is "hard to challenge" and marginalization of minorities has become "normalized" in universities and industry.
The investigation also bears out Robert's experience, finding that minority ethnic researchers are less likely to get grant funding, promotions and are paid significantly less. In 2019/20 the average grant for a minority ethnic chemical sciences researcher was £320,000, compared with £355,000 for white colleagues.
The RSC's chief executive, Dr Helen Pain, described the stories of discrimination she had seen as part of the investigation as "shocking".
"Racism is unfortunately a reality of chemical sciences, just as it is in wider society," she told BBC News.
"We need to do better. We need to make a difference."
- Royal Society of Chemistry report says racism 'pervasive', by Pallab Ghosh, Daily-Sun.com, March 18, 2022.
本文仅代表作者本人观点,与本网立场无关。欢迎大家讨论学术问题,尊重他人,禁止人身攻击和发布一切违反国家现行法律法规的内容。
About the author: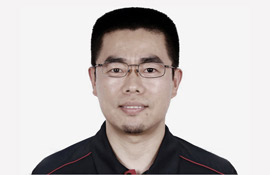 Zhang Xin is Trainer at chinadaily.com.cn. He has been with China Daily since 1988, when he graduated from Beijing Foreign Studies University. Write him at: zhangxin@chinadaily.com.cn, or raise a question for potential use in a future column.
(作者:张欣 编辑:丹妮)
中国日报网英语点津版权说明:凡注明来源为"中国日报网英语点津:XXX(署名)"的原创作品,除与中国日报网签署英语点津内容授权协议的网站外,其他任何网站或单位未经允许不得非法盗链、转载和使用,违者必究。如需使用,请与010-84883561联系;凡本网注明"来源:XXX(非英语点津)"的作品,均转载自其它媒体,目的在于传播更多信息,其他媒体如需转载,请与稿件来源方联系,如产生任何问题与本网无关;本网所发布的歌曲、电影片段,版权归原作者所有,仅供学习与研究,如果侵权,请提供版权证明,以便尽快删除。