Blood money? 沾满血腥的钱
中国日报网 2022-03-15 14:26
分享到微信 Reader question:
Please explain this: No to blood money.

My comments:
Say no to blood money, in other words.
When people say no to blood money, they refuse to accept money as, say, compensation because that money is tainted with blood.
Literally, blood money can be banknotes with red blood stains on them.
Broadly and figuratively speaking, blood money refers to money paid in compensation to, say, the family of someone who has been killed, or money paid to a hired assassin, or money paid to someone for information that helps the police capture a killer.
Or, historically, wealth made and gained from slave trade has often been described as blood money.
At present, profits from sweatshops in developing countries are also described as blood money. In those sweatshops, people sometimes die because of overwork under terrible working conditions.
No to blood money?
Say no to blood money because if we accept it, it's as if we, too, had blood on our hands. We cannot accept it because it's obtained at the cost of a person's life or that of many people's lives. We cannot take it with a clear conscience.
All right?
Good. Let's read a few media examples of "blood money":

1. Oscar Pistorius offered $34,000 to the family of girlfriend Reeva Steenkamp after he killed her, but the family rejected the funds because it did not want "blood money," a prosecutor said Tuesday at the sentencing hearing for the double-amputee athlete.
Chief prosecutor Gerrie Nel also referred to separate payments of $550 that the Pistorius camp apparently made on a monthly basis to Steenkamp's family, but said those would be paid back in full. The revelations emerged while Nel was cross-examining a social worker who testified that Pistorius should be placed under house arrest, rather than sent to prison, after his conviction for culpable homicide, or negligent killing.
Social worker Annette Vergeer, one of four witnesses called by the defense, said South African jails are violent and overcrowded and that the athlete would be under particular duress because of his disability and fragile mental state resulting from the night when he fired four times through a toilet door in his home, killing Steenkamp. Pistorius testified he mistook her for an intruder about to attack him and denied prosecution assertions that he shot her during an argument.
Additionally, Vergeer said, Pistorius – who in 2012 was the first amputee athlete to run at the Olympics – has the potential to be a productive member of society again. A sentence of house arrest that includes periods of work at a school for disabled children would be more appropriate, she said.
Prison "will not assist him but will break him as a person," she said. "The exposure of the accused on his stumps to inmates will have a severe effect on him."
Prosecutor Nel challenged Vergeer, saying her knowledge of the South African prison system was limited and out of date. He asked why she didn't mention in her report on Pistorius that she knew the family of the woman he killed turned down a money offer. Nel also suggested the offer indicated that Pistorius, who lost lucrative international sponsorships after he killed Steenkamp, had significant funds at his disposal even though his defense team has said his resources had dwindled.
Judge Thokozile Masipa found Pistorius not guilty of murder for shooting Steenkamp, concluding he acted hastily and with excessive force but didn't intend to kill Steenkamp. The judge has wide latitude when deciding on a sentence. Pistorius, 27, could receive a fine and a suspended jail term or as many as 15 years in prison for the negligent killing.
- Family rejected Pistorius' money, ABC13.com, October 15, 2014.

2. Everyone is alarmed by the deadly opioid epidemic sweeping our country. But most of the discussion about causes and cures misses the most fundamental issue.
Pharma is the main culprit in starting and maintaining the problem. And it should be held responsible for cleaning it up.
During the past two decades, US drug companies have been only marginally less ruthless than Mexican drug cartels in pushing opioid drugs and addicting millions of Americans to them.
I have previously described the hypocritical role of the highly esteemed Sackler family. Much of their famous philanthropy has been financed by blood money earned from their Purdue Pharma – a leader in the fraudulent marketing that triggered and maintained the prescription opioid epidemic.
Drug companies and drug company executives must be exposed and punished. They have been responsible for hundreds of thousands of deaths and deserve massive fines needed now to help those who are currently addicted.
I have asked Art Levine to provide insights on what has happened and what needs to be done. He is an award-winning investigative journalist and author of the new book, Mental Health, Inc.: How Corruption, Lax Oversight and Failed Reforms Endanger Our Most Vulnerable Citizens.
Art writes: "It's hard to remember, amid all the daily outrages committed by President Trump, that he actually promised to do something in late August about what he declared to be a "national emergency" created by the opioid crisis that is driving most of the 64,000 drug overdose deaths a year.
As usual with Trump, nothing happened as a result of his comments. His administration hasn't gotten around to actually taking the necessary actions to invoke federal emergency powers that could allow the government to better help substance abusers.
What you don't see under serious consideration by the Trump administration is any meaningful crackdown on drug industry fraud or its corruption of researchers and government officials that fueled the opioid crisis in the first place.
And the recently established federal interagency pain advisory panel has many members with financial conflicts of interest connecting them to the drug industry that our government should be investigating – not obeying it like lapdogs.
Opioids have become the new corporate gold rush, with over a third of Americans being prescribed the drugs, mostly for short-term use.
- Pharma Corruption Started the Opioid Epidemic, by Allen J Frances, PsychologyToday.com, October 4, 2017.

3. Protestors chanting, "No more blood money!" turned heads Saturday as they marched through Newark demanding the closure of Immigration and Customs Enforcement detention facilities.
The Resist the Deportation Machine Network and more than a dozen labor, immigrant, community and environmental groups rallied supporters at Peter Francisco Park in the heavily-immigrant Ironbound section of the city.
The group of about 75 people listened to speakers, held signs, banged drums and sang, before making the 3-mile trek down Ferry Street to the Essex County Correctional Facility on Doremus Avenue, where more than 1,000 ICE detainees are held.
The group deemed the detention centers concentration camps because "a concentration camp is a place where political prisoners are kept," said Stacey Gregg, an activist from Rockaway.
"These are warehoused human beings for dollars," she told the crowd. "It's human trafficking at its worst, and it's blood money."
Essex County collected an average monthly payment of $2.75 million in 2018 – more than the other two New Jersey counties that also have contracts with the federal government to house ICE detainees. Hudson County last year got $1.95 million and Bergen received $1.1 million on average, monthly.
"They're putting people in camps as if they've done something wrong," said Denise Brush, of Glassboro, a representative of the Green Party of NJ. "They're just trying to have a better life."
- 'No more blood money!' Protestors demand closure of ICE detention centers at Newark march, NJ.com, October 12, 2019.
本文仅代表作者本人观点,与本网立场无关。欢迎大家讨论学术问题,尊重他人,禁止人身攻击和发布一切违反国家现行法律法规的内容。
About the author: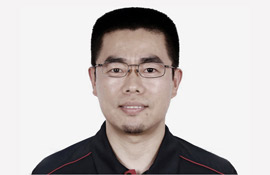 Zhang Xin is Trainer at chinadaily.com.cn. He has been with China Daily since 1988, when he graduated from Beijing Foreign Studies University. Write him at: zhangxin@chinadaily.com.cn, or raise a question for potential use in a future column.
(作者:张欣 编辑:丹妮)
中国日报网英语点津版权说明:凡注明来源为"中国日报网英语点津:XXX(署名)"的原创作品,除与中国日报网签署英语点津内容授权协议的网站外,其他任何网站或单位未经允许不得非法盗链、转载和使用,违者必究。如需使用,请与010-84883561联系;凡本网注明"来源:XXX(非英语点津)"的作品,均转载自其它媒体,目的在于传播更多信息,其他媒体如需转载,请与稿件来源方联系,如产生任何问题与本网无关;本网所发布的歌曲、电影片段,版权归原作者所有,仅供学习与研究,如果侵权,请提供版权证明,以便尽快删除。