Fat cats
2023-03-20 10:56
分享到微信 Reader question:
Why are the rich called fat cats?
My comments:
Well, not all the rich.
Not all rich people are called fat cats, I don't think, only the filthy rich.
Filthy as in stinks.
Money stinks.
People who are not filthy rich, people like you and me, are not supposed to know this, but money, too much of it, that is, or as someone puts it, just more than enough can be too much of a good thing.
In other words, very harmful.
Too much money can put you in a lot of trouble.
So, do whatever you can to avoid that fate.
I'm joking, but not entirely.
Anyways, "fat cats" is a phrase that originates in the United States. PoliticalDictionary.com explains the phrase as follows:
In politics, a "fat cat" is a rich and influential person, usually one who donates generously to political campaigns.
Typically, "fat cat" refers to an executive whose earnings vastly exceed those of the average American. The expression suggests that the person is bloated and slightly grotesque, like a cat who's been over-eating for years and has become grossly overweight.
The phrase "fat cat" was in use by the 1920s in America; Merriam Webster claims that the term was first used in 1928. However, others claim that an article in the Baltimore Sun in 1925 grumbled about "fat cats" as early as 1925. The article read, in part,
"It ought perhaps to be explained that Fat Cat is the significant and revealing name in political circles for the sleek, rich fellows who enter politics for one reason or another and depend for their standing and success upon the liberality with which they shell out the dollars."
The term "fat cat" often gets thrown around by politicians and pundits who are looking for a way to rebuke their political enemies. In 2009, then-president Obama used the term to describe bankers who were opposed to his proposed financial regulations.
So, now we know why "fat cat" is a derogative term, because it represents money in politics. And whenever money is involved in or combined with politics, all sorts of dirt and filth are apt to stir up.
And we want to steer clear of that subject altogether.
Just remember one thing: Even though "fat cat" seems to be thrown around these days to describe anyone rich, it is still a derogative term.
So, make sure you use this phrase on the right people.
Or, perhaps should I say, the wrong people?
At any rate, here are media examples of fat cats in current affairs, political and otherwise:
1 Labour's city academies programme was hit by a new wave of protests today.
Opponents want to scare off sponsors bidding to take over two new London academies.
Parents in Islington are protesting against plans for an academy controlled by a charity founded by the boyfriend of Australian supermodel Elle Macpherson.
And teachers in Waltham Forest have vowed to hold strike ballots if they are forced to work longer hours when McEntee School reopens as an academy.
The anti-academies movement celebrated earlier this week when the UK's leading owner of private schools pulled out of the biggest academy project yet.
Global Education Management Systems (Gems) scrapped plans to sponsor two academies in Milton-Keynes, saying opposition to private firms taking over state schools was too entrenched.
The decision is the latest setback to hit the Government's 5-billion-pound academies scheme.
Education watchdog Ofsted recently announced that one of the first of the new schools, Middlesbrough's Unity Academy, is a failure. Exam results at most of the others remain poor.
Critics of the academies are today targeting the "fat cats" behind the Islington academy sponsor,Ark (Absolute Return for Kids), whose trustees are financiers headed by Macpherson's partner Arpad Busson.
Teachers and parents, some dressed in cat costumes, are taking a letter to Ark's Westminster HQ telling it to abandon plans to sponsor the academy. Islington council wants to replace Islington Green School and Moreland School.
- Parents target 'fat cat' sponsors of academies, Standard.co.uk, June 15, 2005.
2 Donald Trump: billionaire of the people. When he ran for office, he said, "The American worker will finally have a president who will protect them and fight for them."
And how's that working out for the American worker? Not very well, actually, not very well. When it comes down to picking sides – standing up for workers' rights or lining the pockets of CEOs and shareholders – Trump aligned himself and his policies with the fat cats.This cost workers money and safety. The truth is that American corporations got a president who protected them and fought for them.
The proof is in Trump's legislation, regulation and secretary selections. The most recent example is Trump's Twitter appointment of Eugene Scalia as Secretary of Labor. This is the department specifically designated to "foster, promote, and develop the welfare of wage earners, job seekers, and retirees." Scalia, though, has made his fortune over decades by fighting to ensure that the big guys – corporations – don't, in fact, have to abide by regulations intended to foster, promote, and develop the welfare of the little guys – wage earners, job seekers, and retirees.
That is who Trump chose to protect wage earners – a corporatist so egregious that when former President George W. Bush wanted Scalia as Labor Department solicitor, Bush had to give him a recess appointment because Republicans in the Senate balked at approving him.
This isn't a glitch. It's a pattern. Although Trump is fond of surrounding himself with union members and asserting that they love him, he doesn't really like unions, especially ones that challenge him or dare to question his lies. Remember how he personally attacked Steelworker Chuck Jones who exposed Trump and Pence for claiming to save 1,100 jobs at Carrier when they really preserved only about half that many – and then only after a grant of $7 million from the taxpayers of Indiana?
- Trump pretends to like union members – but he really likes the fat cats, Salon.com, August 4, 2019.
3 Two of my passions are politics and college basketball. It's a good exercise to view the 2024 presidential "madness" in the context of this year's March madness.
If President Biden runs for reelection, all the primary action will be on the Republican side, so let's divide the possibilities into brackets; the basketball brackets will be announced Sunday night.
The winner of each bracket goes to the Final Four, in politics the initial contests.
The first is the TRUMP bracket: A one-man show, the former president is running again, even more vengeful and vicious.
If, as I believe, he faces at least one indictment, the impact is unclear. For any conventional politician, it'd be curtains – but with Trump, it's more likely to enrage and energize his base, at least in the short term.
Outside of that base, Trump's support is eroding. There are questions about his health and stamina, and he's not catching anybody by surprise. Still, he'd be a heavy favorite to make the GOP Final Four.
Next is the TRUMP-HEAVY bracket. These potential candidates are right-wingers who are almost as mean-spirited and bitterly divisive as the 45th president.
The top seed here is Florida's Gov. Ron DeSantis, who's already stealing some of Trump's thunder. DeSantis is counting on his hard line on cultural issues – taking on gay and transgender rights, "woke" corporations, abortion rights, and educational "elites" – while tossing in a dash of racial dog whistles. This has resonated in Florida, where he was reelected in a landslide.
However, DeSantis ran twice against weak opponents and is about to face more scrutiny and tougher tests. The Trump camp – aided by the King of Slime, Roger Stone – will throw lots of mud; they're already trying to paint DeSantis as a corrupt pervert. That's what they do. DeSantis at some point has a hard decision: Does he ignore this or hit back? In 2016, Jeb Bush tried to ignore Trump, while Marco Rubio got down into the gutter with him. Both failed.
The next seed here is Trump's former Secretary of State, Mike Pompeo, with the top national security credentials. Despite losing 90 pounds, Pompeo is not an especially attractive retail or television candidate. Third-seed in this bracket would be Texas Sen. Ted Cruz, who will run if Trump drops out or fades and who won't be restrained by principle. In 2016, Trump suggested Cruz's father was involved in the assassination of President Kennedy and that his wife was ugly. Cruz later became a congressional champion of Trump. The final seed is South Dakota Gov. Kristi Noem; she has all the MAGA credentials, but … South Dakota?
The TRUMP LIGHT bracket, solid conservatives, supported most of Trump's policies but want a more restrained, maybe even civil, leadership. The early leader here is former South Carolina Gov. Nikki Haley, who was Trump's United Nations Ambassador. "She would be the front-runner," the Bulwark's Sarah Longwell observed, "in a Republican Party that no longer exists." Economic nationalism, isolationism, election denialism, are the staples of the GOP today. (If Haley makes it to the semi-finals, will she stick to her unswerving support for Ukraine?)
The other seeds in this bracket would be Georgia Gov. Brian Kemp, former Vice President Mike Pence, Virginia Gov. Glenn Youngkin and South Carolina Sen. Tim Scott. (Yeah, yeah – there are five in this bracket, but some basketball brackets have a play-in game; there's probably not room for two South Carolinians.)
Pence will have to constantly defend or deflect his total loyalty to Trump until Jan. 6, 2021. Some conservative and fat cats love Scott, who is Black, feeling it shows they're not bigots, but his main legislative achievement, opportunity zones intended to help low-income communities, has been a bust. If the two Southern governors run, there is more beltway chatter about Youngkin – but Kemp, who easily beat back a Trump-backed challenger last year, is a better dark horse.
Handicapping presidential primary 'madness', by Albert Hunt, TheHill.com, March 12, 2023.
About the author: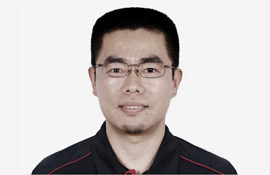 Zhang Xin is Trainer at chinadaily.com.cn. He has been with China Daily since 1988, when he graduated from Beijing Foreign Studies University. Write him at: zhangxin@chinadaily.com.cn, or raise a question for potential use in a future column.
(作者:张欣 编辑:yaning)
中国日报网英语点津版权说明:凡注明来源为"中国日报网英语点津:XXX(署名)"的原创作品,除与中国日报网签署英语点津内容授权协议的网站外,其他任何网站或单位未经允许不得非法盗链、转载和使用,违者必究。如需使用,请与010-84883561联系;凡本网注明"来源:XXX(非英语点津)"的作品,均转载自其它媒体,目的在于传播更多信息,其他媒体如需转载,请与稿件来源方联系,如产生任何问题与本网无关;本网所发布的歌曲、电影片段,版权归原作者所有,仅供学习与研究,如果侵权,请提供版权证明,以便尽快删除。