Diamond in the rough?
中国日报网 2023-03-22 10:20
分享到微信 Reader question:
What does it mean when a young player is described as "a diamond in the rough"?
My comments:
That young player has a bright future. He or she shown they're talented, being good at what they do at their age. They are not perfect – they're rough at the edges, so to speak – but given time to grow, they may turn out to be extremely good.
They will shine – like a diamond.
That's why they are likened to a diamond in the rough.
Diamond in the rough?
That means a diamond in its rough form, i.e. after it's dug out of a mine and before it's polished and cut.
A diamond is a piece of gem, a jewel, shiny and precious. Previously, however, a diamond is just another piece of rough rock, one that contains a gem inside (hence the word, gemstone).
It takes work, a lot of work on the part of the artisan who polishes off the rough edges of the gemstone and cuts what remains into a diamond.
Metaphorically speaking, if a young player is considered a diamond in the rough, they're expected to shine in future, if given the time to grow and given the right environs in which they're mentored and nurtured.
They're rough, perhaps, but they're ready, as Charles Dickens would say.
Ready, that is, to, someday, shine like a diamond.
Here are media examples of people who are considered diamonds in the rough:
1 Over the years, many NBA teams have taken full advantage of the D-League, using it to develop players and find talent. Some organizations – like the San Antonio Spurs, Utah Jazz, Phoenix Suns and Detroit Pistons among others – have utilized their respective D-League teams quite effectively over the years.
But perhaps the team that has leaned on its D-League affiliate the most has been the Miami HEAT.
It seems like the HEAT have been able to find players who either went undrafted or were taken in the second round and continuously mold them into significant contributors using their D-League squad (the Sioux Falls Skyforce) and franchise's development program. And it's not just that they're uncovering end-of-bench players either; the HEAT have discovered meaningful, impact players this way.
Players like Hassan Whiteside, Tyler Johnson and Josh Richardson all spent some time in the D-League and, at one point, didn't have a huge role in the NBA. Now, they've each done very well for themselves.
We're all familiar with Whiteside's journey from a second-round draft pick who rarely played in the NBA, to playing in Lebanon and then the D-League, to reportedly agreeing to sign a max-deal with the HEAT.
Johnson went undrafted out of Fresno State and made a name for himself with the HEAT in Summer League two years ago. He eventually spent about a half a season with the Skyforce before earning a couple of 10-day contracts with the HEAT. The Brooklyn Nets reportedly just signed Johnson to a four-year, $50 million offer sheet. The HEAT have three days from Thursday to match that deal.
Meanwhile, Richardson was the HEAT's second-round draft pick a year ago and played a big role for Miami as a rookie. He spent time with Sioux Falls, but ultimately ended up becoming a rotation player for Miami. His minutes increased in each month of the regular season, and he averaged 12 points, 2.7 rebounds, 2.1 assists and 1.1 steals in 29 minutes per game during the month of February. He also shot 59 percent from three-point range that month.
…
The HEAT's organizational infrastructure and its success are well-documented to this point. With HEAT President Pat Riley in charge of assembling the roster, Miami has consistently been a playoff team (and typically a contender) under his watch. Of course, adding the "Big Three" a few years ago further added to his credibility as a front office executive.
Beyond Riley, the team has head coach Erik Spoelstra, who has proven to be among the best sideline generals in the league. Spoelstra has often been commended for his work ethic and ability to prepare his players for each game. His road to head coach started as a video coordinator under Stan Van Gundy and he eventually worked his way up to head coach a few years ago (so, yes, he's another diamond in the rough whom Miami discovered).
- Miami Finding Diamonds in the Rough, BasketballInsiders.com, October 15, 2021.
2 A WWE Hall of Famer has come to the defence of Aliyah after the star came in for some criticism online.
On the August 29th edition of Monday Night Raw, Aliyah and Raquel Rodriguez were crowned Women's Tag Team Champions. The win came in the finals of a tournament to determine new champions after the belts were vacated following the May walkout of former champions Naomi and Sasha Banks.
The pair defeated Shotzi & Xi Li in the first round before dispatching Natalya and Sonya Deville in the semi-finals. On Raw, the duo upset Dakota Kai and IYO SKY to claim the gold.
Despite the win, Aliyah has been repeatedly criticised by some fans online. When it was put to Booker T on his Hall of Fame podcast that Raquel Rodriguez should win the titles on her own, the veteran defended her tag team partner. Booker said that he had actually been impressed by Aliyah. He said:
"I'm going to tell you, man, Aliyah is a diamond in the rough.She's young, she's got a lot of years in the business, she's talent. She's a looker too. When she comes out of the curtain, boom, it's all eyes on Aliyah. And what she's shown me in the ring, I've been impressed with her.
"I've been impressed with her to not go out there and screw it up. When she goes out and performs in the ring, you can be rest assured… When I watch somebody work, I look for the little bitty things, I look for if they're going to go out there and put themselves in a position to screw up. And that's something, when I watch Aliyah, I don't see that."
- "She's A Diamond In The Rough" – WWE Hall Of Famer Defends Aliyah, ITRWrestling.com, August 31, 2022.
3 Steve Yzerman knows what he is doing as a general manager (GM). He built a Stanley Cup contender (and winner) in Tampa Bay and is dedicated to doing the same for the Detroit Red Wings. He knows the work (and luck) that is involved with developing players and building a team. So it shouldn't come as a surprise that the present Red Wings prospect pool has a lot of solid potential NHL talent.
Simon Edvinsson has taken over the mantle of top prospect since Moritz Seider cemented himself as an NHL regular. However, there is another defensive prospect who is making waves this season. That defenceman is William Wallinder.
This second-round pick from the 2020 Entry Draft is having a great year. The 6-foot-4 190-pound defender has 23 points this season, which is higher than his total last season (19). That's not the only facet he is improving in, though.
The biggest jump that Wallinder has seen is in his shot totals and time on ice (TOI). Last season he averaged 0.97 shots per game. This season it's skyrocketed to 2.44 shots per game. He's played for Rogle BK for both years. The coaching staff is placing more responsibility on him this season. Part of that can be seen in his increased ice time of over six minutes per game. Any defender who plays around 22 minutes a night across a whole season is a top pairing defenceman.
...
The Red Wings are chock-full of promising prospects on the rise. Given how they developed Seider, and how Wallinder is pacing to match (or come close to) Seider's SHL output, Wallinder can be a really special player for the Red Wings one day. All in all, I think they have found themselves a diamond in the rough.
Red Wings' William Wallinder Is A Diamond in the Rough Prospect, by Caleb Kerney, TheHockeyWriters.com, January 24, 2023.
About the author: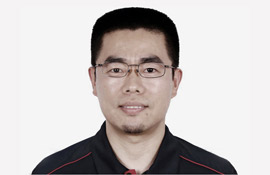 Zhang Xin is Trainer at chinadaily.com.cn. He has been with China Daily since 1988, when he graduated from Beijing Foreign Studies University. Write him at: zhangxin@chinadaily.com.cn, or raise a question for potential use in a future column.
(作者:张欣 编辑:yaning)
中国日报网英语点津版权说明:凡注明来源为"中国日报网英语点津:XXX(署名)"的原创作品,除与中国日报网签署英语点津内容授权协议的网站外,其他任何网站或单位未经允许不得非法盗链、转载和使用,违者必究。如需使用,请与010-84883561联系;凡本网注明"来源:XXX(非英语点津)"的作品,均转载自其它媒体,目的在于传播更多信息,其他媒体如需转载,请与稿件来源方联系,如产生任何问题与本网无关;本网所发布的歌曲、电影片段,版权归原作者所有,仅供学习与研究,如果侵权,请提供版权证明,以便尽快删除。