Person of interest? 疑犯
中国日报网 2023-10-27 13:25
分享到微信 Reader question:
Why is a crime suspect called "a person of interest"?
My comments:
Lately, that's just how American police talk.
A "person of interest" is not exactly a suspect. A suspect is someone who is actually suspected of committing a crime currently under investigation.
On the other hand, a person of interest is someone who might know something about the crime under investigation, according to my own, um, investigation.
Yes, I actually did some research and came up with that conclusion, i.e. a person of interest is someone the police are interested in talking to in order to find out more about that person or anything pertaining to the crime.
A person of interest is strictly speaking not a suspect. To be a suspect, sufficient suspicions, as it were, should be available. A person of interest, on the other hand, may be a relative, a colleague, a neighbor or anyone who knows anything about the suspect or potential suspect.
Put another way, the police actually knows something about a suspect. A person of interest? The police may know little about him or her. That's why they want to talk to them. That's why they're interested.
By all this, I mean to emphasis that this is a police jargon that doesn't mean much, especially to the layman. As someone points out, "person of interest" was coined (in the 1990s) just to give journalists and the public the impression that the police were talking to someone or wanting to. They were doing something.
To wit, they were just beating about the bush.
In other words, they don't know exactly what they're doing. They don't know exactly who they're targeting.
Not yet.
Anyways, remember, this is a jargon reserved for American police. Do not use it yourself. Anyone you're interested in, don't call them a person of interest.
Persons of interest are interesting to the police only, as it should be.

All right, here are media examples:

1. The defendant looked uncomfortable as he stood to testify in the shabby courtroom. Dressed in a dark suit and somber tie, he seemed aged, dimmed, his posture noticeably stooped. The past year had been a massive comedown for the 76-year-old former world leader. For decades, the bombastic onetime showman had danced his way past scores of lawsuits and blustered through a sprawl of scandals. Then he left office and was indicted for tax fraud. As a packed courtroom looked on, he read from a curled sheaf of papers. It seemed as though the once inconceivable was on the verge of coming to pass: The country's former leader would be convicted and sent to a concrete cell.
The date was October 19, 2012. The man was Silvio Berlusconi, the longtime prime minister of Italy.
Here in the United States, we have never yet witnessed such an event. No commander-in-chief has been charged with a criminal offense, let alone faced prison time. But if Donald Trump loses the election in November, he will forfeit not only a sitting president's presumptive immunity from prosecution but also the levers of power he has aggressively co-opted for his own protection. Considering the number of crimes he has committed, the time span over which he has committed them, and the range of jurisdictions in which his crimes have taken place, his potential legal exposure is breathtaking. More than a dozen investigations are already under way against him and his associates. Even if only one or two of them result in criminal charges, the proceedings that follow will make the O. J. Simpson trial look like an afternoon in traffic court.
It may seem unlikely that Trump will ever wind up in a criminal court. His entire life, after all, is one long testament to the power of getting away with things, a master class in criminality without consequences, even before he added presidentiality and all its privileges to his arsenal of defenses. As he himself once said, "When you're a star, they let you do it." But for all his advantages and all his enablers, including loyalists in the Justice Department and the federal judiciary, Trump now faces a level of legal risk unlike anything in his notoriously checkered past – and well beyond anything faced by any previous president leaving office. To assess the odds that he will end up on trial, and how the proceedings would unfold, I spoke with some of the country's top prosecutors, defense attorneys, and legal scholars. For the past four years, they have been weighing the case against Trump: the evidence already gathered, the witnesses prepared to testify, the political and constitutional issues involved in prosecuting an ex-president. Once he leaves office, they agree, there is good reason to think Trump will face criminal charges. "It's going to head toward prosecution, and the litigation is going to be fierce," says Bennett Gershman, a professor of constitutional law at Pace Law School who served for a decade as a New York State prosecutor.
Here, according to the legal experts, is how Trump could become the first former president in American history to find himself on trial – and perhaps even behind bars.
You might think, given all the crimes Trump has bragged about committing during his time in office, that the primary path to prosecuting him would involve the U.S. Justice Department. If Joe Biden is sworn in as president in January, his attorney general will inherit a mountain of criminal evidence against Trump accumulated by Robert Mueller and a host of inspectors general and congressional oversight committees. If the DOJ's incoming leadership green-lights an investigation of Trump after being briefed on any sensitive matters contained in the evidence, federal prosecutors will move forward "at the fastest pace they can," says Mary McCord, the former acting assistant attorney general for national security.
They'll have plenty of potential charges to choose from. Both Mueller and the Senate Intelligence Committee – a Republican-led panel – have extensively documented how Trump committed obstruction of justice (18 U.S. Code § 73), lied to investigators (18 U.S. Code § 1001), and conspired with Russian intelligence to commit an offense against the United States (18 U.S. Code § 371). All three crimes carry a maximum sentence of five years in prison – per charge. According to legal experts, federal prosecutors could be ready to indict Trump on one or more of these felonies as early as the first quarter of 2021.
But prosecuting Trump for any crimes he committed as president would face two significant and perhaps fatal hurdles. First, on his way out of office, Trump could decide to preemptively pardon himself. "I wouldn't be surprised if he issues a broad, sweeping pardon for any U.S. citizen who was a subject, a target, or a person of interest of the Mueller investigation," says Norm Eisen, who served as counsel to House Democrats during Trump's impeachment. Since scholars are divided on whether a self-pardon would be constitutional, what happens next would depend almost entirely on which judge ruled on the issue. "One judge might say, 'Sorry, presidential pardons is something the Constitution grants exclusively to the president, so I'm going to dismiss this,' " says Gershman. "Another judge might say, 'No, the president can't pardon himself.' " Either way, the case would almost certainly wind up getting litigated all the way to the Supreme Court, perhaps more than once, causing a long delay.
- The People v. Donald J. Trump, September 14, 2020.

2. Authorities are pursuing dozens of tips from the public after releasing an artist's sketch of a "person of interest" as their investigation continues in the slaying this month of a retired university dean on a walking trail near her Vermont home.
Honoree Fleming, 77, of Castleton, Vt., was found dead on the Delaware & Hudson Rail Trail on Oct. 5, the Globe reported.
Vermont State Police had gone to that part of the trail, near 1660 South St. in Castleton, after receiving a report of a dead woman found there, the department said in a statement.
A witness said they heard gunshots and saw a person walking north on the trail, State Police said.
State Police released a sketch Wednesday that depicts a man who was reportedly seen near the spot where Fleming was found, just a short time before her body was discovered.
The person of interest was described by witnesses as being a man in his 20s standing about 5 feet, 10 inches tall, and having short, red hair, State Police said. The man was seen wearing a dark gray T-shirt and carrying a black backpack, according to State Police.
In the 24 hours after the sketch was released, State Police said, the department received more than 150 tips.
- Retired university dean killed while walking on nature trail; officials looking for 'person of interest', BostonGlobe.com, October 16, 2023.

3. Authorities are still attempting to locate Robert Card, the suspect in two mass shootings that left at least 18 people dead and another 13 injured in Lewiston, Maine, Wednesday night, officials say. Card was initially considered a person of interest, but officials have since confirmed that he is viewed as a suspect in the shootings.
There is an arrest warrant out for eight counts of murder for Card, authorities said Thursday morning. Eight of the shooting victims have been identified and their families have been notified, and the counts will likely increase as the remaining victims are identified, officials said.
Card is 40 years old and is from Bowdoin, Maine, a town near Lewiston, officials said. He is described as being 5'11" tall and weighing 230 pounds.
He "should be considered armed and dangerous," the police department in Lewiston, which is about 35 miles north of Portland, said in a Facebook post shared late Wednesday. Police said he fled in the aftermath of the shootings.
Multiple shelter-in-place orders were issued for cities and counties in the region, and authorities expanded those advisories as the manhunt continued Thursday.
Authorities have shared several images of the suspect in the shootings and asked anyone who recognizes him to contact law enforcement. The Lewiston Police Department released images on social media that showed the man holding a semiautomatic rifle at one of the shooting scenes Wednesday night, wearing a brown shirt, dark pants and light shoes.
The brand of the semiautomatic weapon was not known, but officials described it as an assault rifle with an extended magazine and scope.
- Who is Robert Card? Confirmed details on Maine shooting suspect, CBSNews.com, October 26, 2023.
本文仅代表作者本人观点,与本网立场无关。欢迎大家讨论学术问题,尊重他人,禁止人身攻击和发布一切违反国家现行法律法规的内容。
About the author: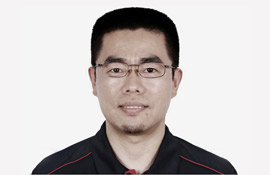 Zhang Xin is Trainer at chinadaily.com.cn. He has been with China Daily since 1988, when he graduated from Beijing Foreign Studies University. Write him at: zhangxin@chinadaily.com.cn, or raise a question for potential use in a future column.
(作者:张欣 编辑:丹妮)
中国日报网英语点津版权说明:凡注明来源为"中国日报网英语点津:XXX(署名)"的原创作品,除与中国日报网签署英语点津内容授权协议的网站外,其他任何网站或单位未经允许不得非法盗链、转载和使用,违者必究。如需使用,请与010-84883561联系;凡本网注明"来源:XXX(非英语点津)"的作品,均转载自其它媒体,目的在于传播更多信息,其他媒体如需转载,请与稿件来源方联系,如产生任何问题与本网无关;本网所发布的歌曲、电影片段,版权归原作者所有,仅供学习与研究,如果侵权,请提供版权证明,以便尽快删除。