Sitting target 活靶子
中国日报网 2023-10-17 11:41
分享到微信 Reader question:
Please explain "sitting target", as in this sentence: Refugees are sitting targets on the streets.

My comments:
Refugees are people who have left their home to escape something terrible, such as war, flood or famine, and are easy victims of street crime. Gangs in the city target them because they're completely helpless.
More or less.
Well, more rather than less, as you can imagine how vulnerable they can be.
Now, sitting target.
Literally, that is a stationary target, a standstill target that's not moving, hence easy to hit.
Sitting, like a sitting duck which is sitting on an egg, brooding. A brooding duck or hen or other bird is duty bound to sit there for hours on end. Hence, they're at their most vulnerable.
Hence and, therefrom, we draw the metaphorical meaning of sitting duck or sitting target. In this sense, a sitting target can be anyone who's easily attacked or criticized. They have little or no protection and, like a real sitting duck, cannot fight back.
And let's learn more about "sitting target" via real media examples:

1. Before the days of the electronic ball sighting and scoring machine called "The Hawkeye", chair umps were the only thing a player and fans had to rely on for officiating as the overall ruling. Linespeople gestured whether a ball was in or out but could be overruled by the chair ump.
Today, chair umps are the officials who sit up in the high chair, positioned in the middle of either player's side bench. They are isolated from the rest of the people on court, well dressed with tablet/laptop mounted onto the chair stand.
They call scores from the laptop, legislate challenges that players request and see the projectal flight of the ball from the hawkeye, telling whether the ball was in or out of positioned borders; be it serves or playing lines.
They are also responsible for keeping disciplinary order between players or fans and physical interferences such as bags flying in the air, anything thrown on court, or even insects landing on court that could distract and interfere with play.
Chair umps are vulnerable for occasional interferences, inquiries or even harassment by players and fans. They always have been. The McEnroe, Nastase, Connors era was a sure example of loud protests and acting out on court during a match.
It was a match in Stockholm, Sweden 1984 – McEnroe screams to the chair ump after a disputed ball call "Answer my question...the question –Jerk! Then he turns to the security person saying "Can I have this person taken out of the chair?" This is a reverse code violation when actually the ump should be saying to the security to take the player off the court.
The 1991 US Open – Jimmy Connors furious over a ball call goes up to the chair ump saying, "You're a bum...very clear, my butt. You can't see a ball right in front of you, let alone over there!" At the US Open 2009 – Serena challenges a chair ump for calling a foot fault during the 2nd serve.
The WTA Supervisor and head of Referees comes on court, the chair ump steps down and Serena yells, "I didn't say I'd kill you? Are you serious?" to a shaken chair ump. Chair umps know what players can be 'problems' and what players might never be a problem, but it comes with the territory of doing the job that they've studied for, travelled for certifications, licensing and badge awards for.
Players may be verbally abusive or coy, but reprimanding as at the US Open 2015 – Azarenka asks a chair ump "Have you ever played tennis before?" The ump complies and answers "yes". Azarenka then replies "If you did you probably weren't very good!" and then she smiles and walks away to continue playing.
A new generation of players slowly has entered the scene with their loud inquiries concerning ball calls, foot faults or even disturbances in the crowd as what happened with the reputed Australian Nick Kyrgios at Day 3 – 2016 Australian Open, when supposedly music was being played in the stands.
Nick goes up to the chair ump and says "Mate, are you ok? There's music playing in the crowd, while we are playing...because I've told you 7 times...did you ask me, 'Nick do you want to stop playing?' No you didn't. Why are you not telling him to turn it off". Chair umps occasionally see more violence and hear more trash talk on court than out on a public street at any given time.
Unfortunately they are sitting targets for players who are losing or winning or feeling out of sorts. Racquets are smashed to splinted pieces, bottles are crushed, yells and screams are directed personally to them for sometimes calling a ball in that was out or a ball out that was in, with the hawkeye machine agreeing with the chair ump or disagreeing; either way it really matters in tennis but taking it in stride is the job of not only the players to carry on with the next point, but for the chair umps to settle the dispute as quickly and orderly as possible.
The game has to keep moving because in another hour or so there will be a repeat of the same actions be it funny or not.
- Are Chair Umps sitting targets for players? TennisWorldUSA.org, January 25, 2016.

2. For the real story of the dueling leadership styles of the Republican Party, look to the courts. As former president Donald Trump battles criminal and civil charges stemming from a payoff to a porn star and an alleged rape, his closest potential rival for the GOP presidential nomination is mounting a legal counteroffensive against Disney. Florida Governor Ron Desantis has clashed against the corporation over its dissent from his plan to program anti-LGBQT+ bigotry into Florida's public schools, a fight that has rapidly escalated. The Sunshine State's newly instituted Central Florida Central Tourism District Board of Supervisors –a handpicked panel of DeSantis cronies that includes a pastor who once took to YouTube to suggest that drinking water could turn people gay –convened an emergency meeting to vote unanimously on Monday to sue Disney. The vote was a response to a suit filed last week by the Magic Kingdom's legal team claiming that the DeSantis administration's threatened suspension of a long-standing tax abatement for the company was a retaliatory violation of the company's First Amendment protections after it had protested DeSantis's "Don't Say Gay" legislation.
Just what the tourism board intends to sue Disney over is not yet clear; the filing is reportedly scheduled for next week, and in the meantime, the panel's chairman, Martin Garcia, is gesturing toward a blanket repudiation of the board's governing mandate by Disney. The board had revoked a prior tax deal that Disney struck with its predecessor body, the Ridley Creek Improvement District, which was founded in 1967 to oversee the special taxing district that allows Disney to administer services and streamline policy decisions over its Orlando-adjacent home of Disney World. But in the coded argot of DeSantis-branded persecution at the hands of the woke corporate state, Disney's objections magically become, as Garcia puts it, an affront to the idea of progress: "In essence, Disney is asking a federal court in Tallahassee to wrestle back the hands of time to 1967, while this board is instead charged legislatively with bringing the district into the 21st century, with new and better policies and practices."
But apart from alleging that the imagineers of Tomorrowland wish to preside over a legislative Yesterdayland, the point of the board's actions seems to be the same one driving most of DeSantis's governing agenda: a bid to flood news cycles with culture-war agitprop to elevate the governor's profile ahead of his planned run for the presidency, reported to be officially announced later this month. In the bid to continually one-up former president Donald Trump's own crusade against the sinister machinations of wokeness in our schools and corporate boards, DeSantis needs to be seen as a more disciplined and results-oriented Christian soldier battling the woke mind virus.
Disney might seem an unlikely foil for this exercise in culture-war messaging, since it's a venerable franchise in all-American branding (even as it doubles, like most such franchises, as a labor-soaking avatar of deregulated and rent-seeking capitalism). But the Florida government's high-profile confrontation with the Magic Kingdom offers some distinct tactical advantages for a statist right-winger like DeSantis, says longtime Disney watcher and NYU professor of social and cultural analysis Andrew Ross, author of The Celebration Chronicles: The Pursuit of Life, Liberty and Property Values in Disney's Company Town. "The one thing that distinguishes Disney from other corporations is that its presence is really tied to the land," Ross notes. "There's no danger of the corporation leaving. It's a land development venture. They recently announced that they'll be spending something like $17 billion on a development project around the Orlando Airport, which will move workers from California into that area. They already have committed themselves to that, and their business model involves land development, in a way that other corporations don't have to do. It's a sitting target that's unmovable, so that even if DeSantis alienates the company, they're not going to leave."
- Ron DeSantis Declares War on Disney, May 3, 2023.

3. Chris Eubank Jr. Defeats Liam Smith
The first round was a messy start with plenty of clinching, which saw Smith looking to impose his physicality. Eubank Jr. tried to settle and get behind the jab, but it was an even round overall. The second round followed in the same fashion as the first round, with Eubank edging it on work rate. He worked well behind the jab and seemed to be settling much better than the first fight.
Round three was impressive for Eubank as he landed some measured combinations against his Liverpudlian opponent. Smith still looked unworried at this point. Round four started well for the Hove-born fighter as he landed a beautifully timed uppercut, which knocked Smith down. The rest of the round was strong for Eubank as he picked his punches beautifully, as Smith struggled to deal with the variety of shots coming his way.
Another eventful round as Eubank trapped Smith against the ropes and threw a vicious barrage of punches to his head and body, which forced the ref to take a good look. The Liverpool fighter bobbed and weaved, using his experience to spin away from the ropes. Despite Eubank's dominance, it looked like he expended a lot of energy there. Rounds six and seven were again dominant from Eubank. His jab continued to be impressive, but he continuously landed accurate combinations, which again troubled his Liverpudlian opponent.
The eighth round was quieter, but Eubank again looked quicker to the punch, with Smith almost a sitting target, being picked off at will. As we entered the Championship rounds, it was Eubank putting on a clinic as he continued his impressive mixing of punches and angles throughout the ninth round. Smith appeared to be struggling with his right ankle for a few rounds.
The tenth round bell sounded, and Eubank pounced, landing some beautiful body shots while hitting his opponent's head at will. A flurry of punches forced the Liverpool fighter to the canvas. Despite Smith beating the count, Eubank smelt blood and attacked, landing a barrage of unanswered punches and forcing the referee to stop the fight, awarding Chris Eubank Jr. the revenge he craved.
- Chris Eubank Jr. Gains Revenge in Impressive Style Stopping Liam Smith, BigFightWeekend.com, September 2, 2023.
本文仅代表作者本人观点,与本网立场无关。欢迎大家讨论学术问题,尊重他人,禁止人身攻击和发布一切违反国家现行法律法规的内容。
About the author: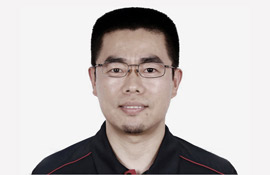 Zhang Xin is Trainer at chinadaily.com.cn. He has been with China Daily since 1988, when he graduated from Beijing Foreign Studies University. Write him at: zhangxin@chinadaily.com.cn, or raise a question for potential use in a future column.
(作者:张欣 编辑:丹妮)
中国日报网英语点津版权说明:凡注明来源为"中国日报网英语点津:XXX(署名)"的原创作品,除与中国日报网签署英语点津内容授权协议的网站外,其他任何网站或单位未经允许不得非法盗链、转载和使用,违者必究。如需使用,请与010-84883561联系;凡本网注明"来源:XXX(非英语点津)"的作品,均转载自其它媒体,目的在于传播更多信息,其他媒体如需转载,请与稿件来源方联系,如产生任何问题与本网无关;本网所发布的歌曲、电影片段,版权归原作者所有,仅供学习与研究,如果侵权,请提供版权证明,以便尽快删除。