The number of U.S. cases of swine flu has risen to 3,000 - an increase of 400 from Monday's released figures. Three deaths have been reported. U.S. Homeland Security Secretary Janet Napolitano says more cases and fatalities are likely.
US outbreak described as 'mild'
The U.S. Centers for Disease Control and Prevention says the swine flu outbreak in the United States appears to be mild. But, the CDC says the actual number of cases is likely to be much higher than what it has reported.
U.S. Homeland Security Secretary Janet Napolitano says health workers around the country are confirming cases more quickly, as they receive testing kits from the CDC.
Virus could mutate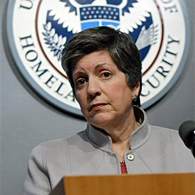 She told a U.S. Senate hearing Tuesday the government expects swine flu cases and deaths to rise and is worried the virus could mutate into something more dangerous.
"I have directed our operations center to put forward a plan on what we need to be doing over the course of the summer, across the federal government and with state , local school districts and others, to really think through what our national response is going to be if this flu comes back in a more virulent form in the fall," Napolitano said.
She says her department is seeking a 5% increase in its budget for the 2010 fiscal year, in part to deal with unexpected public safety threats such as a swine flu.
Is effort to curb Mexico drug violence working?
Members of the Senate's Homeland Security Committee also questioned Napolitano about American and Mexican efforts to curb drug violence and trafficking along their border.
Mexico's government sent thousands more troops and police to the border town, Ciudad Juarez last month, sharply reducing drug-related killings there. But the calm did not last.
"They are now starting to see an uptick in homicides back in Juarez, which had been really on the severe downslide after they put the military in there," Napolitano said.
Napolitano says U.S. authorities are trying to help Mexico by stepping up inspections of suspicious looking-vehicles heading south to the border.
She says the Mexican government also is cracking down on illegal drug production by banning the import of ephedrine, a stimulant used to make methamphetamine.
"We are already seeing an impact on that, in terms of the Mexican-produced meth that is there. Ironically, an issue we have to confront is ephedrine being smuggled from the U.S. into Mexico, manufactured and smuggled back. So we are working the meth issue with local and state law enforcement from both directions in that regard."
Illegal immigration down
The homeland security secretary also told lawmakers that illegal immigration from Mexico into the United States has dropped because of the poor state of the U.S. economy.
"That in this period where we do not have the job demand on this side, the economic incentive is not quite as large as it was. It is a great time for us to keep on with our enforcement efforts and keep that, building that infrastructure that we need," Napolitano said.
As part of that effort, Napolitano says authorities have started building a "virtual" fence along Mexico's border with the U.S. state, Arizona. The fence will use surveillance tools such as radar, cameras and sensors to detect people trying to cross the border illegally.
mutate: to change; undergo mutation(变异)
virulent:highly infective; malignant or deadly(病毒的,恶性的)
curb:to control as with a curb; restrain; check(限制,束缚)
uptick:an increase, especially a small or incremental one(上涨,上升)
Swine flu less deadly than first feared
Researchers race to develop swine flu vaccine
WHO, US declare swine flu emergencies
(Source: VOA 英语点津编辑)