State Department sets a goal of two weeks' processing time for security clearances.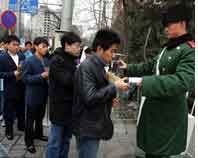 This is the VOA Special English Education Report.
American officials say they are working to reduce visa delays that have affected foreign science students, researchers and others. The delays involve a security clearance process called Visas Mantis. Through this program, different government agencies try to identify visa applicants who could threaten national security.
The aim is to protect American military technology or technology with possible military uses to other countries or to terrorists. A 2005 report said that 70% of Mantis requests came from China, Russia and Ukraine.
The United States strengthened its visa requirements after the terrorist attacks in two thousand one. But the Visas Mantis program already existed by then. The State Department combined several programs dating to the Cold War into the current program in 1998.
There have been delays before. Officials said the average processing time in October of 2003 was 75 days. The wait was cut to 15 days under pressure from Congress. But the wait time has increased again over the past year.
Andy Laine, a State Department spokesman, says the program now has more workers and new procedures. He says the changes went into effect on May 29th with the goal to process all requests within two weeks.
But he also says many visas are delayed because foreign students do not bring all their paperwork when requesting their travel documents. He advises students to make an appointment at an American embassy or consulate as soon as they are accepted to a school. They should take all their acceptance materials with them.
Higher education groups complained about the delays for foreign science students and scholars. So did professional groups that hold international conferences in the United States.
The delays may be one reason why graduate school applications from international students have slowed for the third year. Early findings show that applications rose just four percent from 2008 to 2009.
The Council of Graduate Schools says this followed an increase of 6 percent last year and nine percent the year before that. International applications increased by 12 percent from 2005 to 2006.
And that's the VOA Special English Education Report, written by Nancy Steinbach. Earlier reports in our Foreign Student Series are at voaspecialenglish.com. I'm Bob Doughty.
Studying at an American university
Studying in the US: Writing college papers
Studying in the US: Beware of essay mills
Studying in the US: Alcohol on campus
(Source: VOA 英语点津编辑)