| | |
| --- | --- |
| 贝克汉姆离开"银河战舰"进入倒计时,皇马经理米贾托维奇宣布贝克汉姆将不会与球队续约,他将离开皇马。这事,看起来是个天大的误会了!北京时间1月11日凌晨,据路透社西班牙马德里最新消息,本周三早些时候,意大利天空电视台报道了米贾托维奇在接受电话采访时明确表示:"贝克汉姆将离开我们。我们不会与他续约。" 不过,经查证,米贾托维奇的话被曲解了。现在,小贝与皇马的续约谈判仍在进行中,在未来2天就能给球迷一个确切的答案了。  |   |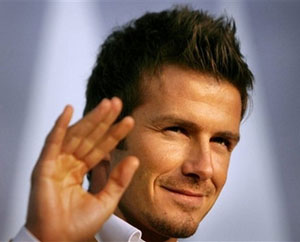 Real Madrid soccer star David Beckham waves to fans during a promotional event in Tokyo in this Friday, Dec. 29, 2006 file photo. Beckham may be on the way out at Real Madrid, according to comments made by the club's sports director Predrag Mijatovic on Wednesday Jan. 10, 2007. [AP]
MADRID, Spain - David Beckham is negotiating with Real Madrid about a new contract.
Beckham's spokesman Simon Oliveira said Wednesday talks would resume this week. He spoke shortly after comments by Madrid sports director Predrag Mijatovic led to confusion over the 31-year-oldmidfielder's future.
"There's still a written offer on the table from Real Madrid," Oliveira told The Associated Press. "We have a meeting in the next 48 hours."
Mijatovic's remarks to Italian TV station Sky TG 24 led to doubt whether Madrid's decision was final or whether talks were still alive.
Some news media quoted Mijatovic as saying, "Beckham will leave us, we will notrenew his contract." However, that did not reflect the exact words broadcast in the Italian interview and translated by the AP.
The interviewer asked: "Will Beckham's contract be renewed?"
Mijatovic replied: "No, Beckham's contract was not renewed."
Madrid said it wasn't aware of Mijatovic's remarks, while the sports director said his words had beenmistranslated.
Beckham's four-year contract expires at the end of this season. The club wants the former England captain to decide by next week whether he will accept a two-year extension.
Adding to speculation about his future, Beckham was left off Madrid's squad to play a Copa del Rey match against Real Betis on Thursday.
Capello was expected to make changes following a dismal run in which Madrid has lost three of its last four games.
But Beckham's omission for Thursday's game appears to support reports that Capello has asked the club not to renew the Englishman's contract. Capello reportedly views Beckham as the third choice for the right-side midfield slot behind captain Raul Gonzalez and Jose Antonio Reyes.
Oliveira recently said Madrid's offer was slightly higher than Beckham's current contract. He said Beckham was taking his time because it was "the last significant deal of his football career."
Beckham is allowed to negotiate with other clubs during the January transfer window and can leave with Madrid's permission.
(Agencies)
Vocabulary:

midfielder: 中场队员

renew his contract:extend contract(续约)

mistranslate:误译

(英语点津陈蓓编辑)