为了宣传自己品牌的香水"亲密贝克汉姆",小贝夫妇一改往日干净利落的模范家庭形象,特地拍摄了一组激情火辣的宣传照。照片上,两人深情相拥,展现了极为亲密的一面。贝嫂坦言,小贝很喜欢装样品的小瓶子,而自己甚至想去香水工厂和制造商们一起工作。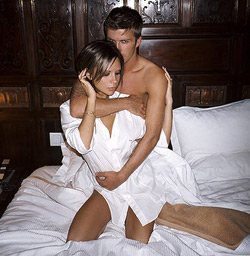 David and Victoria in a strikingly raunchy pose.
They are famous for their clean-cut family image. But David and Victoria Beckham pose in a sultry, semi-pornographic embrace under crisp white bed linen to show their 'dark side' while launching a new perfume.
The ex-England captain and his wife were shot by Terry Richardson, infamous for his semi-pornographic pictures, to promote their scent Intimately Beckham Night.
The couple's image change comes after Beckham's former boss Sir Alex Ferguson claimed the footballer's career went downhill the moment he met Victoria.
So what will the Manchester United manager think of the latest Beckham persona?
In an interview for The Mail on Sunday's You magazine, Beckham, 32, said: 'Not many people see this side of us and I think that's what's great about having a fragrance like this. It's a way of us showing our dark side.'
Touching and cooing at each other, the Beckhams insisted the fragrance was a joint effort.
It was created by French perfumer Coty, the firm behind scents for Kylie Minogue and Kate Moss.
Victoria, 33, said: 'I would go to the factory in Barcelona and work with the perfumers. David loved it because he got all these little sample bottles.'
The LA Galaxy star confirmed: 'I did.'
Victoria added: 'David and me, we are very intimate.'
(Daily Mail)
(英语点津 Linda 编辑)