骷髅头像诱使青年人吸烟?
[ 2007-09-13 16:53 ]
腐烂的肺部、骷髅的头像、漆黑的牙齿,这些图案将可能出现在中国生产的烟盒上。但是专家指出,过去十年的研究表明年轻人对惊悚直观的图像,比如骷髅头,更感兴趣,因此,这些本意用于警示"吸烟有害身体健康"的图案不仅不能吓退烟民的吞吐热情,反而会诱使更多青年人加入烟民的队伍中来。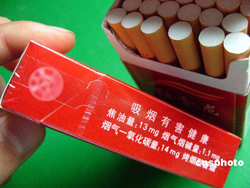 The warning on the cigarette packets,"Smoking is harmful to health".[cnsphoto]
The government's plan to discourage people from smoking by insisting cigarette packets carry images of skulls, blackened teeth or diseased lungs could actually lure youngsters to take up the habit, an expert said this week.
Zhao Cuiping, a youth expert, said: "Research conducted over the past decade has shown that young people like scary images, like skulls, much more than pleasant ones like cats and dogs.
"Rebellion, curiosity and craving for stimulation are the character traits of this group. So putting a skull on a pack of cigarettes might well attract a young person to take up smoking."
Zhao was speaking in response to comments made at a lecture last week by an official from the Chinese Center for Disease Control and Prevention.

He said that in line with the WHO's "Framework Convention on Tobacco Control", which China joined in 2006, from January 2009, all cigarette packets must carry one of the "offensive" images and that it must cover at least 30 percent of the surface area. China currently has 350 million smokers.
And according to a report by Ma Jun, a professor at Peking University, the age at which people are taking up smoking is getting younger.
An official with the State Tobacco Monopoly Administration, who asked not to be named, said it was still possible the images might not be used.
(China Daily/Agencies)
(英语点津 于楠 编辑)