二战中拯救了数千名犹太人性命的中国外交官—"中国的辛德勒"—何凤山的骨灰今天将在他的家乡湖南益阳入土为安。以色列新任驻华大使安泰毅在昨天接受《中国日报》专访时说,"在犹太人的传统里,人的生命是最神圣的,至高无上的。我们有一句名言说,救人一命就像拯救了一个世界。而何先生救了上千人,以色利人民永远不会忘记他。"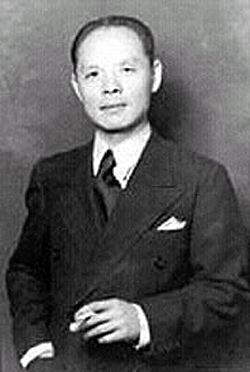 "China's Schindler" Fengshan Ho. [File Photo]
The noble deeds of "China's Schindler" Fengshan Ho in Austria will never be forgotten, Israel's ambassador to China Amos Nadai said a day before the late diplomat's ashes will be buried in his hometown in Central China's Hunan Province.
Nadai will today join Ho's family, Jewish historians and other Jews saved by the Chinese diplomat in Yiyang, where Ho was born 106 years ago. He will present an Honorary Commemorative Citizenship certificate to Ho's family on behalf of the Israeli government.
"It's very important for the state of Israel, my country, to show that we respect and will never forget the people who helped us," Nadai told China Daily yesterday.
"We have a very famous saying (in Jewish) that the person who saves even one life is looked upon by people as if he has saved the whole world. And Dr Ho saved many hundreds, we believe it was about two thousand."
From 1938 to 1940, Ho was the former Chinese consul general in Austria. He defied the Nazi threat and the warnings of the Chinese ambassador in Germany, his immediate superior, to issue more than 2,000 "life visas" to Jews to help them flee Vienna.
"During World War II, 6 million Jews were murdered. A lot of countries were looking, but most of them did nothing. China was among the very few countries willing to save the Jews," Nadai said.
"We do not blame the countries who did not help us, we do not judge other people, but we do very, very deeply admire those who came to (help) us."
More than 50,000 Jews are estimated to have fled Europe to China during the war. The Jewish community in Shanghai was the largest in the Far East at that time.
Ho neither sought nor got recognition for his deeds during his lifetime. It was only by chance that his heroic act came to light. That was in 1997 after his death.
Israel honored Ho with its highest award for non-Jews, the Righteous Among the Nations, in 2001. His name was carved on the Honor Wall of the Garden of the Righteous of Nations, with the inscription "a Chinese should never be forgotten".
Fengshan Ho's daughter Manli Ho told China Daily in a letter that she has often been asked why a Chinese diplomat saved Jews in Austria when others didn't.
She wrote: "He (Fengshan Ho) used to say: 'It was only natural to feel (for the helpless) and to help them. That is what humanity is all about. Now I have brought my father's ashes back for burial in China, fulfilling his wish to be laid to rest in his native soil. We have reached completion."
Director of the Bureau of Cultural Affairs of Yiyang Yuan Fengli said: "He is the honor of the people of Yiyang and of China."
Being involved in getting Ho's ashes back in 2006, Yuan was deeply impressed by the former diplomat's spirit. "The excellent Sino-Israeli relations we are enjoying today are partly due to what Ho did 70 years ago."
An exhibit on Ho, titled "Visas for Life", will open in Yiyang Museum and a high-level symposium will be held after today's ceremony.
A research center dedicated to his work, too, is under preparation.
(China Daily)
Vocabulary:
Honorary Commemorative Citizenship certificate:荣誉公民证书
inscription:题字,铭文
Righteous Among the Nations:"国际正义人士",为以色列对外籍人士的最高褒奖。
symposium:座谈会
(英语点津 Celene 编辑)