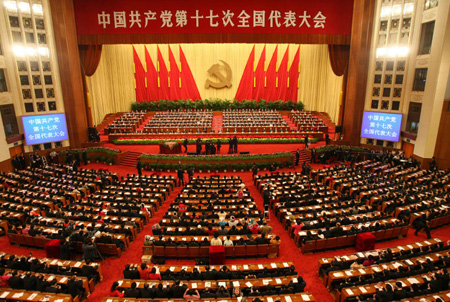 A general view of the 17th National Congress of the Communist Party of China (CPC) which is opened in Beijing at 9 am on Monday to map out China's all-round development for the coming five years, October 15, 2007. [Xinhua]
As a blueprint for development is discussed at the 17th National Congress of the Communist Party of China which starts today in Beijing, many people have a clear idea of what they want: Something that improves their daily life.
"My friends and I all know about the Party congress from newspapers and television," Wei Yijia told reporters after enjoying a blockbuster movie in the capital's busy shopping area of Wangfujing.
"The congress is very important to us because the policies discussed will have a direct impact on our everyday life, such as air quality and drinking water safety," said Wei, who works at a foreign-invested accounting firm in Beijing.
Jiang Guilan, who is a member of a neighborhood committee in Changping District of Beijing, said food prices in supermarkets are surging, so she has to buy low-prices vegetables from street vendors - and hoped that leaders work out policies to lower food prices and implement them effectively.
"My concerns might seem personal and trivial, but I think they are exactly what affect the daily life of ordinary people like me," she added.
Some online surveys prior to the congress have suggested that a host of social issues ranging from employment and social security to the widening wealth gap are among the top concerns of the public.
An online poll on Chinanews.com found that the fight against corruption, and soaring commodity and housing prices were the two major topics, covering nearly 45 percent of the 20,810 votes.
Problems related topeople's livelihood have been the focus of the government, especially since Premier Wen Jiabao included them in his government work report to the national legislature in March.
点击查看更多双语新闻

(China Daily/Xinhua)
链接:词解十七大
今天,中国共产党第十七次全国代表大会在北京开幕,当党的盛会讨论国家发展蓝图之际,很多民众的心中也有个明确的愿望:提高他们的生活水平。
在北京一家外资会计师事务所工作的魏宜佳(译者注:音译)在王府井看完一部大片后接受记者采访时说:"我和我的一些朋友们主要通过报纸和电视了解党的十七大。"
她说:"十七大对于我们来说十分重要,因为十七大讨论的各项政策直接关系到我们的生活,比如,空气质量和饮用水的安全等。"
北京昌平区某居委会成员蒋桂兰(译者注:音译)说,由于食品不断涨价,她只有在路边摊上买些便宜蔬菜,她希望国家能制订并有效贯彻降低食品价格的政策。
她说:"我关心的可能都是些个人的事,而且不那么'重大',但我想这些都是切实影响我们普通人日常生活的问题。"
"十七大"召开前的一些在线调查表明,就业、社会治安、不断扩大的贫富差距等一系列社会问题是民众最关心的问题。
中国新闻网的一项在线调查发现,反腐败、物价及房价的飙升是民众最关心的两大问题,这两项内容的得票数在20810张选票中占了近45%。
自从今年3月温家宝总理在政府工作报告中强调了"民生"问题后,改善"民生"便成了政府工作的重点。
(英语点津姗姗编辑)